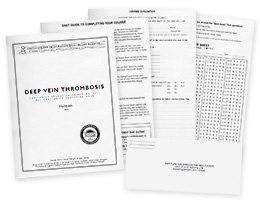 View larger
Choose an enrollment option:
Description
Student Reviews

36

Materials
Approvals
Description
Complications from Deep Vein Thrombosis (DVT) kill more people in the United States per year than AIDS and breast cancer combined.A client with this potentially life-threatening condition rarely knows or reports to their therapist that they have DVT. What is more likely to happen is that a client visits a massage therapist hoping he or she can "work out" the intense pain in their leg.
In this course, massage therapists will learn how to recognize the symptoms and risk factors associated with deep vein thrombosis and to distinguish a muscular problem from a much more dangerous scenario.
Student Reviews
This Class was wonderful & very helpful being a massage therapist for 10 years and also a sufferer of DVT. To be honest with you being a Massage Therapist saved my life because when I first contracted my blood clot I knew something was wrong. This course will definitely save someones life and prevent a massage therapist from a law suit because know they know the contraindications of massage & DVT. Thank you.

- Keisha Dixon, LMT
All the information that was provided was very useful and easily accessible.

- Laurette Richard
I was really lacking knowledge on DVT. Now I feel comfortable massaging and taking care of clients! Thank you!

- Tina LaCross, LMT, NCTMB
great course, easy to understand yet very informative.

- Stephen Nicholson, LMT
Will be able to incorporate what I learn right away. Especially appreciate the DVT RISK ASSESSMENT.

- David Beard, LMT
Very informative. I am happy to have the DVT risk assessment sheet to use in my practice.

- Pam Bancroft, LMT
Very good information. I especially appreciated the inclusion of a risk assessment chart. Thank you!

- Lauren Nogrady, LMT, NCTMB
The course is stress free for meeting a deadline. The information is very specific and easy to understand.

- Tracy Hristov, LMT
It increased my awareness.

- Csandress Kiel, LMT
Great course!

- Dondi Gasper, LMT
Great info! I've always worried about DVTs in my practice, but never had very indepth training on them. I will be much, much more aware as I move forward, and the screening sheet is going to become part of my new-client paperwork. Thank you!

- Amanda Webb, LMT
I have been a professional massage therapist since 1999. This course was so educational. I will be honest, I thought it was going to be boring and dull, but it was so informative. I will be looking at my intakes much more carefully, especially when clients request deep tissue therapy.

- Kelley Holmes-Morton, LMT
Very informative course. Thank you.

- Valerie Dempsey, LMT
This course definitely will be used in my practice working with seniors. I presently have a few new clients coming up that I have concerns with and this information has made it easier to educate them and determine their risk factor.

- Donna Lozon, LMT
To continue to infer the therapeutic and profound influence massage therapy has on the health and wellbeing of the community by involving more medical knowledge and instruction into its protocol is a marriage made in heaven.

- Ginger Everett, LMT
Great course - really important to a massage therapist's practice and the safety of her (his) clients. Thank you - learned and refreshed on a lot of critical information.

- Melanie Ashmore, LMT
Excellent course, would like to take more like it. Breif and to the point.

- Angela Moore-Homick, RMT
I have always been a bit paranoid about DVT and have never felt that I had all the information I needed. I feel much more prepared to deal with clients who have vein problems in the future.

- Susan Friedel, LMT
I'm so thankful for this course. This should be a mandatory part of every therapist's education.

- Rachel Cook, RMT
This course is rich with valuable information to the practitioner and client. This is very crucial and critical to a massage therapist.

- Nora Sasson, LMT
This is the first of your courses that I have taken, I am impressed with the layout and content. I believe this is a valuable type of course for Therapist to take as it refreshes information in a straightforward method. I look forward to exploring other courses in the near future.

- Cathy Smith, RMT
This is detailed information every therapist can use. An excellent course.

- Carol Nadasen, LMT
Excellent and important information for all LMT's.

- Elizabeth Nally, LMT
I work with a lot of elderly patients, this is very important to know when treating them.

- Angela Van Sickle, LMT
The information was very clear and useful.

- Jen DeSimone, LMT
As always, exceeded my expectations!

- Jackie Adams, LMT
I thought it was an excellent presentation. I thought the test was well executed and made me think. Thank You

- Kay A. Bene, LMT
I found the DVT Risk Assessment Form to be very helpful and something that I can use in my own practice.

- Carol Sturman, LMT
The course was informative and I will be able to use the information in my massage practice.

- Cinda Kratzer, LMT
This course is a 'must have' for all massage therapists!

- D. Holmes, CMT
One of the highest quality CEU home courses I've taken. Will be back for more. This important information is clearly defined and to the point. Thank you for a great class.

- M. Keaty, LMP, NCTMB, AMTA
Great course. Precise and informative. Makes me feel more prepared for working with my clients.

- R. Laurence, LMT, NCTMB
I think your concise and condensed format was fantastic and the assessment form was a great plus! This will surely become part of my new client intake information as well as give me an edge in educating those at risk and referring them for further medical attention when warranted.

- J. Gibertini, CMT, ABMP
First time doing an online continuing ed course. The program was very thorough and I was impressed with the course content. Liked the fact that there was no test to send back and waiting for a certificate to arrive in the mail. Highly recommended!

- S. Palazzolo, LMT, NCTMB, ABMP
This is a very valuable and informative course. All Massage Therapists should understand and review this information regularly.

- J. Reynolds, LMT
Thank you for offering this course - it is very important for my own private practice - this condition is very common and is a death risk (unknown) to a lot of my clients - and can be fatal. All LMTs need to know and recognize symptoms and health risks prior to massage. Again, thank you!

- C. Johnson, NCTMB
Materials
Manual - 9 pages
Multiple-choice test - if you prefer to complete this program online please select the "Materials: Available online + Test: Available online" option
Certificate upon completion - if you prefer to print your certificate at home instantly, please select the online option
Display Certificates suitable for framing are available for $10 in addition to the certificate included with your tuition. Click here to order a Display Certificate.
Approvals
The Institute is approved by the National Certification Board for Therapeutic Massage and Bodywork (NCBTMB) as a continuing education Approved Provider. Approved Provider 049478-00.
Credits also accepted by the AMTA, ABMP and NAHA.
For information regarding your specific state massage license requirements and approvals, visit our Massage Therapy Continuing Education Requirements page by clicking here.
Students enrolling in this course also enrolled in: