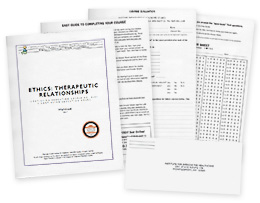 View larger
Choose an enrollment option:
Description
Student Reviews

111

Materials
Approvals
Description
This ethics program will provide you with a structure for ethical decision-making that will serve your clients, yourself, your profession and your community. State licensing boards and professional associations set forth professional codes of ethics to define standards of professional conduct that ensure the highest good for the client in our therapeutic relationships. The first step in practicing ethically is to become aware of these established regulations and to implement them within your professional practice.
Ethics within the health care profession is concerned with the establishment and maintenance of moral relationships between those individuals coming in for treatment, on the one hand, and the professional therapists rendering treatment, on the other. Together our personal and professional codes of ethics form the basis for our standards of ethical decision-making and resulting conduct.
In this course you will:
understand the role that a professional code of ethics and standards of practice play in the practice of massage therapy
explore ethical boundaries of therapeutic relationships with clients, colleagues and the community
determine the steps involved in developing a treatment plan and obtaining informed consent
determine how to ensure confidentiality of your client
define the scope of practice within the ethical boundaries for a massage professional
identify potential ethical violations within therapeutic relationships
develop a criteria to determine ethical action.
Student Reviews
I found this information to be very use full. A different way in looking at ethics and making it interesting.

- Kathryn Carter, CMT, NCTMB
This course will prove to be a wonderful resource. Term, ie; relationships, explained clearly. I plan to reread text.

- Linda D. Hall, LMT
What can I say…it's an ethics course. Good review!

- Erin Fisher, LMT
The information was to the point, and I learned a lot. I appreciate the ability to do this course from home and really read through the material well, to implement it best in my practice.

- Kati Barnes, LMT
This course was great. Easy to understand but still made you think.

- Kristina Moraru, LMT
This course was concise and to the point. Very easy to understand. It is relevant to the nature of the course of therapeutic relationships.

- Monica Phillips, LMT
Excellent course, whether taking an ethics course for the first time or taking a refresher. I highly recommend it!

- Rebecca Atwell, LMT, NCTMB
This course was pleasantly refreshing. A great way to stay focused on maintaining professionalism at all times and remembering to practice within your boundaries.

- Carol Payne, LMT
Very user friendly computer format! Material was well presented.

- Chad Bradbury, LMT, NCTMB
The course was straight forward, provided some additional information than I previously had encountered. I thought it was well laid out, thorough and easy to understand and comprehend. Thank you!

- Rhonda Gerych, LMT
This course provides with a clear guidance in real life situations for discernment when encountering dilemmas. I really appreciate the wisdom behind the words. Thank you so much!!!

- Shiang Chen-Williams, LMT, NCTMB
This Ethic Class was very much geared for Massage Therapists and I would recommend it in a heartbeat. I am quite impressed by the content covered.

- Judith Nimtz, LMT, NCTMB
I have been a therapist for over 20 years. It is incredibly difficult to find new and exciting ethics information! I feel it is absolutely critical however that all therapists revisit this information. Thank you for a comprehensive refresher on therapeutic relationships.

- Erica Thorneburg, LMT
Everything was thorough and very clear without being too technical. Easier to understand and absorb. Thanks.

- Nikki Scarpitto, NCTMB
This program was a great refresher on boundries and the complex relationships that can develop between client/practitioner. I was impressed by its scope, directness , practical applications and thorough brevity.

- Maryann Benitez, LMT, NCTMB
Great information, factual and relevant.

- Katherine Wagoner, LMT
Excellent course. Should be a must for every massage therapist.

- Damian Medina, LMT
Excellent course.

- Cyril Willemin, LMT, NCTMB
Great ethics study and so handy. Being able to do on your own time frame makes it very awesome!

- Linda Gale Wardle, LMT
Very good. Very interesting.

- Phyllis Williams, LMT
I felt that this material was informative and well written. It held my interest.

- Stephen Philbrick, LMT, NCTMB
This was an informative and great refresher course.

- Beverly Burns, LMT, NCTMB
This course was very informative and beneficial to my profession of being a Licensed Massage Therapist.

- Brooke Drennen, LMT
Overall course very concise and to the point, unlike other courses from other providers which tend to be too technical, wordy, and uninteresting.

- Kenneth Garcia, NCTMB
A lot of pertinent information packed into this small course!

- Candice Gardner
Excellent course. I will purchase future courses from your company.

- Signe H. Alexander, LMT, NCTMB
This course was very comprehensive, an excellent review and affordable!

- Christine McNally, NCTMB
Best ethics course I have taken so far. Very well written. Thanks!

- Dorene Garvin, NCTMB
I thought this course was amazing. Easy to understand, very helpful. I will use this again in the future.

- Chelena Minhinnett, LMT
The content of the course was very well written, clear and consice. It was a refreshing reminder of the importance of our integrity.

- Karen Lodes, LMT
Excellent. To the point, good information, easy to understand and follow.

- Dannielle Tarantino, LMT, NCTMB
This was very clear and informative.

- Crystal Curtis, LMT
Good course.

- William Connell, LMT
Good information. Well presented, with examples. Gets you to think, which is the point.

- Susan Stockdale, LMT, NCTMB
The material was very well written, easy to understand, and laid out in an order that made sense.

- Annie Moore, LMT, NCTMB
The program content was well organized and comprehensive. Having such excellent materials available online was most appreciated. Keep up the great work! Office staff were helpful and pleasant in offering their assistance.

- Catherine Schmidt, LMT, NCTMB
Excellent information! I was made more aware to implement the necessities ethically for defining a safer/trustworthy therapeutic environment. Thank you so very much!

- Kendra Zakkas, LMT
Good, clear, and to the point. Good refresher ethics course.

- Ginger Wollenweber, LMT
Great course.

- Yolanda Heuser, LMT
This course helped teach me how to approach certain aspects of my practice in a professional manner. Very good information on the subject! (I felt like I retained more with the text than a lecture in person.)

- David Dilling, LMT
Enjoyed the class.

- Debbie Moses, LMT
The information in this course is thorough, helpful, and informative. I highly recommend this course!

- Sandra Erickson, LMT
When the materials are interesting, it is easy to absorb and when you are tired sometimes this is what is needed. Complication is everywhere, now I feel I can be a better asset to my clients. Thanks.

- Monico Rudolph, LMT
My first time taking an online course I sure lucked out finding you. The Ethics course was so informative and a nice order in which it was written for better comprehension.

- Ilisa Green, LMT
Nice course. Everyday matters that we take for granted were discussed. Some of it not taught in schools.

- Narissa Khan
I enjoyed this course and will take other continuing ed courses from this site.

- Teresa Freeman, LMT
Excellent basic ethics course.

- Kerri Ann Beckham, LMT
Great Course!

- Gerrard Miller, LMT
Excellent presentation. The content was well spaced on the page which made reading easier for me. The content was, on the whole, not new to me; i.e. a review, which account for the short completion time. Clear and concise.

- Marilyn Dixon, LMT
Well done! Easy to use! Informative and interesting! I was surprised at the exceptional quality of this course. Thank You!

- Melanie Maupin, LMT
The course seemed well presented and thorough.

- Greg Satorie, LMT
I like the psychological discourse for this test. It was very informative!

- Laura Kershaw, LMT
I thought this was very well done.

- Rebecca Wieties, LMT
Very clear explanation. Covers a broad scope of the ethical practice of the massage therapy occupation. Good Review of everything learned in previous years.

- Lucia Crowder, LMT
Thank you for offering this course. It was very informative and user friendly.

- Tonya Redmond, LMT
Very well presented and concise.

- Jessica Peach, LMT
I really enjoyed this course and the detailed information it gave.

- Sharon Reilly, LMT, NCTMB
Great course!

- MarieAntoinette Parkerm LMT
I found this course not only a refresher, having been in practice for over 32 years, but timely in all relationships.

- Fanny Mandelberger, LMT
This is a very well presented course. It was easy to understand and straight to the point as well as filled with needed information.

- Angela Goble, LMT
This is a very good course. I recommend it!

- Nicole Neely, LMT, NCTMB
I have practiced Massage Therapy for over 15 years and still found many important and useful insights in this course for the growth of my practice, business and the benefit of my clients.Thank you!!

- Jennifer Swartout, LMT
It is always good to refresh our understanding of ethics.

- Ruth Lowe, LMT
I have forgotten how much is involved in ethics. This was a great test!

- Sheri Ezzell, LMT
It was material I have learned before, but it was great to have a refresher.

- Donna Standley, LMT
Very clear and helpful way of presenting ethics and why a code of ethics and standards of professional conduct is beneficial not only to our clients but to practitioners as well.

- Denise DeNeve, LMT
Presented very well. The material helps to stay focused and professional in my practice.

- David Asprey, LMT
Excellent presentation of material and questions are most prevalent to the work environment.

- Michael Turcotte, LMT, NCTMB
Great information. It has helped me to be more mindful of the confidentiality due the client. And also appreciated the encouragement to educate myself on further modalities and techniques in my treatments.

- Elissa J. Taylor, LMT
This is a well rounded, straight forward, and sound course on therapeutic relationships. I gained a new vocabulary word in the process. It even refreshed my memory on basics learned in the classroom!

- Fred Isom, LMT, NCTMB
Thank you for the clear and concise course materials.

- Trisha Gianna, LMT
I learned a lot of about the ethics of massage.

- Revathy Bagawandoss, LMT, NCTMB
Clear instructions and coursework make it easy to study at home.

- Christine Pieck, LMT, NCTMB
Very informative and reset my awareness to provide clients the highest level of professional care.

- Catherine Thmpson, LMT
Very valuable review. Easy to follow.

- Louise Landowski, NCTMB
Having been a PT for 25 years and an LMT for 12, I thought I'd seen it all in ethics classes, but this course had info that was new to me or presented in a way that made me think about it differently. Thanks!

- Elizabeth Maddox, LMT
I enjoyed this information. I found it very useful, as well as interesting. A lot of ethics courses I have taken and/or viewed in the past did not hold very much interest. They were not very exiting to study. I thoroughly enjoyed the style of this ethics course.

- Traci Jennings, LMT
I was impressed that this course successfully covered so much: an intro to philosophical thought, & an intro to psychological thought, as well as a spelled-out pragmatic guide. Brava!

- Susan Sanderson, LMT
Great course on Ethics: Therapeutic Relationships!

- Anna Jackson, LMT
This information every therapist should know. Great course!

- Keri Ann Heitzman, LMT
I was thrilled to find an ethics course through the Institute to maintain my licensure! This was very convenient and affordable.

- Drew Rowe, LMT
This was an awesome review for me!

- Annette Mitchell McMinn, LMT
I will definitely take another course and recommend to others. Overall a great experience!

- Rachel Holcomb, LMT
This was a great way to fulfill my Boundaries and Ethics requirements. Thanks so much.

- Shelby Frago, LMT
Thank you so much for this material and method of completed needed info.

- Gloria Alexander, LMT
This was a nice review of Ethics! Thank You! I will say that social media changes the relationship between LMT and client. I like feed back immediately from my clients since I work mostly with athletes. And social media is how I communicate with them about that.

- Kristen Paradise, CMT, NCTMB
Great refresher and I learned a few new things too!

- Rachel Knight, LMT, NCTMB
Great Ethics course. Kept my attention from start to finish.

- Mike Lubovich, LMT, NCTMB
VThis is a very explicit and a valuable paper to be able to refer to.

- Janet Drury, LMT, NCTMB
Nice job. The material was clear and tracked well.

- F. Joseph Fennessy Jr., RMT, NCTMB
Excellent! I loved that the information was short, sweet, and to the point, that I did not have to read a whole book. Thank You!

- Inna Legun, LMT
This course was helpful in working with different types of people.

- Donna Sheppard, LMT
I'm very glad to have stumbled upon this institute and will use this resource to complete more continuing education courses as required by my association here in Canada. I am registered with the Natural Health Practitioners of Canada and have been practicing for 11 years. This was the most relevant ethics course I have done yet.

- Nancy Woodward
Great ethics refresher no matter how long you've been working. Perhaps more necessary the longer we've been working.

- Catriona St. George, CMT, NCTMB
Like my other online courses with Integrative-Healthcare, this one met my needs and challenged me to think. I love doing this online. It saves time and gives me a chance to work at my own convenience. Thanks for making it available.

- Jackie Voulgaris, LMT, NCTMB
I really enjoyed the course. I have taken several ethics courses, and this one held my interest and was informative and relevent to my practice.

- Barbara Morrish, CMT, NCTMB
I enjoyed this course. It was very thought provoking and brought up issues and situations that helped solidify the concepts presented in the lesson.

- Les Nuckles, CMT
Interesting and thorough content of this course.

- Laura Hansen, LMT
Good course. To the point.

- Pamela LaScola, LMT
This course provided a brief yet thorough education on professional ethics.

- Carol Beach Treat, LMT
Great course!

- Jordan Cox, LMT
The materials are to the point and clearly written. New details in the course were excellent for raising massage to the level/standard of a healing practice rather than previous attitudes of simply a spa / relaxation experience. I'm thankful for the professional approach and suggestions contained within this course.

- Margaret Christy, LMT
This is the most clearly written and thought-out presentation on this matter I have encountered in the past 15 years.

- M. Pagani, LMT, AMTA
I have taken several ethics courses through the years with top presenters in the field. This course was the MOST educational, concise, helpful, thought-provoking class I have ever had in ethics. Total THUMBS UP! I think it should be used in every massage school curriculum.

- A. Kurtz, LMT, NCTMB
Overall an excellent course. Ethics is so often treated as a "back burner" issue and this course treated it with the purpose and impact ethics has for massage therapists on a day-to-day level. THANKS!

- T. Kellerman, LMT
... this was by far the most interesting and comprehensive course I've taken ...

- T. K. Blankenship, LMT, NCTMB, AMTA
There is an amazing amount of extremely valuable knowledge in this course.

- M. Martin, LMT, NCTMB, AMTA
I found this course to be the most interesting and insightful ethics course that I have participated in... Thank you!

- E. Gemme, LMT, NCTMB
Excellent presentation on the subject. The course is a great review. It serves our profession of massage with excellence.

- J. Randall, NCMT, AMTA
This was an amazing way to achieve continuing education hours! The information presented was extremely helpful in increasing my knowledge base for massage therapy and practice.

- D. Bahre, NCMT
Excellent! This course was clear, great quality of content, and gave me new insight about my roles a health practitioner.

- S. MacDonald, LMT, NCTMB, AMTA
Materials
Manual - 17 pages
Multiple-choice test - if you prefer to complete this program online please select the "Fully Online Materials and Test" option
Certificate upon completion - if you prefer to print your certificate at home instantly, please select the online option
Display Certificates suitable for framing are available for $10 in addition to the certificate included with your tuition. Click here to order a Display Certificate.
Approvals
The Institute is approved by the National Certification Board for Therapeutic Massage and Bodywork (NCBTMB) as a continuing education Approved Provider. Approved Provider 049478-00.
Credits also accepted by the AMTA, ABMP and NAHA.
For information regarding your specific state massage license requirements and approvals, visit our Massage Therapy Continuing Education Requirements page by clicking here.
Students enrolling in this course also enrolled in: