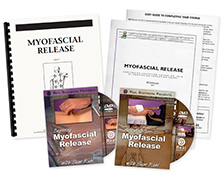 View larger
Choose an enrollment option:
Description
Student Reviews

43

Video
Materials
Approvals
Description
Explore the therapeutic benefits of Myofascial Release and discover how to use this excellent modality to help free fascial restrictions, increase range of motion, evaluate and improve postural distortions and breathing capacity in your clients.
In this home study program you will discover the anatomy of fascia and the location of the fascial lines running throughout the body, including the transverse diaphragms. You will also learn myofascial release techniques that you can easily integrate into your massage practice to ease your client's pain and restriction of motion.
Myofascial release gets great results and can be integrated into any treatment protocol by Massage Therapists, Physical Therapists, Occupational Therapists and Chiropractors.
Student Reviews
I'm so glad I decided to take this course. The materials were super helpful and I'm excited to apply the techniques in my practice.

- Melissa Holmes, LMT
Good course for my CEU and updating my techniques!

- Yaan Zheng, RMT
Great! Loved this course. It gave great info.

- Lauren Hextell, NCTMB
Altough I am still learning and practicing the material from this course I have had wonderful success so far using what I've learned. It has been one of the most interesting and most importantly, effective courses I have taken in 25 years of practice. Only regret, of course, I wish I had experienced this sooner. I will continue to incorporate myofascial release techniques into my practice.

- Nancy Bollinger, LMT
The advanced video(2) was extremely helpful with looking for misalignment of the body and what areas to massage to bring client back to standard position.

- Amy Alexander, LMT
The information presented was delivered in a clear and concise manner. I especially enjoyed the Kinesthetic Evaluation. I will be able to immediately apply what I learned here to my practice. This will enhance my ability to focus and address areas of imbalance.

- Carol Joyce, LMT
Very interesting course, wonderful complement to the craniosacral therapy that I do already. I am excited to go back and review all the DVD's for this course again. There is a lot of information to absorb at once. I cannot wait to try it on clients.

- Felicia Cawley, LMT
I found Sean's presentation very well done. He obviously knows his subject, is enthusiastic, and it was great to see him putting the techniques into action in the videos. I think I'll be able to incorporate some of what he discussed into my own work with clients. To me, in its way, myofascial release is the western equivalent of some eastern massage traditions. It was also a wonderful reminder to slow down and trust the healing power of the work. Thanks so much!

- Diane Perkins- Ducey, LMT
Excellent course information... loved watched videos very helpful

- Theresa Marshall Pac, LMT, NCTMB
Great course. I felt I learned a good all-round amount of information that covered practical and theory examples. I like the fact I could work when I wanted to. Now I have finished this course I feel safe in the knowledge that my clients safety will be maintained from the process and techniques I have learned.

- Allana Collopy, AAMT
This course was fascinating!! I absolutely loved it and would recommend to all therapists!!!

- Shannon Tuck
I would like to thank you for offering such a great course. The written information and dvd's you provided were very concise and easy to follow. This Myofascial Release course was a great alternative to attending a much more expensive class at an institution! Thanks again.

- Henry Jimenez, LMT
My clients have greatly benefited from the knowledge I obtained in this class. The instructor on the video had the best instruction I have received on Myofascial Release. And the accompanying text/workbook was very informational. Thank you for the course!!

- Roxanne Joslin, LMT, NCTMB
I learned so much from following the videos with the materials.

- Diana L. Kanosky, LMT
Sean Riehl's knowledge of the human body and energies is quite apparent. This is the first time I have ever done an online class and was very impressed.

- Tamara Reitz, LMT, NCTMB
I am very happy I took this course! Thanks Natural Wellness.

- Nely Reyes-Hannon, LMT
I'm very grateful for this program, it has helped me to understand how to evaluate and address postural issues. I have taken structural bodywork classes and no one else made it as simple as this program. This work easily integrates into my deep tissue and cranial sacral work. I think it will take a lot of practice to truly master, but I'm so happy I took this class.

- Vanessa Norton, LMT, NCTMB, AMTA
I did a lot of practice work with my family as I watched the video. This work is awesome and I am excited to begin bringing it into my own practice. My clients thus far have found a great deal of relief and I find it is much, much easier on me. Great course. I love this work and hope to get more advanced training in it.

- Tammy Forbes, LMT, NCTMB, ABMP
I am a seasoned Pilates practitioner (PMA-CPT) and studio owner. I am always looking for ways to earn CECs which will enable me to better serve the needs of my diverse set of clients. Because I have exhausted the continuing education courses geared toward Pilates, and because I was interested in learning a complementary discipline that would serve as a corollary to my practice, I enrolled Myofascial release. Initially I thought an on-line course would not be educational or challenging. Fortunately I was wrong. This course was excellent. My clients love the work and we are all very pleased with the results. I recommend this course to anyone interested in body work or the healing arts.

- Kelley Watson
Love this course. It will be very useful in my practice.

- Jaymie Garner, CMT, LMT, NCTMB, AMTA
This course was very interesting and I was totally surprised at the insight it gave on the human body. It will indeed be very useful in my practice.

- Judy Murphy, LMT
It was a good course. The videos were very informative and showed clear examples of the strokes and movements. Very good and very useful.

- Noel Pilotin, LMT, NCTMB
The information was very informative and I liked the videos which allowed me to visually see the demonstrations before attempting to practice them on someone else.

- Margaret Allen, LMT, NCTMB
I loved it! It has made me eager to continue learning more about the fascia and myofascial release. It is one of the few techniques that I have read about that I totally get and will definitely use in my practice.

- Dee Sieger, LMT, NCTMB, ABMP
Fantastically done! I learned a lot! Being able to read the text and see the demos being done all from my own home was both handy and very educational! Thanks!

- Sarah Tyler, RMT
Great course! The material and DVD were very clear and easy to follow and understand.

- Carmen Lea Vojtasek, LMT, NCTMB, ABMP
This course met and exceeded my expectations. I have done work in myofascial release for years and the course has reinforced and strenthened my understanding of the technique. The dvd is outstanding! While I did not complete all of the demonstrations during the time that I was reading, watching and testing (due to time restrictions and having no subject to work with for the moment), I fully intend to work through the program with a massage therapist as soon as possible. It really is very motivational

- Catherine Emery, LMT, NCTMB
I really enjoyed this course. The content was interesting and very helpful to my clients. I loved everything about the course. It was great!

- Stacey Pennington, LMT
The content of the course is very useful.

- Regina Parisio, NCTMB
Best course I have taken. Very informative. I will go back again and again to the tapes.

- Ann Tarvin, CMT, NCTMB, ABMP
This was an excellent course. I loved the way the video followed the book by lesson. Made it easy to follow along and practice and do again as needed. Will buy more courses from you. Thanks.

- Judith Owen, LMT, NCTMB, ABMP
I was able to implement these techniques into my practice immediately. Several clients have really enjoyed the new techniques.

- Joy DiGiovannantonio, CMT, NCTMB, ABMP
Great instructional videos. Very detailed and the demonstrations were excellent.

- Marcus Sanders, LMT
Great information for fascial work!

- Gina Giambra, LMT
Very much enjoyed how straight forward this course was. Great new techniques to incorporate into my practice!

- Cassy Smith, LMT
I have taken several in-person myofascial release courses and found this to be a great reference and refresher. I like that the information was clear and simple.

- Kathleen Hagen, LMT
I was hesitant at first to take a home study course because I didn't think it would be as effective as attending a class. I was pleasantly surprised by the video instruction and found it to be more beneficial than a class. The instruction was clear and the camera angles were good for viewing the techniques. It's great to pause on techniques and rewind. I will definitely refer to these videos in the future. Now that I know what your courses are like, I will continue to take CE courses that you offer.

- A. Carter, NCMT
This was the best course ever. I learned so much, and I use the techniques whenever I can. I will also order other tapes, to get new ideas.

- H. Balzarek, LMT, NCTMB, AMTA
Very educational, the course and content were very interesting to me and presented in a way that it was very easy to learn and understand.

- J. Cashion, LMT
I enjoyed this home-study course. I feel all the materials learned will enhance my practice greatly. I definitely plan on choosing more home-study courses from this Institute. Thank you.

- T. Fielman-Nielsen, LMT, NCTMB
This is a fabulous course! Viewing the videos and reading the texts appealed to my visual learning style. Watching the videos while I did my hands-on practice sessions was especially helpful for me in learning the techniques. Thank you for an overall wonderful continuing ed experience!

- K. Price, NCTMB, AMTA
Very professional and informative. Cleanly presented. This is the first online course I've ever taken, and I am so pleased with the results - I've learned a great deal that I can apply in practice, and I am thrilled to have done it at my own pace, on my own time. Thanks!

- A. Iadarola, LMT, NCTMB, AMTA
All the information was clear and easy to understand! I learned a lot from your courses that I have already completed. I plan to do all of my continuing education with you when possible. Thank you!

- V. Steiner, LMT
Materials
2 DVDs - 150 minutes total
Manual - 43 pages (available for shipment or online)
Multiple-choice test - if you prefer to test online please select the "test online" option
Certificate upon completion - if you prefer to print your certificate at home instantly, please select the online option
Display Certificates suitable for framing are available for $10 in addition to the certificate included with your tuition. Click here to order a Display Certificate.
Approvals
The Institute is approved by the National Certification Board for Therapeutic Massage and Bodywork (NCBTMB) as a continuing education Approved Provider. Approved Provider 049478-00.
Credits also accepted by the AMTA, ABMP and NAHA.
For information regarding your specific state massage license requirements and approvals, visit our Massage Therapy Continuing Education Requirements page by clicking here.
Students enrolling in this course also enrolled in: