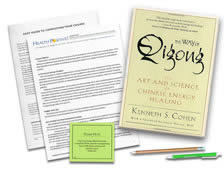 View larger
Choose an enrollment option:
Description
Student Reviews

3

Materials
Approvals
Description
Qigong is an integrated mind-body healing method that has been practiced in China for thousands of years. Long treasured for its effectiveness both in healing and in preventing disease, more recently qigong has been used in conjunction with modern medicine. This continuing education course explains how you too can integrate qigong into your life and massage or bodywork practice.
In this course, you will discover:
the Chinese model of body energy
essential features of qigong practice
components of An-Mo Gong: Self-Healing Massage and its major benefits
external qi healing
components of a complete qigong workout
benefits and dangers of qigong
the qigong lifestyle
Student Reviews
I am a therapist that firmly believes in the transfer of energy between living entities, this course helps to pin-point exactly how to build, release, and exchange vital life energy. I have always said that the Chinese knew thousands of years ago how to diagnose and treat dis-ease of the body...the information was never lost, just forgotten. This book is meant to help us remember. I am sure to read this book many more times throughout my life. Thank You!

- Alesha Bingham, L.M.T. Reno, NV
Qigong will enable me to attain another level of being able to help my clients. I was very pleased with this course. Thank you very much; it was a pleasure working with such a professional and efficient organization!

- Linda Krehbiel, CMT, Evergreen Center, Washburn, WI
I enjoyed this course and I learned a lot about healing and even stuff to help with my own negativity.

- Miss Michaels, Massage Therapist, LV, NJ
Materials
Text - 427 pages
Multiple-choice test - if you prefer to test online please select the "test online" option
Certificate upon completion - if you prefer to print your certificate at home instantly, please select the online option
Display Certificates suitable for framing are available for $10 in addition to the certificate included with your tuition. Click here to order a Display Certificate.
Approvals
The Institute is approved by the National Certification Board for Therapeutic Massage and Bodywork (NCBTMB) as a continuing education Approved Provider. Approved Provider 049478-00.
Credits also accepted by the AMTA, ABMP and NAHA.
For information regarding your specific state massage license requirements and approvals, visit our Massage Therapy Continuing Education Requirements page by clicking here.