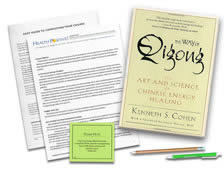 View larger
Choose an enrollment option:
Description
Student Reviews

43

Materials
Approvals
Description
Qigong is an integrated mind-body healing method that has been practiced in China for thousands of years. Long treasured for its effectiveness both in healing and in preventing disease, more recently qigong has been used in conjunction with modern medicine. This continuing education course explains how you too can integrate qigong into your life and massage or bodywork practice.
In this course, you will discover:
the Chinese model of body energy
essential features of qigong practice
components of An-Mo Gong: Self-Healing Massage and its major benefits
external qi healing
components of a complete qigong workout
benefits and dangers of qigong
the qigong lifestyle
Student Reviews
This is an interesting, clearly presented course.

- Jane Feldblum, LMT
I love the wide variety of classes the Institute covers. I've taken a couple of courses through this site and couldn't be happier. It's an added bonus to have the ability to go at your own pace and not have to take the time off to complete the courses. There are so many courses I look forward to taking.

- Stephanie Fountain, LMT
I enjoyed this course because it made the subject matter easily understandable for a "western" practitioner. Realistically, I don't know that I would incorporate this into my practice; however, I will experiment with it. I took it more for personal use, which, of course, will improve my health in all areas of my life.

- Thais Carr, LMT
Excellent text for this course.

- Carol Wood, NCTMB
My interest in Qigong started with a weekend conference to earn CEUs. This course has help me to understand, learn, practice and pursue my practice Qigong even more. I am so thankful and highly recommend this course!

- Deborah Caudle, CMT
This was a wonderful intro to a complex & much misunderstood subject. The references sited and the research were a delight. This book will be with me for years. Many thanks to Ken Cohen for this great work!

- Shirley Desnoyers, LMT
This was an awesome class. The book I will use over and over again in my practice and in my life. Loved it! A must read for any Energy worker.

- Sandra Aleksich, LMT, NCTMB
Once I got started reading the booking, I didn't want to put it down. Forgot that I was actually taking a course for testing, then went back and started all over for course study. Very pleased with it and I'm looking forward to adding Qigong to my lifestyle.

- Deborah Brunt, LMT
I love this class. Thank you

- K. Tracy Wright, LMT
I love the book for this course and am very eager to start practicing some of the exercises - all of which are clearly explained. Great course - thank you!

- Leise Ballou, LMT
I really liked the wide variety of QiGong exercises in the book and thought the author to be very detailed with the history of QiGong in China and it's positive impact as an alternative health practice.

- Nancy Lee Kaufman, LMT
I am very pleased that this book formed the course material. It contained excellent information.

- Carl Grimm, LMT
Loved learning this course work. I am applying it in my massage practice and into my personal practice. Thank You

- Brenda L. Clayville, LMT
One of the best courses i have taken so far!!!

- Seth Keith, LMT, NCTMB
This was one of the best books I have read in a long time. The information was excellent and it explained work I have done for years. I am very glad to be able to add the practical application of the Standing Meditation technique to build energy before doing healing work. Thank you!

- Sandra Anderson, LMT
I loved this book- The Way of QiGong: The Art and Science of Chinese Energy Healing. The author was very clear and thorough in his presentation. There was a good balance of the ancient mystic beauty of QiGong as well as modern day scientific validations. It is intelligent while easy to understand. It validated much of what I already knew and taught me so much that I didn't know previously. This is a book that I will frequently reference, and I look forward to reading it again.

- Stacy Sands, LMT
I expected to learn a lot taking this course. I had no idea how much. I am amazed at the amount of knowledge and insight that I received.

- Dinah Gibson, LMT, NCTMB
I absolutely loved the material and i learned a lot. I can use this as i am a massage therapist. It was very interesting and even funny at times.

- Agripina Brambila, LMP
Great course material. I've read other Qigong books so wasn't new to me, but I liked this author and will read more.

- Patsy Fine, CMT
Great course. I loved the choice of textbook. I will refer to it again and again.

- Jennifer Voorhies, LMT, NCTMB
This book will help me tremendously as a Massage Therapist. This book has reminded me how important the breath is, and how we take the breath for granted. This will help with emotional, spiritual and physical healing for me as well as my clients. I am so thankful I found this course online.

- Livia Nardi, LMT
Great book. Great course. Challenging but fair test. Quality course.

- Andrea Fiscus, LMT
The book was excellent! Clearly written with excellent written examples of the principles. I'm going to be taking a Qigong class this fall and plan to practice Qigong, and hopefully integrate Qigong healing in my massage practice.

- Patricia Grimm, LMT, NCTMB
The textbook by Kenneth S. Cohen was excellent. I will be using it again. I am also inspired to start my own qigong personal practice. Well Done!

- Diana Stagnerm, LMT
I really enjoyed this course. It was very informative and interesting.

- Emily Trainor, LMP
Kenneth Cohen is a fantastic writer and explains the material so well.

- Patricia McCary, LMT, NCTMB
I loved this course!

- Crystal Kolar, LMT
Very clear instructions on the topic. I appreciated the historical information and mention of multi-cultural similarities.

- Ellen Sherfey, LMT, NCTMB
very interesting, easy to understand and explain to others will be able to use this in everyday life.

- Brandi Brown, LMT
This was a good course. Even after reading the book, I found that I needed to go back to find specific answers, so it really helped internalize the information.

- William Citty, LMT
I enjoyed the material. I have been practicing Qi Gong for over ten years. This course has insights and information that have and will expand my skills and knowledge.

- Geoffrey Merritt, LMT
Enjoyed the course and the ability to complete it at my own pace.

- Heather Smolenski, LMT
I enjoyed this course and learned a great deal.

- Cynthia Hayes, LMT, NCTMB
I loved the qigong material

- Matthew Corbitt, LMT
Book provided was not what I expected, but ended up really grabbing my attention. Great new self-help knowledge!

- Courtney Good, LMT
I learned a lot from the Qigong course which I intend to use to enrich my clients and my life. The staff support was friendly and effective.

- Michelle Parker, LMT
Thank you for providing me with this course!

- Kenneth Hughes
Class was informative

- Linda Parks-Gobets, CMT
Ken Cohen's textbook is EXCELLENT! I have practiced Qi Gong exercises with Ken Cohen's QiGong dvds sporadically since 2003. The CEU impetus and this course proved to be invaluable as I have finally read his superbly detailed text cover-to-cover. My daily qi gong practice has been strengthened as well as deepened, and I feel that this entire experience will enhance my overall work with patients very favorably.

- Susan Sanderson, LMT
Engaging. The book rather opens the gate for appreciation and interest in moving forward with Qigong training. I am grateful to the author for sharing his expertise and love of this Healing Art. I will continue to enjoy referencing this book for personal use and in my massage therapy practice.

- Ann Schachinger, LMT, NCTMB
I am a therapist that firmly believes in the transfer of energy between living entities, this course helps to pin-point exactly how to build, release, and exchange vital life energy. I have always said that the Chinese knew thousands of years ago how to diagnose and treat dis-ease of the body...the information was never lost, just forgotten. This book is meant to help us remember. I am sure to read this book many more times throughout my life. Thank You!

- Alesha Bingham, L.M.T. Reno, NV
Qigong will enable me to attain another level of being able to help my clients. I was very pleased with this course. Thank you very much; it was a pleasure working with such a professional and efficient organization!

- Linda Krehbiel, CMT, Evergreen Center, Washburn, WI
I enjoyed this course and I learned a lot about healing and even stuff to help with my own negativity.

- Miss Michaels, Massage Therapist, LV, NJ
Materials
Text - 427 pages
Multiple-choice test - if you prefer to test online please select the "test online" option
Certificate upon completion - if you prefer to print your certificate at home instantly, please select the online option
Display Certificates suitable for framing are available for $10 in addition to the certificate included with your tuition. Click here to order a Display Certificate.
Approvals
The Institute is approved by the National Certification Board for Therapeutic Massage and Bodywork (NCBTMB) as a continuing education Approved Provider. Approved Provider 049478-00.
Credits also accepted by the AMTA, ABMP and NAHA.
For information regarding your specific state massage license requirements and approvals, visit our Massage Therapy Continuing Education Requirements page by clicking here.
Students enrolling in this course also enrolled in: