Description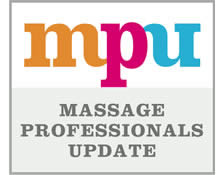 Earn credits through articles you've already read in our Massage Professionals Update e-newsletter.
Learn how massage therapy can assist in common sports injuries. Combining four articles written especially for the Institute's Massage Professionals Update E-newsletter, this brief program will provide insights into:
Causes, solutions and sports masage techniques for achilles tendonitis.
The proven efficacy of petrissage for improving altletic performance and reducing muscle fatigue.
Massage for anterior shin splints.
Illiotibial Band Syndrome.
In the Common Sports Injuries program we've combined four articles written especially for the Institute's Massage Professionals Update. These four articles include:
You can either read the articles by clicking on any of the titles above or upon enrollment you'll be able to access these articles and your online test through your online course account.
Featured Reviews
Quick and easy course. I eventually will take a more extensive course in sports massage but overall good for beginners.

- Dedra Carrithers, LMT
This was an exceptional course and I learned valuable information about treating muscle strains that will help me in my career.

- Patrick Nicholson, LMT
Very helpful to my practice work some with young athletes and this information confirmed some of my suspicions of conditions. Thanks

- Cynthia Widick, LMT
Concise and clear writing. I got some new insights from the material.

- Joann Nicodemus, LMT
This course gave me information and suggested approaches to dealing with pathologies I see frequently in my practice

- Joy Scarano, LMT
Great short course at a fair price. Wonderful refresher with new information.

- A. Jackson, LMT
Great course material. In depth and easy to understand! I work on a lot of athletes and this has helped to provide great terminology to use while speaking with them about certain ailments they may be experiencing.

- Lateesha Lowrey
I really enjoyed this course! I am very much interested in the health and fitness field, and to be able to help those that are in this field as well is what excites me the most!

- Erica Belter
Great resources for all therapists!

- Raymond McMahon, LMT
This course provided a great review of knowledge previously learned and kept my interest steady. Great course!

- Janet Ruckrigl, LMT, NCTMB
I have never ventured into Sports Massage in the past nor attracted sports clients, and may take a hands on class in the near future to begin to work with them.

- Jeanne Berger, LMT
Learned something new fairly quickly.

- Stephanie Reid, LMT, NCTMB
Straightforward and informative

- Deborah Pancoast, LMT, NCTMB
Very good overview

- Elizabeth Phreed, LMT, NCTMB
Very informative.

- Kristy Lopez, LMT, NCTMB
Really enjoyed the course.

- Michael Roscoe
EXTREMELY INFORMATIVE, EXCELLENT MATERIAL AND INFORMATIVE REFERENCES.

- Kay Lilljedahl, LMT
Very informative.

- Sandra Owen, LMT, NCTMB
Excellent course! This was very useful information!

- Dayna Fulkerson, LMT, CMT
enjoyed this course

- Craig McIntyre
Very good info in this course.

- Charles Metzgar, LMT
Excellent course.

- Janice Hurt-Clarke, LMT
I really liked this one it was short. But I found it helpful

- Jenn Packer, CMT
Excellent presentation & course material

- Jill Hall, LMT
Enjoyed the information gained in this course. Thank you.

- Kelly Kydd, LMT
Cannot wait to use this information/knowledge in my practice.

- Edith Castillo, LMT
Very interesting!

- Tiffany Behler, LMP
Great course!

- Kelley McDaniel, LMT
Fun informative and easy to take tests

- Marla McDermott
Great course. Thanks again!

- Shanley Anderson, LMT
The course was interesting and helped me learn things in a simple manner.

- Jennifer Yoakum, LMT
Was informative, was well written so I could understand the material easily

- Joan Lafty, LMT, NCTMB
Very nice review

- Shirley Fennimore, LMT, NCTMB
Really good material in this Sports Massage course. Another good one! Thanks again. : D

- David Dilling, LMT
This additional information will increase my skills to help the athletes that I work with, both canine and human!

- Debra Pearse, NCTMB
I loved this test and materials were easy to understand. I really enjoyed the new knowledge of information gained. Thank You all very much!!

- Maria Vaca, LMT
Great course and I work with a lot of athletes (and specifically runners) so very helpful!

- M. Ashmore, LMT
Great review for what I practice at work!

- D. Larpenteur, LMP, PT
great course..as usual!

- P. Wolfe, LMT, NCTMB
Nice refresher on some of the main sports injuries for my clients. Thanks!

- T. Larsen, RMT, AMTA
This was an excellent review for me.

- B. Erickson, LMT, NCTMB
Approvals
The Institute is approved by the National Certification Board for Therapeutic Massage and Bodywork (NCBTMB) as a continuing education Approved Provider. Approved Provider 049478-00.
Credits also accepted by the AMTA, ABMP and NAHA.
For information regarding your specific state massage license requirements and approvals, visit our Massage Therapy Continuing Education Requirements page by clicking here.