Description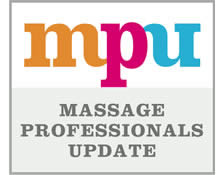 Earn credits through articles you've already read in our Massage Professionals Update e-newsletter.
In a recent survey, more than half of American's that had a massage said that they did so to relieve pain. Combining four articles written especially for the Institute's Massage Professionals Update E-newsletter, this brief program will provide insights into:
The categories of chronic pain and how lifestyle impacts its development.
The definition of complex regional pain syndrome and how massage therapy may reduce symptoms.
Two natural topical pain relievers and the protocol for use in massage therapy.
How a massage practitioner can influence a client's perception of pain.
In the Chronic Pain & Massage - What You Should Know program we've combined four articles written especially for the Institute's Massage Professionals Update. These four articles include:
You can either read the articles by clicking on any of the titles above or upon enrollment you'll be able to access these articles and your online test through your online course account.
Featured Reviews
Your courses never under deliver. Impressed once again!

- V. Dickeson, LMT, NCTMB, AMTA
Very interesting! Challenged my knowledge. Thank you for the research.

- M. McEndree, LMT
Actually less than an hour to complete and it is nice to print the material and have the article to look up more information. Thanks

- Mary Gosling, LMT, NCTMB
Enjoyed learning more about chronic pain.

- Kelly Green
Very informative, would recommend to even an experienced therapist!

- Lucille Nelson, LMT
Wonderfull course...I feel so educated and informed.

- Marshey Smith, LMT
It was very helpful.

- Rae Depner, LMP
Very interesting! challenged my knowledge. Thank you for the research

- Melanie Mcendree, LMBT
This course has provided me with information to help my clients understand chronic pain.

- Barbara Erickson, LMT, NCTMB
The course was great. Very well organized and to the point. Very easy to understand and grasp.

- Lauren Dielman, LMT, NCTMB
Wow!!! I learned a lot of new things that were not covered in school.

- Jeanette Houghtaling, LMT
This course is great, I love that I can print the material and go back to it as a refresher when i need it. This course met my expectations and this site is very user friendly, making life a lot easier for me when im taking these courses at home with 2 children. I will be recommending this site to my students on Monday!

- Jennifer N., LMT
Enjoyed this course. I wish they had a I, II, and III for more information and credits.

- Andi Fulena, CMT
Simple, direct, and to the point.

- Betsy Prucha, LMBT
I enjoyed this course - I learned a lot!

- Hailey Canerday, LMT
The text was easy to read and understand, applicable to my profession, and I was able to complete this course in the comfort of my home.

- Carla Green, LMT, NCTMB
Very informative...will continue CE from this site. Thanks!

- Ruby Lee Tunstall, LMT
Very informative and I learned new information for approaching pain relief facilitation with my clients. Thank you!

- Susan Morgan, LMT, NCTMB
Great course!

- Martha Taylor, LMT
I enjoy taking these courses at my own pace and the material is interesting.

- Amanda Downour, LMT
This course validates what I've been doing all along. Thank you for the refresher and the info and facts that makes massage so interesting and beneficial.

- Evelyn Clarke, LMT
Very informative. Thank you.

- Joan Lafty, LMT, NCTMB
Great course..will be doing more here:)

- Melisssa Black
This was well laid out and easily understood. The questions and answers were applicable, and not complicated.

- Jennifer Blansett, LMT
As someone that suffers from Chronic pain, it was very helpful for me and very informative. I will use this knowledge in my private practice. Thank you.

- Valerie Jimenez
This course was very helpful and meaningful. I have many clients who have chronic pain and discomfort. Thank you.

- Lorena Sue Boyce, LMT
The course was great! Great value for the money.

- Debbie Cook, LMT
Very informative for a short class!

- Lauren Nogrady, LMT, BCTMB
loved the insight into pain and the relief options

- Jessica N. Zimmerman, LMT
I really enjoy your courses. The website and test-taking is easy to maneuver. I return to your website every year for all of my online requirements. Thank you.

- Ellen Moore, LMBT
The course is very in helpful in my practice.

- Maria Isidro
Approvals
The Institute is approved by the National Certification Board for Therapeutic Massage and Bodywork (NCBTMB) as a continuing education Approved Provider. Approved Provider 049478-00.
Credits also accepted by the AMTA, ABMP and NAHA.
For information regarding your specific state massage license requirements and approvals, visit our Massage Therapy Continuing Education Requirements page by clicking here.