Description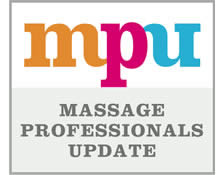 Earn credits through articles you've already read in our Massage Professionals Update e-newsletter.
Discover ways you can prevent the spread of infection in your practice and exposure to yourself and your clients. Combining four articles written especially for the Institute's Massage Professionals Update E-newsletter, this brief program will provide insights into:
How antibiotics may impact bodywork.
Ways staph infections are transmitted and how to prevent exposure.
Proper hand cleansing.
Situations when medical gloves may be appropriate for massage.
In the Infection Control - Bacteria program we've combined four articles written especially for the Institute's Massage Professionals Update. These four articles include:
You can either read the articles by clicking on any of the titles above or upon enrollment you'll be able to access these articles and your online test through your online course account.
Featured Reviews
Another great course - useful for my practice and also in life (with so many superbugs on the rise).

- M. Ashmore, LMT
Straightforward and informative. Thank you!

- Wendy Hall, LMP
Informative yet concise. Worth the cost.

- Holly Ottney
As a concerned L.M.T. I found this material profoundly alarming. Most of my clients are Healthcare Workers. I will now use extra precaution when working. With MRSA on the up-rise I believe ALL therapist should be required to take this test. THANK YOU FOR HELPING US PROTECT ONE ANOTHER!

- Vickie Sweeney, LMT
Take this course and you will be knowledgeable on the importance of keeping a clean therapy room. Also, you will learn how to take the necessary steps in preventing cross contamination between clients. (Everyone should be taught about cleanliness on some level.)

- David Dilling
The one credit courses are a nice way to pick up some helpful information without spending a lot of time and money.

- Robert E. Rano, LMT
My favorite out of the Infectious Disease and HIV/AIDS courses. A great refresher for any Massage Therapist!

- Haley Millett, LMT
Materials
4 MPU Original Articles - 15 pages
Online multiple-choice test
Certificate upon completion
Display Certificates suitable for framing are available for $10 in addition to the certificate included with your tuition. Click here to order a Display Certificate.
Approvals
The Institute is approved by the National Certification Board for Therapeutic Massage and Bodywork (NCBTMB) as a continuing education Approved Provider. Approved Provider 049478-00.
Credits also accepted by the AMTA, ABMP and NAHA.
For information regarding your specific state massage license requirements and approvals, visit our Massage Therapy Continuing Education Requirements page by clicking here.