Description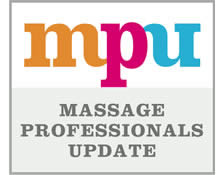 Earn credits through articles you've already read in our Massage Professionals Update e-newsletter.
Discover ways to assist your clients in alleviating the discomfort of various digestive issues.Combining four articles written especially for the Institute's Massage Professionals Update E-newsletter, this brief program will provide insights into:
The pathology of irritable bowel syndrome and simple methods of reducing symptoms.
Relieving symptoms of heartburn through massage and the difference between heartburn symptoms and those of a heart attack.
Common digestive ailment disorders and their symptoms as well as how massage therapy can be used to ease discomfort.
The function of the triple burner meridian as well as its disharmonies.
In the brief Digestive Ailments program we've combined four articles written especially for the Institute's Massage Professionals Update. These four articles include:
You can either read the articles by clicking on any of the titles above or upon enrollment you'll be able to access these articles and your online test through your online course account.
Course Reviews
Janet Ruckrigl, LMT, NCTMB
Love doing online courses at my convenience. I learned new knowledge about heartburn, digestive ailments, and the Triple burner Meridian, plus what massage techniques to use for treating clients. The acupressure points helped me recall previously learned information and makes me want to pursue this topic in more detail again. Great information! Thank you.
Susan Flores, LMT
This was only a one point test,but it was very informative and interesting. I was sleepy when I took it but I couldn't pull away from it. This was valuable and I think I'll look for more of these "small but mighty" tests.
Patricia Douglas, CMT
I took my time with the course. Read sections at different times so I am not sure how many hours it took me. It did not seem long at all, but I was thorough and did some online research with the triple burner since it was new to me. But your course was very thorough and very organized. I want to retain this information, so I took time and reread often. Thank you. I enjoyed this!
P. Shannon Parham, LMT
Great course. I enjoyed it.
Paula Cook, LMT
Very informative and interesting.
Materials
4 MPU Original Articles - 12 pages
Online multiple-choice test
Certificate upon completion
Display Certificates suitable for framing are available for $10 in addition to the certificate included with your tuition. Click here to order a Display Certificate.
Approvals
The Institute is approved by the National Certification Board for Therapeutic Massage and Bodywork (NCBTMB) as a continuing education Approved Provider. Approved Provider 049478-00.
Credits also accepted by the AMTA, ABMP and NAHA.
For information regarding your specific state massage license requirements and approvals, visit our Massage Therapy Continuing Education Requirements page by clicking here.