Description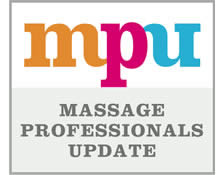 Earn credits through articles you've already read in our Massage Professionals Update e-newsletter.
Discover how massage can affect hypertension and cholesterol levels. Combining four articles written especially for the Institute's Massage Professionals Update E-newsletter, this brief program will provide insights into:
Causes of hypertension and bodywork modalities that can increase and decrease blood pressure.
Reasons hypertension is thought to be a massage contraindication and how to practice sensibly.
The side effects of statins and considerations for massage.
Massage therapy's impact on cholesterol levels.
In the brief Hypertension, Cholesterol & Massage program we've combined four articles written especially for the Institute's Massage Professionals Update. These four articles include:
You can either read the articles by clicking on any of the titles above or upon enrollment you'll be able to access these articles and your online test through your online course account.
Featured Reviews
Great to refresh my memory for doing massage on high blood pressure/ cholesterol clients.

- J. Mini, LMT
Overall the material was very educational and interesting. I will definitely use it when working with my clients.

- H. Preble
The course was very informational without a lot of extra reading. Taught me several things.

- B. Wagner CMT, AMTA
The course was just great. Very helpful information leading me to do further study via references in your course. Thank you for making ths information available for CE credits.

- P. L. Brownell, LMT
Good material to use and educate on... really enjoyed the class study guide as it really helped me learn more about hypertension and cholesterol.

- I. Tate, LMT
I enjoy learning a lot in a short amount of time and this course enabled me to do that.

- S. Cottingim, LMT
Thank you ~ I will be taking other courses offered as well! The information contained in this training is useful not only to me as a LMT but valuable to share with clients, family & friends as well.

- Tracey Sherwood, LMT
I learned a few new items and relearned some forgotten ones.

- Amber Spencer, LMT
I have high blood pressure that is controlled so I found this course very interesting.

- Mildred Townsend, LMT
Informative and easy to understand. I will sign up for more courses!

- Deborah Lonon, LMT
I found it right to the point and worth the time. I was very pleased.

- Michelle LaVigne-Wedel, LMT, NCTMB
I didn't know massage could be so beneficial to those with cholesterol issues.

- Shari Clark, LMT
Great information! Gained knowledge from this course.

- Heather Dillon, LMT
Great information.

- Marylee Schreiber, LMT
Really found the information helpful on hypertension and was able to refresh what I already knew. looking forward to more classes.

- Patricia Phillips, LMT
Great information! Thank you for teaching me the new info on Anma.

- Victoria Hawthorne, LMT
Thank you - another great, useful course!

- Melanie Ashmore, LMT
Loved it!

- Pamela Geisel, LMT
Thank you. Excellent.

- Wendy Child, LMT
As a registered dietitian, it was great to see this course because most of my massage clients have hypertension and I take their blood pressure before I give them a massaage. My nutrition clients who come to me for their hypertension, I offer nutrition advice and massage therapy to help control their hypertension.

- Renee Wiggins, LMT
Great review. I will be making charts to assist me during health history intake and assessment.

- Jeanne Berger, LMT
Very important info for all of us!

- Shanley Anderson, LMT
Some fascinating content.

- Carmen Mabry, LMT
I truly enjoyed this course. It reinforced my knowledge that I learned from Pharmacology and Massage (another great course that I love) and added more insight in my practice in working with cardiac patients at the hospital's Cardiac Rehab center. Cannot thank you enough for offering this course.

- Barbara Acosta, LMT
I really enjoyed learning about this subject matter as it is one that pertains to so many people here in the United States. I found this material helpful to me as a practitioner and also valuable to pass onto family members and friends.

- Lori Kelly, NCTMB
Was a great review and new information learned.

- Colette Bomback, LMT
I really enjoyed this course. I think it is great knowledge to have with so many Americans with Hypertension!

- Tiffany Simmons, LMT, NCTMB
I thought the course was excellent, I found it very interesting. Thank you

- Joan Dunne, LMT
This course provided very valuable and important information regarding hypertension and cholesterol in regards to massage and how it affects the client.

- Tanya Muhleisen
Really enjoyed the course and the material and how to lower both high blood pressure and cholesterol as I have high blood pressure. This will definitely help me course my way of getting back to being healthy! Thanks! Jeanne

- Jeanne Butler
great information

- Robin Warren, LMBT
Very good course since so many of westerners have both hypertension and cholesterol issues.

- Kimberly Hood, LMT
Approvals
The Institute is approved by the National Certification Board for Therapeutic Massage and Bodywork (NCBTMB) as a continuing education Approved Provider. Approved Provider 049478-00.
Credits also accepted by the AMTA, ABMP and NAHA.
For information regarding your specific state massage license requirements and approvals, visit our Massage Therapy Continuing Education Requirements page by clicking here.