Description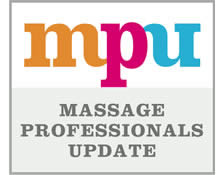 Earn credits through articles you've already read in our Massage Professionals Update e-newsletter.
Through this brief program you will learn how massage can affect specific pathologies and client complaints. This includes:
Recognizing alopecia areata (hair loss) and identifying the autoimmune conditions associated with alopecia areata.
Differentiating between common constipation and severe symptoms that require a physician's evaluation, potential causes of constipation, learning examples of serious complications that can result from severe constipation as well as appropriate massage techniques to help alleviate constipation.
Discovering TCM meridians associated with eye health.
The association between deep vein thrombosis and peripheral arterial disease (PAD), PAD signs and symptoms, lifestyle modifications that can benefit clients with PAD as well as appropriate massage techniques for clients with PAD.
Learning about popular theories of ganglion cysts and where they most commonly occur.
Summarizing the effects of alcohol and bodywork on the body and determining legal and ethical responsibilities if clients are served alcohol in the massage setting.
Vital steps you should know before beginning bodywork on a client who has cancer.
Safety concerns and appropriate massage therapy techniques for use on diabetic clients.
In the Common Pathologies & Complaints program we've combined articles written especially for the Institute's Massage Professionals Update. These articles include:
You can either read the articles by clicking on any of the titles above or upon enrollment you'll be able to access these articles and your online test through your online course account.
Featured Reviews
This was really an excellent course for me as I wanted to be aware of indications and contraindications for several pathologies. The material was well written, precise and always to the point. Thank you.

- Jake Strauss- Williams
Thank you so much for the useful and interesting information. I enjoyed reading the material and am so happy to know i can put some of the information to helpful use with my clients immediately!

- Iana Iytle, LMT
This course is a good refresher course. Well worth the CEU!

- Stacie L. Maze, LMT, NCTMB
This is a great course. There is new information in here for new massage therapists and experienced massage therapists alike.

- Jennifer Naro, LMT
This course is a good refresher for therapists to use and learn in treatment planning for clients with specific needs. I also learned something new while studying this course.

- Anna Crawford, LMBT
INFORMATIVE ARTICLE FOR INSTRUCTORS AND STUDENTS.

- Syed Hussain
This was my first online course for massage. The information was clearly presented and I learned some new things. I will definitely take another class here!!

- Jeanne Heuberger, LMT
Found this very interesting. Lots of information. Will be able to use beneficially. Thank you

- Jacqueline M. Susi
Approvals
The Institute is approved by the National Certification Board for Therapeutic Massage and Bodywork (NCBTMB) as a continuing education Approved Provider. Approved Provider 049478-00.
Credits also accepted by the AMTA, ABMP and NAHA.
For information regarding your specific state massage license requirements and approvals, visit our Massage Therapy Continuing Education Requirements page by clicking here.