British Columbia Massage Therapy Continuing Education Requirements
It is our current understanding that The College of Massage Therapists of British Columbia (CMTBC) is the regulatory body for massage therapy. The CMTBC sets the requirements for registration as a Registered Massage Therapists (RMTs), creates the Standards of Practice, sets the standards for advertising, ethics and discipline, investigates complaints againsts RMTs, and requires and monitors continuing education credits among other responsibilities.
We have not submitted any courses for approval to the CMTBC.
For information regarding your continuing education credits requirement for Registration renewal, please visit the CMTBC website at https://www.cmtbc.ca/registrants/quality-assurance/continuing-education-credits/.
If you would like to verify this information, or have further questions regarding your massage therapy continuing education requirements, we suggest contacting the College of Massage Therapists of British Columbia directly. The telephone number for the College of Massage Therapists of British Columbia is 877-321-3404 or visit their website at https://www.cmtbc.ca.
If you are a member of NHPC you may use any of our programs to complete your 20 Continued Competency Program credits toward your biennial membership renewal.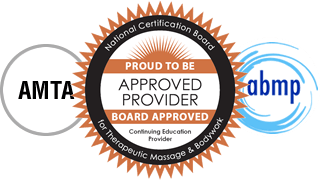 The Institute for Integrative Healthcare Studies is approved by the NCBTMB as a continuing education Approved Provider (#049478-00). All of our continuing education programs can be used for National Certification renewal.
You may also use our credits for other organizations you may belong to, such as the American Massage Therapy Association (AMTA) or Associated Bodywork Massage Professionals (ABMP).