Idaho Massage Therapy Continuing Education Requirements
Massage therapy continuing education requirements for license renewal vary from state to state and the laws are constantly changing. It's our current understanding that Idaho requires massage therapists to complete 6 CE hours every year beginning with the second license renewal. Of the 6 CE hours, 1 CE hour must be in ethics.
What We Can Do For You!
You may take all 6 CE hours through our home study programs.
You can use our various ethics continuing education courses to satisfy your ethics requirement.
Because the Institute for Integrative Healthcare Studies is approved by the NCBTMB as a continuing education Approved Provider as well as many state boards, the Idaho Board of Massage will accept any of our courses they consider "germane" to massage therapy to satisfy the 6-hour requirement. These include but are not limited to:

Applications of massage and bodywork therapy for specific needs, conditions, or client populations.
Client assessment protocols, skills for client record keeping, strategies for interfacing with other health care providers.
Use of external agents such as water, sound, heat, cold, or topical applications of plant or mineral-based substances.
Body-centered or somatic psychology, psychophysiology, or interpersonal skills which may include communication skills, boundary functions, dual relationships, transference, counter-transference, and projection.
Standards of practice, professional ethics, or state laws.
Strategies for the marketing of massage and bodywork therapy practices.
Theory or practice of ergonomics as applied to therapists or clients.
Hygiene, methods of infectious disease control, organization and management of the treatment environment.
Body sciences, which may include anatomy, physiology, kinesiology or pathology, as they apply to massage therapy
It is our understanding that the Idaho Board will not accept courses related to animal massage, touch affecting energy systems, acupoints, qi meridians or channels of energy, structural integration, or restoring postural balance. These practices include but are not limited to: Feldenkrais method, Trager approach, body-mind centering, Ortho-Bionomy, cranial sacral therapy, polarity, reflexology, Asian bodywork, acupressure, jin shin do, qigong, reiki, shiatsu, Rolfing, or Hellerwork.
If you would like to verify this information, or have further questions regarding your massage therapy continuing education requirements, we suggest contacting the Idaho Board of Massage directly. The telephone number for the Idaho Board is 208-334-3233 or visit their website at https://apps.dopl.idaho.gov/DOPLPortal/BoardPage.aspx?Bureau=MAS.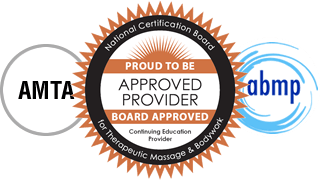 The Institute for Integrative Healthcare Studies is approved by the NCBTMB as a continuing education Approved Provider (#049478-00). All of our continuing education programs can be used for National Certification renewal.
You may also use our credits for other organizations you may belong to, such as the American Massage Therapy Association (AMTA) or Associated Bodywork Massage Professionals (ABMP).