Nebraska Massage Therapy Continuing Education Requirements
TEMPORARY CE CHANGES DUE TO COVID-19
Massage therapy continuing education requirements for license renewal vary from state to state and the laws are constantly changing. It is our current understanding that Nebraska requires massage therapists to complete 24 CE hours every 2 years for license renewal, of which 3 CE hours must be in ethics.
While Nebraska typically would only accept CE in ethics through home study courses, the department will not enforce any limit on the number of continuing education hours obtained online or by home study for renewal or reinstatement of any type of license for the 2021 renewal even after the State Declaration of Public Health Emergency has ended. The Department will be as flexible as possible for renewals that take place following the emergency.
What We Can Do For You!
If licensees obtained online or home study CE hours during the emergency because in-person courses were not available, the Department will accept those CE hours even if the expiration date for that profession takes place after the emergency has ended. Therefore, you may take all 24 hours through home study courses for the November 2021 renewal.
Communication will be sent to licensees once any subsequent renewal period begins so that licensees know when the limits for online or home study CE are back in place. Therefore you may take all 24 hours through our home study programs.
If you would like to verify this information, or have further questions regarding your massage therapy continuing education requirements, we suggest contacting the Nebraska Board of Massage directly. The telephone number for the Nebraska Board is 402-471-2117 or visit their website at http://dhhs.ne.gov/licensure/Pages/Massage-Therapy.aspx.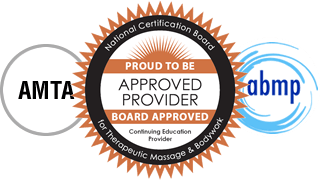 The Institute for Integrative Healthcare Studies is approved by the NCBTMB as a continuing education Approved Provider (#049478-00). All of our continuing education programs can be used for National Certification renewal.
You may also use our credits for other organizations you may belong to, such as the American Massage Therapy Association (AMTA) or Associated Bodywork Massage Professionals (ABMP).