Ontario Massage Therapy Continuing Education Requirements
It is our understanding that Registered Massage Therapists practicing in the province of Ontario must complete and submit specified STRiVE components on an annual basis between September 1 and November 30. STRiVE replaces the previous continuing education program which was based on a three-year cycle.
The key components of STRiVE include:
An e-learning module which provides education on a topic that is relevant to the entire profession. RMTs are required to demonstrate their knowledge of the content each year.
A self-assessment that is comprised of performance indicators that will help the RMT assess their current level of performance every two years.
A learning plan whereby RMTs have to define their goals and objectives for professional development. RMTS will develop a learning plan with goals and activities. This starts by providing these learning goals and continuing professional development activities between September and November 30th of the first year in the renewal. In the second year RMTs will submit their progress report also between September and November 30th. This is where our courses fit in!
A yearly Experiential Learning Exercise which helps RMTs develop skills in reflective practice such that one can analyze one's own professional performance with the goal of enabling ongoing improvement and further developing areas of strength and expertise.
What We Can Do For You!
RMT's are responsible for selecting quality learning activities that meet their professional development goals set out in their learning plan. Professional learning activities do not have to be approved by the CMTO. CE providers are not required to have programs approved by the CMTO. Therefore, you can utilize any of our our home study programs to help you reach your goals!
If you would like to verify this information, or have further questions regarding your massage therapy continuing education requirements, we suggest contacting the College of Massage Therapists of Ontario directly. The telephone number for the College of Massage Therapists of Ontario is 800-465-1933 or visit their website at https://strive.cmto.com/.
If you are a member of NHPC you may use any of our programs to complete your 20 Continued Competency Program credits toward your biennial membership renewal.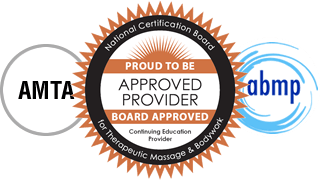 The Institute for Integrative Healthcare Studies is approved by the NCBTMB as a continuing education Approved Provider (#049478-00). All of our continuing education programs can be used for National Certification renewal.
You may also use our credits for other organizations you may belong to, such as the American Massage Therapy Association (AMTA) or Associated Bodywork Massage Professionals (ABMP).