Ontario Massage Therapy Continuing Education Requirements
It is our understanding that Registered Massage Therapists practicing in the province of Ontario must complete and submit specified STRiVE components on an annual basis between September 1 and November 30. STRiVE replaces the previous continuing education program which was based on a three-year cycle.
RMT's are responsible for selecting quality learning activities that meet their professional development goals. Professional learning activities do not have to be approved by the CMTO. CE providers are not required to have programs approved by the CMTO.
If you would like to verify this information, or have further questions regarding your massage therapy continuing education requirements, we suggest contacting the Ontario Board of Massage directly. The telephone number for the Ontario Board is 888-739-7181 or visit their website at https://strive.cmto.com.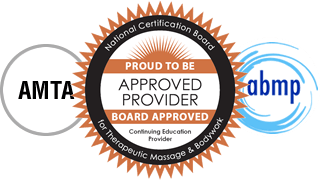 The Institute for Integrative Healthcare Studies is approved by the NCBTMB as a continuing education Approved Provider (#049478-00). All of our continuing education programs can be used for National Certification renewal.
You may also use our credits for other organizations you may belong to, such as the American Massage Therapy Association (AMTA) or Associated Bodywork Massage Professionals (ABMP).