Oregon Massage Therapy Continuing Education Requirements
TEMPORARY CE CHANGES DUE TO COVID-19
Massage therapy continuing education requirements for license renewal vary from state to state and the laws are constantly changing. It is our current understanding that as of July 12, 2021 Oregon requires massage therapists to complete only 12 CE hours for license renewal applications received in the Board office between June 30, 2021 to March 31, 2023.
Of the 12 hours, you are required to complete 1 hour in Cultural Competency, and the 1 hour online Pain Management Module course provided by the Oregon Pain Management Commission.
Your Current Basic Life Support certification at the time of renewal remains a requirement and the hours spent obtaining your certification (whether completed online or in person) may be counted towards your total 12 CE hours.
SUSPENDED: The 4 hour ethics, boundaries and communication requirement is suspended for renewals received between March 24, 2020 and March 31, 2023.
For renewal applications received after March 31, 2023 as well as applications that were submitted before this day but not completed by March 31, 2023, you will be required to complete the 25 CE hours typically required including a minimum of 15 contact hour as well as all of the other course requirements including ethics.
What We Can Do For You!
For those submitting their renewal applications prior to March 31, 2023, you may take any of your remaining CE hours through our home study programs. Click here for more information about the Oregon Board of Massage Therapists Rules Suspension.
The Oregon Board of Massage will accept all of our 145+ courses with the exception of courses related to animal massage or self care.
If you would like to verify this information, or have further questions regarding your massage therapy continuing education requirements, we suggest contacting the Oregon Board of Massage directly. The telephone number for the Oregon Board is 503-365-8657 or visit their website at http://www.oregon.gov/OBMT/Pages/index.aspx.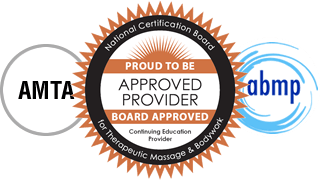 The Institute for Integrative Healthcare Studies is approved by the NCBTMB as a continuing education Approved Provider (#049478-00). All of our continuing education programs can be used for National Certification renewal.
You may also use our credits for other organizations you may belong to, such as the American Massage Therapy Association (AMTA) or Associated Bodywork Massage Professionals (ABMP).