Hands Heal: Communication, Documentation & Insurance Billing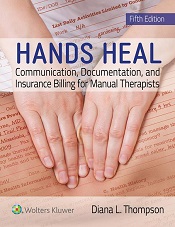 View larger
Author: Diana L. Thompson, LMP
New Fifth Edition!
Learn effective communication to become a vital member of the healthcare team!
As a part of the health care team, massage therapists need to understand how to effectively communicate, be it with a client, other health care providers, insurance professionals, and members of the legal field, and understand the measurement tools and documentation forms they will encounter as they practice. Hands Heal is the only text that provides crucial guidance on taking client histories, setting functional goals, and documenting treatment outcomes.
This fifth Edition of Hands Heal offers massage therapy students comprehensive coverage of communication, assessment, and electronic and paper documentation skills, from taking client histories and setting functional goals to documenting treatment outcomes. Reflecting the latest changes in the curriculum and the profession, the book is more ELAP compliant, includes changes to ICD-10 and CPT codes, and updates to HIPAA regulations. The new edition incorporates the effect of the Affordable Care Act on manual therapists and offers increased emphasis on communication with doctors and other healthcare providers. Integrated electronic charting (EHR) coverage, new case studies and new case study types, and compelling new online videos help students master course concepts and prepare for practice.
In this new, updated edition, author Diana Thompson relies on her vast experience as a massage practitioner, research consultant and educator to create a comprehensive resource on communication, insurance billing and case report writing for massage therapy students and practitioners. Key features of this exciting new edition include:
A new chapter provides detailed instructions on how to complete a case report
Crucial information on HIPAA, and relevant CPT and ICD-9 codes
A variety of sample forms, including: intake forms, measurement tools, SOAP charts and wellness charts, and forms to track insurance billing
For practicing massage therapists, these sample forms will be of immediate value in putting concepts into practice.
Features:
NEW! THREADED CASE STUDIES Case studies threaded through the chapter provide examples of communication and application of charting techniques and brought to life by online videos make extensive use of in-book and online charting forms to help students prepare for practice and strengthen critical thinking skills.
NEW! SELF-CONTAINED CASE STUDIES explore a wide variety of scenarios, including the use of private insurance, labor/industry accidents, personal injury, and general wellness, as well as chronic and acute conditions and hospital-based and palliative care/end of life scenarios.
NEW! EHR COVERAGE! Procedures for effective documentation using today's electronic health record solutions is now integrated throughout the book.
NEW! INCREASED ELAP COMPLIANCE: To provide alignment with ELAP, this edition includes additional learning aids, including learning objectives and end-of-chapter questions, and offers increased coverage of research and research literacy.
Includes student quiz bank for effective review
Reader-friendly sidebars throughout the text highlight critical information
Sample forms provide templates for use and correct documentation procedures
(Softcover Book: 432 pages)
Continuing Education Credits available for eligible participants. Call us at 1-800-364-5722 for details.