Materials
Text - 237 pages
Multiple-choice test - if you prefer to test online please select the "test online" option
Certificate upon completion - if you prefer to print your certificate at home instantly, please select the online option
Description
*Check with your board regarding the acceptance of energy and animal massage courses. The NCBTMB does not accept energy courses.
This course explores the energetic dynamics between people and dogs with detailed text, photographs and charts. It includes the concepts behind a variety of massage practices, positional release techniques, acupressure, healing touch and chakra balancing.
In this course, you will learn:
to identify the scope of practice for massage therapists regarding canine energy work
energy work concepts as they apply to dogs
the benefits and contraindications for grounding strokes, compression, stroking, skin rolling, body rolling and rocking, stretching the coat and limbs, percussion, and integration
physical, emotional and behavioral benefits of canine massage
benefits of massage before surgery
communication between the dog and human, including the signs of acceptance or refusal to massage
energy movements, stretching, chi, acupressure points/acuponts
accessing and following meridians
applications of chakra information
human body and energy mechanics
canine body and energy mechanics
table requirements for comfort, safety, rhythm and flow during massage
Course Objectives
Correctly identify the scope of the practice outlined in this course.
Identify the physical, emotional and behavioral benefits of massage for dogs.
Identify the benefits of massage for older dogs and for dogs before and after surgery.
Identify at least five nonverbal areas of communication between the dog and human, including the signs of acceptance or refusal to massage.
Describe the key elements of the "pushing the tree" exercise.
Describe the massage exercises that help increase the therapist's sensory awareness.
Identify the key elements of the assessment procedure.
Identify the benefits and contraindications for each of the following: grounding strokes, compression, stroking, skin rolling, body rolling and rocking, stretching the coat and limbs, percussion, and integration.
Describe the different types of Chi; identify at least five acupressure points and their locations on a dog, and describe the effects to the dog when the points are touched.
Identify the meridians' properties and direction and recognize the contraindications to meridian work.
Describe the three lower energy shells; identify the chakras and their properties, and recognize the location of each chakra.
List the major filters through which a dog relates to him/herself and the environment.
Define intention and entrainment and their relationship to massage.
Describe the table requirements necessary for the therapist and the dog's comfort, safety, rhythm and flow during the massage.
Recognize the body mechanics that enhance and restrict the flow of chi and list the high-energy points on a dog.
Compare and contrast the purposes of ruffling and unruffling and recognize the importance of motionless holding.
Describe the assessment sequence; identify common contraindications to treatment; recognize the recommended session sequence, and list the possible post-session responses of the dog.
Identify the author's perspectives about the future of holistic animal care.
Identify at least one method to support the growth of holistic animal care.
Course Reviews
Hope Seely, LMT
I learned so much from this course! I found the materials easy to read, the explanations clear and to the point and the overall course very enjoyable and informative. I would recommend it to anyone who would like to broaden their knowledge of energy work or enhance their interactions with their canine friends. Great course!
Wendy Goldniak, CMT
This course provides advanced training in PetMassage with more emphasis on energy work that you can use on your own dog(s). It suggests a plethora of exercises/meditations for you and your dog as well as a recommended PetMassage routine.
Johanna Jaffer, MSHA, NCTMB, Hellerwork Practitioner
The material was well-presented, well-organized and clearly described. It is an excellent reference book with detailed information that I will continue to refer to.
Beverly J. Sparks, CMT
I knew the connection with my own dog was strong, but through this course I was able to deepen my understanding of her and myself and connect on levels I never thought possible. A wondrous side effect has been an understanding of energy work and energy systems in general that previously was only conceptual. My work with humans has deepened and my work with dogs has only just begun. My deepest gratitude to the author and Health Positive!.
Christine Nonnenmacher, LMT, NCTMB
This is a really excellent course for any dog owner and any therapist interested in helping dogs on an energy level, if not a therapeutic level. I'm hoping to expand into pet massage and will likely take more classes from this expert as well as others!
Instructors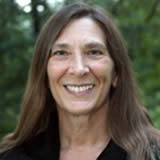 Sharon Burch, MSN, RN, NCTMB
Sharon Burch holds a Masters Degree in Nursing and has been practicing as a nurse since 1974. She is currently a Registered Nurse in the state of Arkansas. Additionally, Ms. Burch studied under many of today's leaders in massage therapy and bodywork during the 1980s, became Nationally Certified through the NCBTMB in 1993 and holds a professional membership with the AMTA.
As founder of Health Positive!, Ms. Burch has created over 60 home study nursing and massage continuing education programs, performed over 65 public, live educational presentations, has written two published books, served as a member on the NCBTMB Continuing Education committee and was a founding member of the National Association of Nurse Massage Therapists.
Sharon is an instructor on many of the Institute's programs and has authored and co-authored various ethics courses and additional titles such as Touch for the Seriously Ill, Stress Reduction Through Bodywork, Staying Well – Naturally, Cardiopulmonary Health and Illness, Chronic Pain Management, Marketing Massage in Four Easy Steps, Preventing Medical Errors, HIV Update for Massage Therapists and Bodyworkers, Understanding HIV, Massage for Edema and more.