Materials
DVD - 118 minutes
Manual - 300 pages
Multiple-choice test - if you prefer to test online please select the "test online" option
Certificate upon completion - if you prefer to print your certificate at home instantly, please select the online option
Description
Fibromyalgia and Massage prepares massage therapists to safely and conscientiously work on clients who have fibromyalgia.
Fibromyalgia and Massage is designed to provide the massage therapist with a thorough understanding of this highly variable syndrome in order to provide the best care possible to his/her clients. This course serves massage therapists with fibromyalgia clients on three levels; specification of techniques to include in a session, encouragement to seek further education in complementary modalities and referral ideas for clients needing additional support.
Participants will learn the working definition of fibromyalgia syndrome, and the complexities involved in its isolation. Understanding the coexisting and associated conditions better equips the practitioner in their preparedness for helping these clients. While no single causative theory reigns, the proposed theories of why people get fibromyalgia are discussed. With over 500 references, this book is a comprehensive compilation of modern research, varying therapeutic perspectives and many approaches for managing this challenging condition.
Also covered are the coexisting conditions, topical balms and salves, intake forms and checklists, plus exercises, stretches and other valuable patient self-care recommendations.
In addition to the 300 page manual, the course includes a 118-minute video which discusses the syndrome and demonstrates massage strokes therapists can perform on clients to help alleviate symptoms.
The objective of this program is to provide the background and framework necessary for a massage therapist to design a customized management plan for each fibromyalgia client. A crucial element of this framework is uniform assessment, application and re-assessment. Through evaluation of a client's symptoms, a practitioner will choose to apply certain massage techniques and will offer referrals for specified complementary therapies. A thorough understanding of fibromyalgia helps develop the therapist's compassion, confidence and vision to effectively relieve its symptoms.
Course Objectives
Define fibromyalgia and the associated tender points. (Description of fibromyalgia and the anatomical location of the 18 tender points associated with fibromyalgia.)
Recognize signs, symptoms and associated conditions; explain why fibromyalgia is called a syndrome, understand the evolution of fibromyalgia and will learn how to identify the official American College of Rheumatology criterion for fibromyalgia. (History of fibromyalgia, the disease definition, signs symptoms and associated conditions.)
Distinguish between tender points and trigger points; become familiar with the fibromyalgia diagnostic controversy; and recognize common coexisting conditions and their differentiation and/or overlap with fibromyalgia. (Physiology and pathological factors of fibromyalgia. Diagnostic criteria fulfillment and symptomology of related ailments such as myofascial pain syndrome, chronic fatigue syndrome, arthritis and more.)
Learn the different demographics of fibromyalgia and understand the different causation theories. (Statistics and research supporting the different fibromyalgia causation theories such as trauma, hormone imbalance, infection, immunity and more.)
Assess clients; interpret their progress and know what to expect when working with someone with fibromyalgia. Includes sample intake questionnaire. (Assessment of tender points and comparison of subjective and objective information to record client progress.)
Comprehend what it's like to have fibromyalgia, learn treatment tips and examine lifestyle factors that lead to wellness. (Seven patient profiles and the impact of various lifestyle factors on fibromyalgia.)
Recognize medications commonly prescribed in conventional treatment, those most effective for fibromyalgia and recognize related side effects. (Pharmacology basics of commonly prescribed medications for fibromyalgia, including their advantages and disadvantages.)
Identify the importance of massage palpation for assessment and treatment, and learn how massage is associated with fibromyalgia relief. (Physiology and research on assessing temperature, induration, pain, edema, skin changes and pulse differences with fibromyalgia clients.)
Analyze different massage techniques and their specific benefits for people with fibromyalgia; including typical fibromyalgia patterns of dysfunction and the involved musculature. (Delineation of the impact effleurage, petrissage, friction, lymphatic drainage, vibration, passive stretching, energy techniques, Ayurvedic massage, Chi Nei Tsung, cranial-sacral and more have on clients with fibromyalgia, including upper and lower crossed syndrome patterns.)
Learn about different topical applications valuable in fibromyalgia massage. (Description of herbal rubs, oils, salves, poultices and creams for fibromyalgia, including arnica, cayenne, menthol, castor oil, ginger and more.)
Understand how to explain to clients how exercise and stretching impact fibromyalgia. (Kinesiology of muscles. Research on stretching and exercise for fibromyalgia.)
Identify different holistic and natural therapies that help fibromyalgia and its associated conditions, and evaluate which modality would be the most appropriate referral for a specific fibromyalgia issue. (Discussion of Ayurveda, Traditional Chinese Medicine, Trigger Point Therapy, Alexander Technique, Osteopathy, Cognitive Behavioral Therapy and more as applied to fibromyalgia syndrome.)
Implement different aspects of a treatment plan, integrating many aspects to address the individual. (Integrates material throughout the book to help the therapist facilitate a plan of action for their client. Emphasis is on an interdisciplinary approach and relapse management.)
Course Reviews
S. Musick, LMT, ABMP
An absolute must for any massage therapist who wants to meet the needs of their fibromyalgia clients. After completing this course, I now feel confident when a client approaches me about their syndrome. This new understanding of FMS has allowed me to be more empathetic and supportive of my clients.
B. Ray, NCTMB, AMTA
The course content was very interesting and thorough and provided me with lots of information to provide clients who I work with who have fibromyalgia. This information has helped myself and my clients better understand the multitude of varied symptoms they experience and how to work with them. The DVD was particularly helpful for me in evaluating the eighteen tender spots and the different massage sessions for sleep, pain and headaches. The course has been and will continue to be an excellent resource for my private massage practice. I also have found the fibromyalgia guide to be very helpful for clients and myself.
Sharon Mitchell, LMT, AMTA
This course on Fibromyalgia was presented in such a professional manner. I truly appreciate the author's well thought out structure of the material. I also was intrigued with the coverage of the many modalities that can be used to help one with Fibromyalgia. Last year I was diagnosed as having Fibromyalgia and so the content was exceedingly helpful to me personally and I am confident that this information will help many of my clients who also suffer from this syndrome. Thank you very much.
Sarah Bell, CMT, NCTMB
This material is extremely helpful to my practice, as I see clients who have Fibromyalgia. I have read articles and taken other CEU courses on the subject but none went into the material in as much depth. I found the video very helpful as well.
Maureen Bird, LMT, NCTMB, AMTA
I was amazed at the content of the program and the intensity. This will be very valuable info for helping and instructing my clients with FMS. I am thankful for all the specific information presented in this program.
Instructors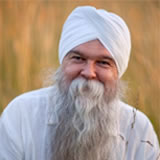 Karta Purkh Singh Khalsa, CD-N, RH, NCTMB
K.P. Khalsa is a certified massage and bodywork therapist through the NCBTMB, a Registered Herbalist through the American Herbalists Guild, a Certified Dietician-Nutritionist in the State of New York and a Registered Counselor in the State of Washington. He has had over 30 years of experience in alternative medicine, and is one of the foremost herbal experts in North America. K.P. Khalsa is a respected teacher, having served as faculty at Bastyr University, National College of Naturopathic Medicine and AYU Ayurvedic Academy. As a writer and lecturer, he has presented at well over 120 national conventions and conferences. K.P. has authored or edited over 26 books, including the Institute's Fibromyalgia and Massage course manual.