Materials
Text - 398 pages
Multiple-choice test - if you prefer to test online please select the "test online" option
Certificate upon completion - if you prefer to print your certificate at home instantly, please select the online option
Description
Fibromyalgia & Chronic Myofascial Pain, the classic survival manual, offers a comprehensive guide for managing the common but often misdiagnosed conditions of fibromyalgia and chronic myofascial pain. Its management techniques include targeted bodywork for painful trigger points and strategies to help cope with the chronic pain, sleep problems and numbing effects of "fibrofog" that occur.
Including research on the causes of fibromyalgia, evaluation of treatments, complete discussions of special issues for women and men, and information on medication, the course text also includes a popular provider index, which can help clients select those practitioners that will take your client's complaints seriously and offer knowledgeable treatment advice.
In this course, you will learn:
what constitutes fibromyalgia syndrome and chronic myofascial pain
trigger points and therapeutic approaches to release them
the characteristics of fibromyalgia syndrome and chronic myofascial pain and how they affect quality of life
indications and contraindications in giving bodywork and emotional support to people who have FMS and/or CMP
accurate information that you would give to clients about fibromyalgia syndrome and chronic myofascial pain
This course is a goldmine of practical information and research about fibromyalgia syndrome and chronic myofascial pain. It examines how these conditions can affect the quality of life, important concepts about safe and effective ways to maintain health while decreasing pain and dysfunction and indications and contraindications for bodywork.
Course Objectives
Describe Fibromyalgia Syndrome (FMS) and Chronic Myofascial Pain (CMP).
Describe trigger points and therapeutic approaches to release them.
Identify the distinguishing characteristics of FMS and CMP and how they affect people's quality of life.
Recognize what is indicated and contraindicated in giving bodywork and emotional support to people who have FMS and/or CMP.
Identify accurate information that you would give to clients about FMS and CMP.
Using the textbook as a reference, locate accurate resources that can give you and your clients more information.
Course Reviews
Heidi Gerner, CMT, NCTMB
Fibromyalgia & Chronic Myofascial Pain was an excellent course because it systematically explained the disorder, discussed physiology, treatment options with diagrams, and perpetuating factors which can complicate the affliction. A family member has recently been diagnosed with Fibromyalgia and I now feel I understand what I can do to help.
Georgette Cristina, LMT, NCTMB
This book needs to be put in the hands of people who suffer from Fibromyalgia so they can receive the information from these pages and start to understand their body. This book was an eye opener to symptons that I have and others I know have and how to HELP. Thanks
Cynthia Hoffmeister, LMT
I enjoyed learning more about Fibromyalgia and Chronic Myofascial Pain. As a Massage Therapist, I have several clients who have Fibromyalgia and receive alot of relief from massage. After reading this book it helped me understand more about it and also the effect of Trigger Points in the body in any person, not only those with FMS. I think now I want to learn about Trigger Point Therapy because that is definitely something that will really help people from developing many painful problems. I really think many people don't have any idea about how bad Trigger Points are and how much better they will feel if they are inactivated/alleviated.
Misty Landry, LMT, BCTMB
The text book that accompanied this course was incredible, everyone who worked on it really knocked it out of the park! This resource will be invaluable to my work. Thank you Devin Starlanyl and Mary Ellen Copeland, you have truly found your calling! Misty Landry
Marion Mulcahy, LMT
I really enjoyed this course, and will absolutely use the information in my practice! I am so grateful.
Instructors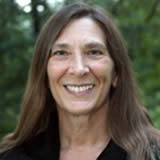 Sharon Burch, MSN, RN, NCTMB
Sharon Burch holds a Masters Degree in Nursing and has been practicing as a nurse since 1974. She is currently a Registered Nurse in the state of Arkansas. Additionally, Ms. Burch studied under many of today's leaders in massage therapy and bodywork during the 1980s, became Nationally Certified through the NCBTMB in 1993 and holds a professional membership with the AMTA.
As founder of Health Positive!, Ms. Burch has created over 60 home study nursing and massage continuing education programs, performed over 65 public, live educational presentations, has written two published books, served as a member on the NCBTMB Continuing Education committee and was a founding member of the National Association of Nurse Massage Therapists.
Sharon is an instructor on many of the Institute's programs and has authored and co-authored various ethics courses and additional titles such as Touch for the Seriously Ill, Stress Reduction Through Bodywork, Staying Well – Naturally, Cardiopulmonary Health and Illness, Chronic Pain Management, Marketing Massage in Four Easy Steps, Preventing Medical Errors, HIV Update for Massage Therapists and Bodyworkers, Understanding HIV, Massage for Edema and more.