Materials
Online Audio - 85 minutes
Online Video - 5 minutes
Online guide - 15 pages
Online multiple-choice test
Certificate upon completion
Description
Most massage and spa therapists have "gift certificates available" but smart therapists have a marketing plan and know that gift certificate sales can be a significant source of income and new clients, without discounting. Imagine checking your email and realizing you made sales while you were sleeping!
Building your business with gift certificate sales can help you spend more time in the treatment room and less time worrying if the phone will ring.
In this audio-based course you will learn:
How to suggest and sell Gift Certificates to your existing clients without being pushy
The best way to promote your services as The Perfect Gift
Unique packaging and presentation tips that will increase sales, and make your Gift Certificates the "go to" gift
How to create high value specials that will SELL
Simple and effective marketing and networking tips to maximize your Gift Certificate sales
Get your plan together, start marketing, and have the best gift certificate season ever!
Course Objectives
Develop a marketing plan for gift certificate sales, implement a gift certificate strategy and set sales goals.
Discuss simple and effective marketing and networking techniques to maximize gift certificate sales.
Define policies and procedures for gift certificate sales.
Course Reviews
Nancy Frieder
8/30/2023
Really got me thinking of how I can improve my practice.
Instructors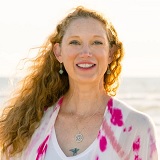 Gael Wood, LMT
Gael Wood is a Massage Therapist, Esthetician, NCBTMB Continuing Education Provider, Business Coach, Feng Shui Consultant and Author. With over 25 years of experience in the massage and spa industry, she is an expert in growing and maintaining a thriving massage and spa business. Gael was honored to be inducted into the World Massage Hall of Fame and featured as a Massage Magazine All-Star in 2019. She is the co-host and co-founder of the Global Wellness Professionals Marketing Summits and creator of the Massage and Spa Marketing Content Clubs, author of 10 Ebooks, and over 40 online courses.
Gael is the creator and instructor of Massage Enhancements (Your Clients Will Love!) and Gift Certificate Sales Mastery.