Materials
Online Video - 56 minutes
Online manual - 67 pages
Online multiple-choice test
Certificate upon completion
Description
Massage can be hard, physical work. What if you could easily add a variety of customized mini spa services that your clients will love all while helping you make more money and give your hands a well-deserved break?
Instructor Gael Wood gives you everything you need to get started incorporating massage add-ons, or enhancements, that can be added to your regular massage sessions designed to enhance your client's massage experience, provide a variety of added benefits for your clients, and increase your income!
These add-ons can include scrubs, masks, aromatherapy facial massage, hot stones, body brush, paraffin wax treatments, and back and neck tension reduction enhancements.
In this course, you will find detailed supply lists, instructions, product resources, sample menu wording, ideas for marketing an booking massage enhancements, treatment combinations, spa recipes, and quick notes for each enhancement. The quick notes are designed so that you can keep them on hand in your massage room for reference. You will be able to explain the benefits of each enhancement to your clients, and start selling these services.
Course Objectives
Identify massage enhancement services that can be added to regular massage sessions and ways to combine these enhancements to create unique spa services for your business
Describe the client benefits of the massage enhancements outlined
List supplies needed for each massage enhancement
Discuss marketing ideas for massage enhancement services
Course Reviews
Cindy Camp, LMT
9/11/2023
Rebekah Cammack, LMT, BCTMB
9/6/2023
Emma Hedgecock, LMT
8/29/2023
Maria Fennell-Lachesky
8/27/2023
Valuable information! Thank you!
Angela Stephens, LMT
8/24/2023
Instructors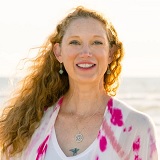 Gael Wood, LMT
Gael Wood is a Massage Therapist, Esthetician, NCBTMB Continuing Education Provider, Business Coach, Feng Shui Consultant and Author. With over 25 years of experience in the massage and spa industry, she is an expert in growing and maintaining a thriving massage and spa business. Gael was honored to be inducted into the World Massage Hall of Fame and featured as a Massage Magazine All-Star in 2019. She is the co-host and co-founder of the Global Wellness Professionals Marketing Summits and creator of the Massage and Spa Marketing Content Clubs, author of 10 Ebooks, and over 40 online courses.
Gael is the creator and instructor of Massage Enhancements (Your Clients Will Love!) and Gift Certificate Sales Mastery.