Materials
Manual - 65 pages
Online multiple-choice test
Online Videos - 2 hours
Certificate upon completion
Description
Let's be honest:
Do you rush through the lower body to get to your clients' "real" problems (which always seem to be in the upper body)?
Do you find yourself running out of techniques when a client actually wants you to pay attention to their legs?
Are you just bored of your routine?
Learn a fresh approach to the major muscles groups of the legs and hips, and effectively ground your clients' in their body as a whole, so you can say goodbye to monotonous techniques and HELLO to new ways of structuring your sessions, revitalized lower body skills, and client's that say WOW.
In this course you'll follow a simple path:
Introduction and Preparation - Get acquainted with crucial tools and setup strategies needed to successfully apply the hands-on techniques. You are on your way to adding new skills to your toolbox and reinvigorate your practice.
Working the Lower Body in Prone - Learn 7 new techniques for the lower body and move away from stale, boring, and ineffective work.
Working the Lower Body in Supine - Now you're cooking with gas! It's time to work on the flip side of your client and perform 7 additional techniques so you can view your client's body in all its dimensions.
Bringing it All Together - Reflect on what you've learned and get your CE hours and certificate!
Course Objectives
List the muscles located on or around the lateral and medial legs, from the peroneals in the lower leg to the tensor fasciae latae in the hip.
Describe the benefits that more sustained attention to this lower body musculature can give to a full-body massage.
Practice 14 specific techniques to engage these medial and lateral structures from uncommon angles and with uncommon approaches.
Create each stroke learned by leaning with their whole body, in order to address this vulnerable area of the client in a way that feels safe to the client and safe for their own body mechanics.
Course Reviews
Misty Delaney, LMT
5/30/2023
Kelly Christy
5/30/2023
Thank you David, I just signed up for the Approaching the upper body from all Angles course! I appreciated the very thorough explanation of each technique with extra advice to make my massage style better. Kelly C
Timothy Wilke, LMT
5/20/2023
Robby Lappe, LMT, BCTMB
4/12/2023
Canice Paliotta, LMT
4/9/2023
Instructors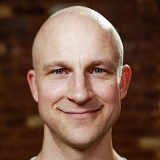 David Lobenstine, LMT
David M. Lobenstine has been a massage therapist, teacher, and writer for over a decade. He is a graduate of the Swedish Institute and Vassar College. He has worked in a variety of settings, from luxury spas to the US Open Tennis Tournament to a hospice to now, exclusively, his own private practice, Full Breath Massage. And he has developed and taught continuing education courses around the country, from the Swedish Institute to the AMTA National Convention. His aim, both with his clients and in his teaching, is to enhance self-awareness, so that we can do the things we love with efficiency and ease.
Mr. Lobenstine is the creator and instructor of Pour Don't Push, Working the Rib Cage, Using Your Thumbs Wisely, Approaching the Upper Body from All Angles, Approaching the Lower Body from All Angles, and Using the Breath to Massage Better.