Materials
Manual - 140 pages
Online Videos - 8.5 hours
Multiple-choice test
Certificate upon completion
Description
Un-learn the counterproductive habits that you have accumulated and re-learn that passion you used to have for your work. We are too determined to make our clients feel better. The result: we work too hard. We try to push our clients into feeling better. But what if we pour rather than push? With Pour Don't Push you will learn how to massage with greater depth and ease.
Let instructor David Lobenstine guide you in facilitating change, rather than force change, in your clients. In this online video and text-based home study course you will rediscover your most powerful therapeutic tools—your breath and your body weight. These innate tools are what make us great therapists, and yet are the same tools we so often forget. The more sessions we do, the more we tend to rely on our muscles, the more we become convinced that we need to force our client into letting go.
Here we will see the results of the opposite approach—the "pouring principle." As you contact your client with ease, you help your client become an engaged partner in the work; in turn, you can put the "deep" back in deep tissue massage, but without strain or pain.
Some of the information you'll learn in this course includes:
Individual patterns of muscle tension and excess holding while giving a massage.
The difference between delivering massage strokes by contracting your muscles and "pushing" your body rather than "pouring" your body weight by leaning into the client.
Applying typical massage strokes by "pouring" using your own body weight versus "pushing" and using excess muscle contraction.
Demonstrating how to pour using three different movements of the pouring principle—leaning in, leaning away, and rocking.
Discovering our own habitual breathing patterns, then creating a cycle of exhalation and inhalation that is more efficient and requires less effort than our habitual breathing patterns.
One of the greatest gifts we can give to our clients is to not try to do so much. In "Pour Don't Push," we discover that a massage session is often more effective – and feels better! – if you work slower rather than faster, and if you do fewer strokes rather than more.
-David Lobenstine
Course Reviews
Kimberly Hood, LMT
This is one of the best trainings I have come across that benefits both the therapist and the client. Highly recommend. Look forward to learning and using this in my practice.
Lauren Davis, LMT
Really enjoyed the course
Michelle Zaydon, LMT, BCTMB
Thank you for your course. I've been practicing Massage Therapy for 20 years now and your course was the first really new material that I've seen in a while. Thank you for the written materials along with the video instruction. I will put this information to good use in my Massage Practice.
Linda Bailey, LMT
Good course
Instructors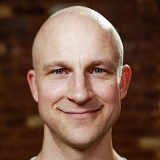 David Lobenstine, LMT
David M. Lobenstine has been a massage therapist, teacher, and writer for over a decade. He is a graduate of the Swedish Institute and Vassar College. He has worked in a variety of settings, from luxury spas to the US Open Tennis Tournament to a hospice to now, exclusively, his own private practice, Full Breath Massage. And he has developed and taught continuing education courses around the country, from the Swedish Institute to the AMTA National Convention. His aim, both with his clients and in his teaching, is to enhance self-awareness, so that we can do the things we love with efficiency and ease.
Mr. Lobenstine is the creator and instructor of Pour Don't Push.