Materials
2 DVDs - 100 minutes
Text - 63 pages
Multiple-choice test - if you prefer to test online please select the "test online" option
Certificate upon completion - if you prefer to print your certificate at home instantly, please select the online option
Description
Usually thought of mainly for pregnancy massage, side lying techniques can also be used for any clients who may be unable to lie comfortably in prone or supine positioning. Individuals with recent surgeries, obese clients or simply for easier access to certain areas of the body are all potential recipients of side lying massage techniques. It can easily be integrated into traditional massage techniques and often provides the best access to shoulder, neck, low back and hip areas as well as allowing for more effective stretches in those areas.
Using the instructional set of DVDs and accompanying text you will:
Define the cautions and contraindications for side lying massage techniques.
Identify the techniques and sequence for side lying variations on the client's back, including muscles of spine, neck, shoulder, cervical, thoracic and lumbar areas, while facing the client.
Recognize the techniques and sequence for side lying variations on the client's back while standing behind the client.
List and describe side lying techniques and sequence used on the arm of the client.
Discover the side lying techniques and sequence used on the top portion (thigh) of the client as well as explain recommended draping techniques.
Investigate the side lying techniques and sequence used on the lower leg (calf), including transitioning to foot.
Identify the side lying techniques and sequence for the foot of the client.
Review additional side lying techniques, including facilitated stretching.
Presented by Dr. James Mally, massage therapist and instructor since 1979, you will be able to enhance your practice by being able to work with clients in a more three-dimensional way.
Course Reviews
Jacqueline Holtzman
The Side-Lying Massage course exceeded my expectations. The material was very easy to understand. I liked the workbook that can stand on edge and the content in it was very clear and concise. The videos were also very good. I can't wait to use these techniques in my practice, and I would recommend this course to anyone. After taking this course, I am interested in taking other courses taught by Dr. James Mally.
Kathryn Nuzum, BCTMB
The DVD was excellent and provided several more efficient techniques to my orthopedic massage practice. The techniques were well displayed and explained. This one rates a strong 10! You'll be glad you took this course.
Kay Nuzum, Casper, WY
Just a quick note to let you know how much I enjoyed your CEU course on Side Lying massage purchased through Integrative Healthcare. I've been performing Orthopedic and Sports massage for almost 20 years, have taken many classes and CEU courses that included some side-lying work, and nothing has compared to this course. I acquired a plethora of more efficient techniques and great side-lying ideas to include in my own practice. I absolutely LOVED the facsilitated stretching and (side-lying) body positioning for better access to those chronically "tight" areas. You get a high "10" for this course and I thank you very much!
Jeremy Weber, NCTMB
I highly recommend this course, the 2 DVD's were very unique in that you can put a certain technique on continuous play while you practice. Also, the workbook that followed the DVD's was equally useful as you can prop it up without a book stand near the massage table and the print is large enough to read while you are practicing. Even though I've been using the side lying position for years already I definitely learned new thing that I am looking forward to sharing with my clients.
Stella Riccardi, LMT
I was very impressed with the entire course from the workbook to the dvds. It was so comprehensive and easy to understand. The videos were absolutely top notch, with many viewing options - and can be referred to over and over. I loved this course!
Instructors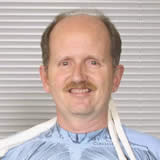 James R. Mally, ND
Dr. James R. Mally graduated from massage school in 1976 with over 1,000 hours of training, later attending Bastyr College of Naturopathic Medicine earning a Doctor of Naturopathic Medicine degree in 1984. As the founder of the Healing Arts Institute, a massage therapy school in California, Dr. Mally is an administrator and teacher of anatomy and physiology, massage, business, ethics, deep tissue massage, sports massage and other courses. Dr. Mally has had over 30 years of teaching experience in the massage and healthcare field.
Dr. Mally is author and instructor for the Institute's Deep Tissue Massage, Sports Massage, Swedish Massage for Professionals and Side Lying Massage courses.