Materials
Videos - 90 minutes
Text - 85 pages
Multiple-choice test
Certificate upon completion
Description
In this program, James Mally, ND, LMT explains and demonstrates over 90 different Swedish massage techniques to help you enhance your skills. As you watch, review, and practice along with the DVD, you will work step-by-step through the fundamental techniques involved in doing a full body Swedish massage.
The photographic manual describes each technique demonstrated in the video. The manual is designed to stand on the massage table, making it easier to refer to the text as you practice techniques. A manual section shows various sequences on a single page for quick reference as well. The importance of taking a client history, using correct body mechanics, and massage cautions and contraindications are all reviewed.
According to a Massage Magazine review: "In a logical, well-thought-out routine, we learn preliminaries to the massage session, efficient use of the massage table, tactful draping of the client, an entire full-body therapeutic massage routine, finishing touches, and a brief introduction to deep-tissue massage."
Swedish massage has been shown to reduce stress and alleviate common body aches and pains.
Course Reviews
Alexandrea Rogers, LMT, BCTMB
11/5/2023
Sally Leque, LMT, BCTMB
9/15/2023
Christopher Kenyon, LMT
8/29/2023
Guiying Zhang, LMT
8/13/2023
Edward Fankhanel, LMT
7/16/2023
Instructors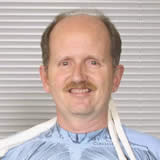 James R. Mally, ND
Dr. James R. Mally graduated from massage school in 1976 with over 1,000 hours of training, later attending Bastyr College of Naturopathic Medicine earning a Doctor of Naturopathic Medicine degree in 1984. As the founder of the Healing Arts Institute, a massage therapy school in California, Dr. Mally is an administrator and teacher of anatomy and physiology, massage, business, ethics, deep tissue massage, sports massage and other courses. Dr. Mally has had over 30 years of teaching experience in the massage and healthcare field.
Dr. Mally is author and instructor for the Institute's Deep Tissue Massage, Sports Massage, Swedish Massage for Professionals and Side Lying Massage courses.