Materials
Video - 90 minutes
Text - 55 pages
Multiple-choice test
Certificate upon completion
Description
This rich, valuable educational program can enhance the work of even the most experienced massage therapists, physical therapists, chiropractors, acupuncturists, and naturopathic doctors.
State-of-the-art computer graphics, anatomical illustrations, clearly presented demonstrations, and three-dimensional teaching aids enhance the 90-minute video presentation and provide vital insights on how to more effectively help clients.
With thorough, clear cautions, 55 different procedures are introduced and demonstrated. The user-friendly, photographic, 55-page text closely follows the video program. Recommended practice sessions with a colleague or family member are facilitated with a guided exercise included in the workbook.
Course Objectives
Learn general, practical tips for performing deep tissue work.
Discover techniques to identify and balance a functional leg length difference vs. an anatomical leg length difference.
Recognize cautions and contraindications for deep tissue massage work.
Review techniques to be applied to the back, shoulders, arms, hips, and legs while client is in prone position.
Review techniques to be applied to back, neck and shoulders while client is in the sitting position.
Review techniques to be applied to the shoulders in the side lying position.
Review techniques to be applied to the shoulder/chest, neck, hops, and legs while the clients is in the supine position.
Course Reviews
Rafal Stefek, LMT
9/19/2023
Katelyn Bridges, LMT
8/18/2023
Peter Steinert, LMT
7/27/2023
Kimberly Chandler, LMT, BCTMB
7/16/2023
Jennifer Keener, LMT, BCTMB
6/13/2023
Instructors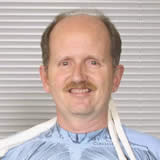 James R. Mally, ND
Dr. James R. Mally graduated from massage school in 1976 with over 1,000 hours of training, later attending Bastyr College of Naturopathic Medicine earning a Doctor of Naturopathic Medicine degree in 1984. As the founder of the Healing Arts Institute, a massage therapy school in California, Dr. Mally is an administrator and teacher of anatomy and physiology, massage, business, ethics, deep tissue massage, sports massage and other courses. Dr. Mally has had over 30 years of teaching experience in the massage and healthcare field.
Dr. Mally is author and instructor for the Institute's Deep Tissue Massage, Sports Massage, Swedish Massage for Professionals and Side Lying Massage courses.