Materials
DVD - 150 minutes
Text - 106 pages
Multiple-choice test - if you prefer to test online please select the "test online" option
Certificate upon completion - if you prefer to print your certificate at home instantly, please select the online option
Description
Learn essential sports massage techniques through this graduate-level home study program. The core study materials in this continuing education program are a thorough 125-minute video with a corresponding photographic manual, both presented by renowned instructor James Mally, ND, LMT.
After you watch the video program through its entirety and review the course manual to gain an overview of the massage techniques, you can practice the clearly-shown techniques in the video as you watch it for a second time. Plus, you can practice with a volunteer subject as you refer to the corresponding manual, which is designed with its own stand so you can set it next to your massage table for easy reference. This practical experience will help reinforce what you have learned.
In this course, you will learn:
PNF stretches;
Reciprocal inhibition;
Trigger point and strain/counterstrain techniques;
Injury evaluation and treatment;
Cross fiber friction;
Common sports injuries; and
Pre- and post-event massage techniques.
In addition, you will also learn 12 tests for assessing the causes of shoulder pain. You will also get a form created to record and interpret the results of these assessments, which you can use in your massage practice to help you plan your client's treatment.
Course Objectives
Understand principles for Proprioceptive Neuromuscular Facilitation (PNF) Stretching.
Observe effective PNF stretches and guidelines for PNF stretching.
Identify two types of trigger points, understand and perform counterstrain techniques to treat trigger points.
Express importance of taking a complete client history and know what important questions to ask.
Discover the level of involvement in a Grade 1, 2, or 3 sprain/strain.
Identify the symptoms of Capsular Pattern Arthritis.
Learn the 12 tests on the shoulder and interpret results of the testing.
Determine the meaning of the acronym RICE.
List the effects of heat and ice as well as the four stages of ice and cautions for using ice.
Determine when and how to apply cross fiber friction.
Review the performance of soft tissue release.
Course Reviews
K. Redfern, LMT, NCTMB, AMTA
I thought that the course was exceptional. I love the DVD and the handout flipbook coursework. They are presented very clearly and are an excellent reference guide. I know that I will be using these techniques in my practice and I will be able to refer back to both the DVD and handouts whenever I have a client who presents with specific type injuries.
Margaret Eck, LMT
I enjoyed the course immensely -it was almost like being back at Finger Lakes School of Massage! Dr. Malley has a very thorough style that made the information easy to follow. I would definitely take another course from this organization. I will use the materials as a good reference in my practice.
Kirstie Fiedler, LMT, NCTMB
This Sports Massage course was very informative. I liked how both a DVD and a companion workbook was provided to present the course material. It proved very effective to be able to watch how it is down while still having a book as a reference to keep. Sports Massage will prove extremely important and effective in my massage therapy practice in a rural setting where I deal with athletes of all kinds. Thanks for a great course!
Megan Norton, LMT, LMP, NCTMB
I thought it was really helpful that the video played the entire chapter, then you could go back and replay the individuals segments. I thought Dr. Mally was easy to understand and clearly had great knowledge of these techniques. I really enjoyed these videos and looked forward to using the techniques in my practice.
Leslie Knee, LMT
This Sports Massage course is valuable to all clients, not just athletes. I have been practicing for over 12 years, and this was a great study in working with clients who need therapeutic work due to acute and chronic injuries. The DVD menu allows you to quickly go to any protocol and review techniques, while the stand up text is easy to refer to with a client on the table. The theories presented to back up each technique are clear, concise and easy to understand, written exactly how I would present this work to clients. I will refer to these materials again and again. The only negative is the muddy text on the written materials - some of the text underneath the demo pictures are very small in a hard to read font, which makes working and reading simulaneously difficult. But overall, a high quality program, and worth every minute and every penny!
Instructors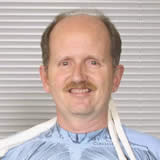 James R. Mally, ND
Dr. James R. Mally graduated from massage school in 1976 with over 1,000 hours of training, later attending Bastyr College of Naturopathic Medicine earning a Doctor of Naturopathic Medicine degree in 1984. As the founder of the Healing Arts Institute, a massage therapy school in California, Dr. Mally is an administrator and teacher of anatomy and physiology, massage, business, ethics, deep tissue massage, sports massage and other courses. Dr. Mally has had over 30 years of teaching experience in the massage and healthcare field.
Dr. Mally is author and instructor for the Institute's Deep Tissue Massage, Sports Massage, Swedish Massage for Professionals and Side Lying Massage courses.