Materials
2 DVD's - 90 minutes
Text - 85 pages
Multiple-choice test - if you prefer to test online please select the "test online" option
Certificate upon completion - if you prefer to print your certificate at home instantly, please select the online option
Description
In this program, James Mally, ND, LMT explains and demonstrates over 90 different Swedish massage techniques to help you enhance your skills. As you watch, review, and practice along with the DVD, you will work step-by-step through the fundamental techniques involved in doing a full body Swedish massage.
The photographic manual describes each technique demonstrated in the video. The manual is designed to stand on the massage table, making it easier to refer to the text as you practice techniques. A manual section shows various sequences on a single page for quick reference as well. The importance of taking a client history, using correct body mechanics, and massage cautions and contraindications are all reviewed.
According to a Massage Magazine review: "In a logical, well-thought-out routine, we learn preliminaries to the massage session, efficient use of the massage table, tactful draping of the client, an entire full-body therapeutic massage routine, finishing touches, and a brief introduction to deep-tissue massage."
Swedish massage has been shown to reduce stress and alleviate common body aches and pains.
Course Reviews
M. Fisher, LMT, NCTMB
Dr. James Mally has done an outstanding job in presenting his techniques. His work is full of professional integrity and expertise that comes from experience yet is wonderfully heart centered as well. The format of the text is very practical for ease of use during massage practice, as is the DVD. I very greatly appreciate the fine quality of these course materials.
K. Boley, NCTMB, AMTA
Well organized, excellent presentation and explanation as necessary. Stressed proper body mechanics for the therapist and proper draping of client. Good review of basic massage strokes, history of Swedish massage. Good review of contraindications and cautions of massage.
Lesa Farmer, LMT
I was very pleased with the knowledge and teaching of the instructor. I feel that the reference book and DVD will be a great asset to practice the techniques (and to add to my other more requested deep tissue massage) thus making for a more enjoyable and effective massage for my clients. Good reminder of proper body mechanics as well.
Jose Pomares, LMT
The course is attractive; the professor explains in a clear manner techniques that are tremendously useful for my every day practice not only for its importance but also for it results on the clients body. I've been doing these techniques from the beginning with confidence. I'm interested in buying some other courses from this author and I would recommend to any professional massage therapist. Thanks.
Debra Joy Nelson, LMT
I very much enjoyed this course. I learned so much practical information that I will be using for my clients, thank you!
Instructors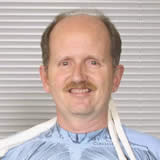 James R. Mally, ND
Dr. James R. Mally graduated from massage school in 1976 with over 1,000 hours of training, later attending Bastyr College of Naturopathic Medicine earning a Doctor of Naturopathic Medicine degree in 1984. As the founder of the Healing Arts Institute, a massage therapy school in California, Dr. Mally is an administrator and teacher of anatomy and physiology, massage, business, ethics, deep tissue massage, sports massage and other courses. Dr. Mally has had over 30 years of teaching experience in the massage and healthcare field.
Dr. Mally is author and instructor for the Institute's Deep Tissue Massage, Sports Massage, Swedish Massage for Professionals and Side Lying Massage courses.