Materials
Text - 182 pages
Multiple-choice test - if you prefer to test online please select the "test online" option
Certificate upon completion - if you prefer to print your certificate at home instantly, please select the online option
Description
How is it possible that "business" ethics doesn't exist? In the course text, There's No Such Thing As "Business" Ethics, respected leadership expert, speaker, and author, John C. Maxwell, demonstrates there is but one single standard of ethics – the Golden Rule. Through this course you'll discover how this revered ideal works everywhere and how it brings amazing dividends in business. 
With this course, you'll delve into stories from history that illustrate how talented leaders invoked the Golden Rule, examples of difficult business decisions, and how the Rule applies to each. Now you'll know the most common reasons people will compromise their ethics and how you can prevail over these moral obstacles, realizing how applying the Golden Rule to business builds morale, increases productivity, and keeps clients coming back.
Upon completion of this program you will be able to:
Identify ethical dilemmas that are common in today's society
Define the Golden Rule of ethics
Evaluate how to determine ways that each person wishes to be treated and discover how we can treat others this way
Learn what constitutes character and explain steps to developing it
Observe what can undermine the Golden Rule of ethics
Create steps to develop the "Midas Touch" in ethical behavior
This course will reveal not only the many ways the Golden Rule creates the perfect environment for success, but does it with wisdom, warmth, and humor. Backed by flawless research and the ideas of history's best thinkers, this engaging course text demonstrates how doing the right thing fosters a winning situation for all, with positive results for employees, clients, and even your own state of mind.
Course Objectives
Identify three ethical dilemmas that are common in toda's society
Define the Golden Rule of ethics
Identify six ways that each person wishes to be treated and discover how we can treat others this way
Describe four characteristics of character
Explain four steps to developing character
List five things that undermine the Golden Rule of ethics
Examine eight steps to developing a strong character
Summarize five steps to developing the "Midas Touch" in ethical behavior
Course Reviews
Judy Anderson, LMT, BCTMB
I have been a massage therapist for over 15 years. I have taken many ethics courses. This one, is by far, the best one I have ever taken. It brings together all of the aspects of interacting with people and also yourself. It is the foundation of ethics...the Golden Rule! We have all heard that it is important to keep, but this program breaks it down into why and how to implement it in your entire life, not just as massage therapist.
Joanne Sparks, LMBT
I've been a massage therapist since 1996, and subsequently, have had to take many required Ethics CEUs. The classes have always been good and informative, but dry/heavy/serious, only focusing on "what would you do..." or "what is right or wrong here...?" This course was light, interesting, and informative because of the inspirational examples. Really enjoyed it.
Donna Garske, LMT
Really enjoyed this course. Loved the reading. Interesting and informative. Very easy to stay on task because it was so good!
Lucinda Hinnendael, LMBT
I will pass this book on to my grandson, a sophomore at Boulder, CO. His major is business. I think this book should be used in every business class.
Barbara Swets, LMBT
Really great book with lots of food for thought.
Instructors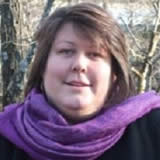 Leslie DeMatteo, MS, LMT
Leslie L. DeMatteo, LMT, MS, has been an active massage therapist since 1998, after graduating from the Sarasota School of Massage Therapy in Sarasota, FL. There she completed the massage therapy program along with a certificate program in Nuad-Bo-Rarn: Traditional Massage of Thailand.
Since then, she has completed continuing education in cranial-sacral fundamentals, cancer and mastectomy massage, reflexology, trigger point therapy and prenatal massage. She is also certified by the National Certification Board for Therapeutic Massage and Bodywork (NCBTMB) and is a Professional Level member of Associated Bodywork and Massage Professionals (ABMP).
Her work in massage therapy continuing education and teaching in a massage school ignited a passion for adult training and education, which led her to pursue her Bachelor's Degree in Adult Learning: Vocational Instruction, followed by her a Master's Degree in Adult Learning.
Ms. DeMatteo is the instructor for many of the Institute's courses including such courses as Advanced Prenatal Massage, Ethics of Diversity. Cupping Therapy: A Step-by-Step Approach, Diversity: Cultural Competence, Mastering Pregnancy Massage, and many more.