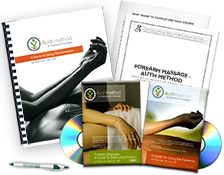 View larger
Choose an enrollment option:
Description
Student Reviews

92

Video
Materials
Approvals
Description
Save your hands and wrists - review the theory and use of the forearms as a primary massage tool. The Auth Method® of forearm massage, developed by Shari Auth, LMT, L.Ac., MA, demonstrates that by massaging with the forearms one can benefit from the advantages of this practice including more durability, more leverage, a larger surface area of contact and reduced wear and tear on the more fragile joints of the hands and wrist.
Lauriann Greene, CEAS, Co-author of Save Your Hands! had this to say about the Auth Method®:
Using the forearms instead of the hands is a great way to reduce stress to the hands, which are so overused in massage work. All massage therapists should learn the Auth Method® of forearm massage techniques to help protect and prolong their careers.
Through text and video you will review how to massage the body in supine, prone and side lying position using the forearms. These techniques can be used for relaxing spa massage, deep tissue massage, medical and prenatal massage. The program also demonstrates Chi Gong (or Qi Gong) exercises for better body mechanics during massage.
Student Reviews
The Institute for Integrative Healthcare Studies always provides clear and concise materials in any course you order for your continuing education needs!

- Steve J. Grau, LMT
Loved this course! Shari Auth is a wonderful teacher and has a very well organized flow. The book was perfectly fitting to the DVD. Both were of amazing content and quality. I hope she makes more DVD's with different massage routines.

- Erin Fisher, LMT
This course was very clear in its technique descriptions. I was able to start applying the techniques into my practice immediately and my clients are loving the new forearm work. I also appreciated the fact that the techniques can be used by a short female therapist! Other classes I have taken had movements that were clearly for tall or male individuals.

- Sierra Patterson
I have been a Holistic Health Practitioner for over 20 plus years. I love to revisit courses which offer review and new techniques and knowledge. I gained both reinforcement and new information regarding techniques, style, biomenchanics and more with the AUTH METHOD. I watched the videos several times while practicing on a live person, then read the book and then took the exam. Very well done in all the educational material. A must take class!

- Karen Baskin, CMT, NCTMB
The Auth Method of massage was great, though I have been using my forearms since before I got out of massage school, this was a a great reminder of some techniques that I had forgotten as well as some new ways of applying strokes to the client. You see in massage school it's drilled into students the all strokes must be towards the heart. Using the Auth Method it is suggested that to use both towards the heart and away from the heart. Also, I enjoyed the sidelying part of the Auth Method, again side lying is a massage approach I was using before I graduated massage school, and the same reasons I mentioned above it was great to get another therapist view and techniques.

- Jeremy Weber, NCTMB
The Institute serves a needed purpose for online CEU's. Wonderful selection of courses. Thanks!

- Barbara Poulsen, LMT
I really enjoyed this course because I learned new techniques to help clients but to also help me work smarter by saving the wear and tear on my hands.

- Jessica Brown, LMT
GREAT COURSE, AWESOME TEACHER TOO!

- Jennifer Bellavia-Cerutti, LMT
Whew! Intense CEU course for Forearm Massage, but extremely interesting! Something I can use daily!

- Heidi Mayo, LMT
This was an amazing course. Thanks

- Laurie Bauer, LMT
Great course! I would certainly take another course from this presenter again!

- Angelina Pullen, LMT, NCTMB
Totally got a lot of knowledge for this course and will use it in my practice. Thank you

- Dianne Caqliuso, LMT
Overall this is a good course and the instructor is obviously knowledgable.

- Mary Catherine Rollo, LMT, NCTMB
My family and friends said to say thank you! I used them first as I learned even with mistakes.

- Christine Coleman, LMT
Truly enjoyable.

- Raul Medina, LMT, NCTMB
Wonderful course as always, I love using you guys for all my CEU needs over many, many years.. Great JOB!!!!

- Victoria Grindstaff- Redler, LMT
Thank you so much for making such quality online classes. I feel like I've been to a hands on class!

- Hermene Anderson, LMT, NCTMB
This is the best continuing ed. course I have ever taken. It flowed so well and all of it was information that I will use daily. It was very interesting and a pleasure!

- Ann Mays, LMT, NCTMB
I was very impressed with the quality of the material for the Auth Method Forearm course. I am overall very pleased with every course I have taken with the Institute. They are very user friendly!

- Kitrina Hunter, LMT
The 2 DVD's were very educating. I enjoyed the side lying video.

- George S. Andrew, LMT
Loved this course. The materials are fantastic and it really has given me techniques that are comfortable for me and effective for the clients.

- Cornelia Poole, LMT
Forearm massage seemed"so obvious", but I learned so much that I did not know. The book and the videos were excellent and I know as I use this technique more and more in my practice it will not only help my clients, it will also help me reduce the stress on my body so I can prolong this career that I love.

- Martha Young, LMT
I will use a lot of this technique in my massages. I already do a great deal of forearm techniques but this course definitely expanded my knowledge on the method. Thanks!

- Krista P. Webdale, LMT
The material kept my interest and I learned new techniques that I was able to put to use right away. I had been having pain in my wrists and shoulders but since I've been using Forearm Massage it is a lot better. I loved this course!

- Diana Rose, LMT, NCTMB
I absolutely loved this course. I am a 27 year practicing massage therapist. My clients were so happy I took this course. They ALL love the back & side work. It's nice to know an old dog can learn wonderful new tricks. Thank you for a fantastic, educational, and practical course.

- Ruth A. Walsh
Over the years I have used 2 other organizations for home study courses for my CEUs. They were uninspiring and dull- somewhat of a sham for an organization to make some money and an LMT to keep their license, which was a somewhat poor reflection on Oregon Licensing standards and purpose. I was stunned by the quality of this course. It addresses the different ways in which a person learns. It is in depth and is teaching me a method I have wanted to know for years. I will refer to it many times in the future. My thanks to you for making Shari Auth's knowledge available.

- Diana L. Hoffman, LMT
I love, love, love your institute. Every course is excellent! I love how this course was put together. With 2 jobs, 2 kids, and a large farm to care for, this has been a godsend. Thank you!

- Kristen Seamon, LMT
I found the DVD's very helpful. Also, the book was effective in both the explantations, pictures and thorough. I will definitely be incorporating the forearm massage into my practice.

- K. Holligan, NCTMB
Have been wanting to utilize more forearm in my work and less thumb work. What I learned will facilitate a greater healing in my clients with less effort on my part. I really enjoyed this. What an asset. Thank you.

- J. Wade
Very nicely done DVD's and clear demonstrations of techniques. An excellent contribution to bodywork technique.

- A. Coe, LMT
The DVD's are GREAT, showing different camera angles of the techniques so I was able to follow along in real time. Between the dialogue and visual components, I was confident I was performing the techniques properly!

- R. Young, LMT
DVD's are very well done; enjoyed the outside environment; the Chi Gong is a great addition and well integrated. I have been a massage professional since 1988; thank you for your instruction to reduce my physical stress.

- M. Robbins, LMT, NCTMB
Excellent course. Content was informative and interesting!

- Christine Colby, NH
Excellent course! I will use the auth method for massage in my practice. I really love the emphasis on body mechanics using qi gong.

- Karen Smith, LMT
I was leary about this course and its content. I thought it would be good information to have in the "tool belt" just in case. After viewing the first DVD I realized that I already incorporate many of the strokes already. Kudos to Shari Auth for keeping my attention and leaving me with "wanting more" I am anxious to work with my fellow therapists for feedback as I learn to "rhythm" my massage including even more of the forearm strokes Love the side lying sequence and strokes These will be particularly handy and helpful. My clients will love it I am sure. Thanks to Shari.

- Marie Cappuccio, NCTMB
I took this class because I've recently developed wrist pain - it's great to know that I'll not only be preserving my hands and wrists, but providing a better experience for my clients. I can't wait to get started!

- Sara Huestis, LMT
I would highly recommend this course to therapists who want to enhance their practice and save wear and tare on their hands. i have been giving massages for over 27 years and have incorporated forearm techniques into my practice already. Now I have new techniques that I can use and I'm very excited.

- Laurie Holmes, LMBT
I loved taking this course at home and the test on-line. Very convenient and i could work around my schedule

- Debbie Grimsley, LMBT
Really enjoyed it. i began using the techniques as i learned them and my patients loved them!

- Marianne Cancela, LMBT
Great course! thanks

- Charlie Bickley, LMBT
Very informative.

- Eric Dugger
Very informative. I believe everyone should take this course it was an eye opener.

- Astar Van Hout, LMBT
The course was very helpful and I feel it will help me with my practice

- Janet Radel, LMT
I thought it was very well done. Shari was excellent in her explanations and was very clear in her demonstrating on camera. Overall, I would recommend this course to other massage therapists. Thanks, Shari!

- Bruce Doneux, CMT, NCTMB
Very interesting material which I can use in my 5-6 massages per day

- Debbie Maker, LMT
Shari Auth's material was presented very well: To the point, organized, and very good visuals.

- Carla VanDeusen, LMT
This was an excellent course which i'll put to immediate use. I'm a long time massage practitioner who has used my hands, especially thumbs, far too much. Practicing these techniques made everything feel so effortless for me, and felt wonderful to me when receiving.Thanks so much, Shari, for this excellent course!

- Lorraine Ross, CMT
This course was more professionally presented and of greater value to my practice than I expected. Very impressive!

- Sally Rogers, LMT, NCTMB
Without question, it is THE best I have experienced. It was informative, succinct and held my interest.

- Eleanor Canestrari, LMT, NCTMB
As my hands age and lose strength, I will need more of the info contained here.

- Jason Ryan, LMT, NCTMB
I greatly enjoyed this material i already do a lot of forearm work but now I am going to start doing side lying forearm work.

- Jessica Scott, LMT
I am so glad I picked this course. I just needed to get the CEUs and I got extremely lucky I picked this as one of my courses. I love the Auth Method and plan on it being a huge part of my massage from now on. Yes, it will help lower the toll on my hands and fingers. But, I see great techniques, with unlimited potential, too! Thank you!!!

- Dan Lawson, LMT
Needed this course few years ago, might have better hands now if I had ' Thanks so much!

- Rebecca Wingfield, LMT
I enjoyed learning the Auth Method and feel I will use the techniques in my practice and save my hands. Got great feedback from the clients I practiced the techniques with.

- Douglas Logan, LMT, NCTMB
I enjoyed this course and feel I can make real use of it in my practice.

- Siobhan MacMahon, LMT, NCTMB
This program was very easy to complete and very helpful in making me aware of proper body mechanics for safer and longer lasting career.

- Mary Atcheson, LMT, NCTMB
Thank you this was very interesting course

- Dawn Peek, LMBT
This course was a great way to learn valuable techniques to help save my hands from over-use injuries. The directions and illustrations were clear and informative. I would highly recommend this course to all body-workers.

- Heidi Wenderoth, LMT
I found this work to be very powerful. I have been told my massage is much deeper, yet I feel it is easier to do. I am able to work longer with less fatigue. I liked the presentation, very slow & clear.

- Joan Volpe, LMT, NCTMB
Good value for the course. I have been wanting to watch the prone/supine video for quite some time- I did not know there was a book and side-lying video in this series until I signed up for the course. Being able to get the continuing education credits along with the materials make this a really nice deal. I look forward to using more of these techniques after the birth of my baby (last trimester when taking course so it was done with lots of starts and stops) as well as promoting prenatal massage for other moms to be.

- Clara Greenwood, LMT
I loved this course. It has given me a way of working with my clients that is not so taxing on me allowing me to be more available for my clients. I am blessed to have a busy practice, however, that can be both tiring and difficult. This course has helped me tremendously to be able to move through my days and still have energy left over while having great results for my clients. Thank you so much for offering this course. I highly recommend it!!!

- Tammy Forbes, LMBT, NCTMB
I really enjoyed this course!

- Patrice Moran, LMT, NCTMB
It was great! Thanks for the training.

- Jenn Collard, LMT
Just the fine tuning I needed to refresh my thoughts , so that Im more able to convey to my clients what I'm trying to say and achieve. Very nice illustrations

- Zachary Broussard, LMT
I have suffered from tendonitis in my wrists in the past and these techniques were very helpful to me. I have always used my forearms somewhat, but now I will be able to use them more (and therefore use my hands less). Some of the positions the instructor used did not feel comfortable for me - I think she has longer arms than I do! For example, sitting on the table and contacting the client with my passive hand sometimes put my body in a twist and it felt odd. Overall, though, I found a lot of useful techniques in this course.

- Bridget Connor-Feldbaum, LMT
I have been able to utilize these techniques in my work as a massage therapist. Shari Auth is an experienced bodyworker, and an excellent teacher. I would recommend this course to anyone looking to expand their knowledge of massage therapy.

- Susan Stockdale, LMT, NCTMB
This is my 12th year to do continuing ed and this was one of the most interestng and applicable courses that I have taken!

- Darrell Rousseau, LMT, NCTMB
This course was great. I have actually been doing forearm massage for many of my 25 years of practice but found the information to be presented very well. Thank you.

- Valerie Williams, LMT
I am glad to have the DVDs for review. I learn more visually. Great techniques and helpful for both client and myself as a therapist.

- Kristi Gabriel, LMT
I am amazed at how well written this course is. The step by step with visual pictures are very well illustrated. Thank you Shari Auth for taking the time to complete such an incredible book. This is by far my favorite at home study course that I have taken in the 9 years of my massage career.

- Lindsay Duley, LMT
Not only did I gain valuable insight into the practioner that I am, but to what I am moving towards. The DVD's are fantastic and the text is perfect, with enough valuable information and pictures that I really felt like I was understanding the material in a powerful way.

- Melinda Sullivan, LMT, NCTMB
Very Useful. Very Fun! The material was easy to follow and paced perfectly.

- Johnathan Pina, LMT, NCTMB
Wonderful class, lots of good information on Techniques and helpful suggestions. Both videos are valuable referral tools for later use.

- Brenda Mabry, CMT, NCTMB
This is a great course. I have already implemented many of the techniques into my practice and my hands and arms already feel better. My clients feel better after the massage without feeling sore and felt it was relaxing. Thanks so much

- Thelma Dunham, CMT, NCTMB
I loved this course and being able to learn at home. I will definitely use this site again and recommend it to other therapists.

- June Harnish, LMT
THIS was a GREAT course !!! Superb content, concise instruction, valuable materials ! I would HIGHLY recommend this course.

- Sharon Cheek, LMT
Great material,, I will use this info in my massage. Thank you!!!

- Rosemaire Klatt, LMT, NCTMB
This was a wonderful course and the best part is that I can keep referring to the material for future questions and keep learning. There is still so much of this information to integrate. I really appreciate the clarity and detail. Thank you.

- Dixie Parker, LMT, NCTMB
Excellent course. The DVD instruction and manual provided a very effective way to learn and will be a valuable resource for review. I highly recommend this course!

- Elizabeth, LMT
When I telephoned the Institute, the person who helped me was friendly, clear and very helpful. The Auth Forearm text and DVD's are both very high quality in their presentation and material. I loved this Course!

- Annie McFadden, CMT, NCTMB
I've used and seen forearm massage methods from school and you tube videos, but this course makes me use more my forearms in my bodyworks and that spells a big difference in my massage approaches. I got the book and the videos to always check on better massage approaches from now on.

- Senon Posadas, LMT
I enjoyed and truly helpful its wonderful thank you!!

- Sheila Dennison, LMT, NCTMB
The Auth Method has helped enhance my ability to use my forearms, I feel confident that this will help me stay in the business for as long as I would like. I loved Sheri, I felt like she views massage the way I do--as an art form.

- Vanessa Norton, LMT, NCTMB
Thank you for providing an easy way for me to achieve my continuing education.

- Monica Wylie, LMT, NCTMB
This course was excellent!

- Terrilyn Ames, LMT
There are many interesting courses available on the Institute website. This was my first time using this website and I look forward to using it again. The material I have received was clear and very informative. I have learned so much and I am greatly appreciative. Thank you.

- Ashley Latour, LMT
I thoroughly enjoyed this course. I will need to practice the many techniques. This forearm course has already provided less stress on my hands and provide more energy I need to complete each massage.

- Marian Hebert, LMBT
This was the an excellent course. I am already using the technique in my practice and my clients love it! Thank you for this wonderful course!

- Iris Riebsam, LMT, CMT, NCTMB
I used the forearm techniques as soon as I studied them and found a great release on my hands!! My clients enjoying the stokes also. I preferred to have a book and DVD to study the material, the DVD is a very useful tool!

- Sabine Sutterlin-Hutto, LMBT
Thank you for providing me with exactly what I needed. I can use these courses to prolong my career.

- Tim Lambrecht, LMBT
I thought this course was well written. I used to DVD to study from and then practice on a friend. The DVD was paced very well...in other words not too fast. I was able to watch the DVD and do the movements. My friend, who I was practicing on and who is also a massage therapist, said the same thing. Sometimes the training DVD's can be too fast paced. This was great and I would recommend it to others. Also Shari's voiced is well modulated. Excellent!!

- Suzanne Renaud, LMT
This is a great course, but should have been divided into three courses (and counted as three times as many CEU's). It was a very worthwhile but VERY difficult course. It takes a lot of hours of practicing on another person in order to really learn it. It will take many more hours to try to master the techniques of this course (and I have been practicing massage full time for 15 years). Unlike many other massage courses, I will be able to use what I learned in this course on a daily basis.

- Anne Kirkpatrick, CMT, NCTMB
Materials
2 DVDs - 117 minutes
Text - 164 pages
Multiple-choice test - if you prefer to test online please select the "test online" option
Certificate upon completion - if you prefer to print your certificate at home instantly, please select the online option
Display Certificates suitable for framing are available for $10 in addition to the certificate included with your tuition. Click here to order a Display Certificate.
Approvals
The Institute is approved by the National Certification Board for Therapeutic Massage and Bodywork (NCBTMB) as a continuing education Approved Provider. Approved Provider 049478-00.
Credits also accepted by the AMTA, ABMP and NAHA.
For information regarding your specific state massage license requirements and approvals, visit our Massage Therapy Continuing Education Requirements page by clicking here.
Students enrolling in this course also enrolled in: