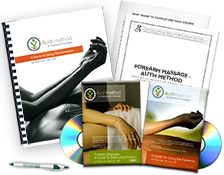 View larger
Choose an enrollment option:
Description
Student Reviews

5

Video
Materials
Approvals
Description
Save your hands and wrists - review the theory and use of the forearms as a primary massage tool. The Auth Method® of forearm massage, developed by Shari Auth, LMT, L.Ac., MA, demonstrates that by massaging with the forearms one can benefit from the advantages of this practice including more durability, more leverage, a larger surface area of contact and reduced wear and tear on the more fragile joints of the hands and wrist.
Lauriann Greene, CEAS, Co-author of Save Your Hands! had this to say about the Auth Method®:
Using the forearms instead of the hands is a great way to reduce stress to the hands, which are so overused in massage work. All massage therapists should learn the Auth Method® of forearm massage techniques to help protect and prolong their careers.
Through text and video you will review how to massage the body in supine, prone and side lying position using the forearms. These techniques can be used for relaxing spa massage, deep tissue massage, medical and prenatal massage. The program also demonstrates Chi Gong (or Qi Gong) exercises for better body mechanics during massage.
Student Reviews
Have been wanting to utilize more forearm in my work and less thumb work. What I learned will facilitate a greater healing in my clients with less effort on my part. I really enjoyed this. What an asset. Thank you.

- J. Wade
Very nicely done DVD's and clear demonstrations of techniques. An excellent contribution to bodywork technique.

- A. Coe, LMT
The DVD's are GREAT, showing different camera angles of the techniques so I was able to follow along in real time. Between the dialogue and visual components, I was confident I was performing the techniques properly!

- R. Young, LMT
DVD's are very well done; enjoyed the outside environment; the Chi Gong is a great addition and well integrated. I have been a massage professional since 1988; thank you for your instruction to reduce my physical stress.

- M. Robbins, LMT, NCTMB
I found the DVD's very helpful. Also, the book was effective in both the explantations, pictures and thorough. I will definitely be incorporating the forearm massage into my practice.

- K. Holligan, NCTMB
Materials
2 DVDs - 117 minutes
Text - 164 pages
Multiple-choice test - if you prefer to test online please select the "test online" option
Certificate upon completion - if you prefer to print your certificate at home instantly, please select the online option
Display Certificates suitable for framing are available for $10 in addition to the certificate included with your tuition. Click here to order a Display Certificate.
Approvals
The Institute is approved by the National Certification Board for Therapeutic Massage and Bodywork (NCBTMB) as a continuing education Approved Provider. Approved Provider 049478-00.
Credits also accepted by the AMTA, ABMP and NAHA.
For information regarding your specific state massage license requirements and approvals, visit our Massage Therapy Continuing Education Requirements page by clicking here.