Materials
2 DVDs - 117 minutes
Text - 164 pages
Multiple-choice test - if you prefer to test online please select the "test online" option
Certificate upon completion - if you prefer to print your certificate at home instantly, please select the online option
Description
Save your hands and wrists - review the theory and use of the forearms as a primary massage tool. The Auth Method® of forearm massage, developed by Shari Auth, DACM, LMT, L.Ac., MA, demonstrates that by massaging with the forearms one can benefit from the advantages of this practice including more durability, more leverage, a larger surface area of contact and reduced wear and tear on the more fragile joints of the hands and wrist.
Lauriann Greene, CEAS, Co-author of Save Your Hands! had this to say about the Auth Method®:
Using the forearms instead of the hands is a great way to reduce stress to the hands, which are so overused in massage work. All massage therapists should learn the Auth Method® of forearm massage techniques to help protect and prolong their careers.
Through text and video you will review how to massage the body in supine, prone and side lying position using the forearms. These techniques can be used for relaxing spa massage, deep tissue massage, medical and prenatal massage. The program also demonstrates Chi Gong (or Qi Gong) exercises for better body mechanics during massage.
Course Reviews
Daniel Hodgdon
I found this course very informative and easy to understand. The massage modality was explained well and the illustrations and video were high quality! I would highly recommend this CE course to anyone wishing to extend their massage careers!
Katherine Keys
The Auth Method of Forearm Massage is a great tool to have in my arsenal! I began using these techniques immediately in my personal practice. I am eagerly anticipating the wonderful results my clients will receive without further strain on my own body. I have a new sense of confidence that my massage career has been prolonged after learning these techniques. I highly recommend this course!
Erin Fisher, LMT
Loved this course! Shari Auth is a wonderful teacher and has a very well organized flow. The book was perfectly fitting to the DVD. Both were of amazing content and quality. I hope she makes more DVD's with different massage routines.
Sierra Patterson
This course was very clear in its technique descriptions. I was able to start applying the techniques into my practice immediately and my clients are loving the new forearm work. I also appreciated the fact that the techniques can be used by a short female therapist! Other classes I have taken had movements that were clearly for tall or male individuals.
Karen Baskin, CMT, NCTMB
I have been a Holistic Health Practitioner for over 20 plus years. I love to revisit courses which offer review and new techniques and knowledge. I gained both reinforcement and new information regarding techniques, style, biomenchanics and more with the AUTH METHOD. I watched the videos several times while practicing on a live person, then read the book and then took the exam. Very well done in all the educational material. A must take class!
Instructors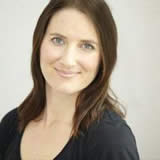 Shari Auth, DACM, L.Ac., LMT
Creator of the Auth Method® of therapeutic massage, Shari Auth's work is truly holistic in that she treats the full person by incorporating her knowledge of acupuncture, Traditional Chinese Medicine and structural integration with massage. Shari holds a Bachelor of Science Degree in Biology and a Masters Degree in Traditional Chinese Medicine, in addition to being licensed as a massage therapist and acupuncturist. The accolades from her list of celebrity clients demonstrate her passion for alternative healing. Through many years as an instructor, trainer and author - as well as 17+ years in practice - Shari has provided great contributions in the alternative healthcare field.
Shari is the author and instructor of the Forearm Massage - Auth Method® continuing education program.