Materials
Text (2) - 492 pages
Text (1) - 71 pages
Multiple-choice test - if you prefer to test online please select the "test online" option
Certificate upon completion - if you prefer to print your certificate at home instantly, please select the online option
Description
Advanced Anatomy for Professionals provides learning tools to use in evaluating your current knowledge of anatomy or for upgrading what you learned in massage school. The primary course text delves into an exploration of the skin and fascia, bones, muscles, tendons, ligaments, nerves, arteries and lymph nodes, and you'll practice valuable hands-on exercises for palpating the muscles and bony structures of the human body.
A student favorite, the supplemental course text includes transparent overlays of the body systems, organs and structures giving you the opportunity to independently test your knowledge.
With detailed illustrations, these essential materials will expand your knowledge and demonstrate how to locate and explore the body's structures manually.
Course Reviews
Susan Parks, LMT, NCTMB
This is the best anatomy book I have ever studied. Learned more in the hours spent reading this book, than all of massage school. Love the way the information is presented. Breaking things down by body sections made it all more tied together, rather than learning all bones...all muscles....all nerves...etc. Loved, loved, loved this book. Presentation brought it all together for me. Had quite a few moments of "Oh. I get that now!" Palpating each muscle, tendon and artery really brought it all home. Much easier to understand and remember, than only reading and memorizing from diagrams. Thank you!
K. Ralph, LMT
I really liked how this course included lots of "trivia"! That to me made it very interesting. This course covered a lot of material however, it was very organized. You guys are great! This course will be a great reference guide!
M. Knapke, LMT, ABMP
...far exceeded my initial training in anatomy so many years ago. Materials are presented in a way that engages the practitioner on many levels, which enhances learning.
R. Shannon, LMT
I love the materials that were included. Trail Guide to the Body and Rapid Review are wonderful books. Great update to my library. Step-by-step course instructions gave me the insight that the Institute for Integrative Healthcare Studies are true professionals. Thank you!
Judith Rivet, RMT
I was impressed with the clarity of the diagrams. The different views helped to drive home the proper muscle attachments. Being a visual learner this was a great asset. I have not done an anatomy review as through as this in many years so it definitely was a good refresher.
Instructors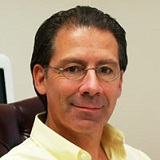 Ralph Napolitano, LMT
Original founder of the Institute for Integrative Healthcare Studies, Ralph graduated from The Swedish Institute, New York in 1981. A New York State Licensed Massage Therapist, Ralph was also the associate producer and host of the Holistic Health and Wellness and Natural Wellness programs in White Plains, NY, the creator of the Loving Pregnancy Massage video and author of the Healing Energy & Touch course manual.
Ralph has also authored and co-authored additional courses with the Institute including Developing a Wellness Center, Prenatal Massage Fundamentals, Infectious Disease: HIV/AIDS, Infectious Disease: Hepatitis, Medical Errors, Ethics: Therapeutic Relationships, Advanced Anatomy & Physiology, Deep Vein Thrombosis and Ethics: Practice Management.