Materials
2 DVDs - with three sequences including practice sequence, fine-tuning instruction and a stretching routine for the practitioner
Audio - contains 23-minute, 18-minute and 14.5-minute versions of the massage sequence
Manual - 63 pages
Multiple-choice test - if you prefer to test online please select the "test online" option
Certificate upon completion - if you prefer to print your certificate at home instantly, please select the online option
Description
This home study program is presented by David Palmer, the 'father' of Chair Massage according to Massage Magazine and the developer of the first massage chair. Based on Japanese acupressure techniques, this program presents a complete chair massage sequence for the neck, shoulders, back, hips, arms, hands, and scalp. This step-by-step presentation teaches practitioners three complete, upper body acupressure sequences.
You'll find included:
A teaching and review DVD detailing the acupressure points, massage techniques and massage sequence
A DVD for practicing the complete chair massage sequence and the Kenko Taiso self-care exercises
An audio-CD to talk you through the chair massage sequence with three different lengths for practice
A 76-page written manual describing each technique, acupressure point location, and sequence
After completing this course, you will be able to complete a seated massage sequence in 15 minutes, and execute the transitions in the sequences smoothly and without hesitation.
Course Objectives
Review a brief history of chair massage.
Identify and define what a kata is an outline the benefits and limitations in using one.
Observe proper body mechanics for chair massage to create maxium effect with minimum effort.
Observe the marketplace and determine where and how chair massage is needed and develop a marketing strategy.
Learn anatomical terms for orientations, muscles, and bones.
Learn how to be sensitive and responsive to feedback from clients regarding appropriate pressure.
Demonstrate a seated massage sequence and execute the transitions in the sequences smoothly and without hesitation.
Demonstrate proficiency and accuracy in locating lines and specific points on the body.
Learn specific contraindications and be prepared for possible fainting.
Course Reviews
Kim Rubey, LMT, BCTMB
Excellent course! The warm up/stretching program included with the kata is invaluable for maintaining healthy joints, strength and balance. David Palmer is a master teacher!!! All body workers need to learn this efficient method of bodywork. A must for maintaining a life time practice of skilled touch. Thank you! Thank you!
K. Swec, LMT
The video and written materials were exceptionally well coordinated and detailed. I found the stress on proper body mechanics very beneficial for proper execution of the techniques. I also liked the way the information was presented in different ways. First it was broken down into very detailed descriptions of all movements and then faster sequences that were readily adaptable to a fifteen minute routine. Information on a shorter routine was also included.
J. Stempel, LMT
This was a great way to study this course. It was highly informative and presented well. I particularly liked the ability to repeat (and repeat and repeat) the different segments.
C. Kilar, NCTMB
I enjoyed this clear and well written course. The video and audio were excellent in showing you the techniques and gave you valuable hints on body mechanics. I would recommend it highly to anyone interested in chair massage.
L. Archer LMT, NCTMB, AMTA
Although I have been performing chair massage since my licensure (1996)- I thought this course would be a nice 'Refresher' and also offer some new ideas and techniques to implement into my chair massage routine- I was NOT disappointed. As usual, your courses are always clear, concise, educational, presented very well and very informative. Thank you.
Instructors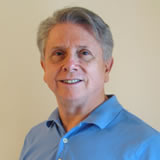 David Palmer, CMT
David Palmer began his professional massage career in 1980. He began working with chair massage in 1982 as a way of making skilled touch more accessible to the mainstream public. For his pioneering work in bringing chair massage into public consciousness, David Palmer has been acknowledged by Massage Magazine as the "father"; of Chair Massage. In November 1997, David also received the prestigious President's Award from the American Massage Therapy Association for his meritorious service to the profession. Through the founding of the Touch Pro Institute, David has trained tens of thousands of practitioners in the techniques and marketing skills of chair massage.
Mr. Palmer is the author and instructor of Chair Massage Fundamentals.