Materials
DVD - 90 minutes
Text - 55 pages
Multiple-choice test - if you prefer to test online please select the "test online" option
Certificate upon completion - if you prefer to print your certificate at home instantly, please select the online option
Description
This rich, valuable educational program can enhance the work of even the most experienced massage therapists, physical therapists, chiropractors, acupuncturists, and naturopathic doctors.
State-of-the-art computer graphics, anatomical illustrations, clearly presented demonstrations, and three-dimensional teaching aids enhance the 90-minute video presentation and provide vital insights on how to more effectively help clients.
With thorough, clear cautions, 55 different procedures are introduced and demonstrated. The user-friendly, photographic, 55-page text closely follows the video program. Recommended practice sessions with a colleague or family member are facilitated with a guided exercise included in the workbook.
Course Objectives
Learn general, practical tips for performing deep tissue work.
Discover techniques to identify and balance a functional leg length difference vs. an anatomical leg length difference.
Recognize cautions and contraindications for deep tissue massage work.
Review techniques to be applied to the back, shoulders, arms, hips, and legs while client is in prone position.
Review techniques to be applied to back, neck and shoulders while client is in the sitting position.
Review techniques to be applied to the shoulders in the side lying position.
Review techniques to be applied to the shoulder/chest, neck, hops, and legs while the clients is in the supine position.
Course Reviews
P. Campbell, LMT
This was the best online class I have ever taken. Dr. Mally was very specific and detailed. I felt he did not leave anything out when it came to detailing the stroke and also draping the client. The book followed the video so I was able to pause the DVD, read the section and then watch Dr. Mally perform the stroke. After five years as a massage therapist, I felt this was the best class to review my deep tissue massage applications and to learn new strokes. I highly recommend this class.
B. Parry, LMP, NCTMB
This course was one of the most interesting and comprehensive courses I have taken in the past 13 years since my licensure as a massage practitioner. I look forward to ordering other courses offered by Dr. Mally.
J. Marie, LMT, AMTA
Was very informative and kept my interest throughout the course. I liked that the video showed different views of the procedures along with what muscles and bones/joints were involved. Highly recommend this course to anyone interested in learning more about deep tissue techniques!
N. Vandeveer, LMT, NCTMB, AMTA
This is the best of any home study courses I have taken thus far. The video is excellent, clear, and concise. Having the workbook that closely follows the video program is invaluable. One can quickly look up a massage technique to practice and use on a client. It will definitely be a part of my everyday practice.
J. Rapala, NCTMB
The content was well paced, had clarity and did not contain a lot of fluff or trivial details - it just condensed to the most critical points of each move. Also helpful were the adjuncts such as computer skeleton and [under-the-table] plexiglass views.
Instructors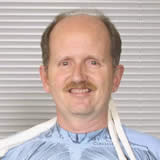 James R. Mally, ND
Dr. James R. Mally graduated from massage school in 1976 with over 1,000 hours of training, later attending Bastyr College of Naturopathic Medicine earning a Doctor of Naturopathic Medicine degree in 1984. As the founder of the Healing Arts Institute, a massage therapy school in California, Dr. Mally is an administrator and teacher of anatomy and physiology, massage, business, ethics, deep tissue massage, sports massage and other courses. Dr. Mally has had over 30 years of teaching experience in the massage and healthcare field.
Dr. Mally is author and instructor for the Institute's Deep Tissue Massage, Sports Massage, Swedish Massage for Professionals and Side Lying Massage courses.