Materials
Online Manual - 42 pages
Online multiple-choice test
Online Videos - 1.5 hours
Certificate upon completion - if you prefer to print your certificate at home instantly, please select the online option
Description
Our thumbs are often the massage tool that we value most; our thumbs are also what get us into the most trouble. Our thumbs make it possible for us to do deep, specific work. Our thumbs make our clients happy. And yet our thumbs are one of the most oft-injured parts of the massage therapist's body.
In this course, you will review the most common use patterns for our thumbs when we massage–the things we do that lead to pain and strain and injury. Then you will explore an alternative way of using the thumbs. In the process, you will learn to rely on our thumbs less, and rely on the easy use of your whole body more. And as we do that, we will learn how to use the thumbs more effectively when they are the best option for a given stroke, how to support our thumbs and keep them in line with the rest of the body, thus creating a way of using the thumbs (and the body as a whole) that is both safe and effective.
Course Objectives
List common body-use patterns that lead to overuse and injury of the thumbs.
Describe an alternate means of using the thumbs that causes less strain and promotes better body mechanics.
Assess body mechanics and identify specific ways in which thumbs are being overused or misused while massaging.
Develop the ability to assess one's body mechanics while working to identify early when problems are developing.
Utilize a more beneficial approach to using their thumbs, while massaging the client both in prone and supine.
Implement the three steps of this more beneficial approach: 1. use the thumbs only when necessary; 2. use the whole body more; and 3. support the thumbs and keep them in line.
Course Reviews
Deidre Jenkins, LMT
I did enjoy this course very much. I have taken a course with David in person, which I didn't care for. I realized it was because I was dealing with my own injuries at the time. I loved this connection to other therapists...He speaks from the heart, and I felt his teaching was directed at me. For some reason, I felt that I was less than good because I have blown out one of my thumbs. It seemed that I was cheating my clients if I didn't use my thumbs. I guess it was because that's what we taught all those years ago. I have been doing massage for 50 years. My first 20 were as a hobby, but when I saw what it was doing for people, it made me want to help them even more. My only regret when I die, is that I never had time to learn it all. Thank you David for being real and giving us the permission for not being the end all for every person that comes through our door!
Simplicio Aganad III, LMT, BCTMB
Instructors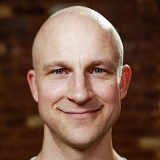 David Lobenstine, LMT
David M. Lobenstine has been a massage therapist, teacher, and writer for over a decade. He is a graduate of the Swedish Institute and Vassar College. He has worked in a variety of settings, from luxury spas to the US Open Tennis Tournament to a hospice to now, exclusively, his own private practice, Full Breath Massage. And he has developed and taught continuing education courses around the country, from the Swedish Institute to the AMTA National Convention. His aim, both with his clients and in his teaching, is to enhance self-awareness, so that we can do the things we love with efficiency and ease.
Mr. Lobenstine is the creator and instructor of Pour Don't Push and Working the Rib Cage.