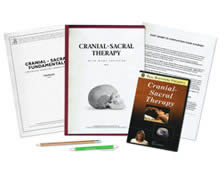 View larger
Choose an enrollment option:
Description
Student Reviews

69

Video
Materials
Approvals
Description
With Cranial-Sacral Therapy techniques, a trained practitioner can balance the rhythm of the cerebral-spinal pulse and treat numerous ailments. This continuing education program teaches the history of Cranial-Sacral work, including Dr. Sutherland's contributions to the development of Cranial-Sacral techniques, in addition to demonstrating specific techniques to evaluate and free bones in the sacrum and skull.
In this introductory course on cranial-sacral fundamentals, participants will learn about the following techniques:
Sacral Release Technique
Sacro-iliac Decompression
Core Link Technique
Cranial Base Release
4th Ventricle Technique
Sphenoid Release Technique
Ear-Pull Decompression
Palming-Decompression Technique
The Parietal Hold and Lift
Frontal Decompression
Balancing the Glabella and Bregma
Zygoma Palpitation
and Mandible Compression/Decompression
Along with the many cranial-sacral techniques covered, participants will also learn to distinguish between the possible outcomes: tracking, release, unwinding, still point and no change.
Student Reviews
A breeze and stress free. I am excited to use these techniques in my practice.

- Melissa Holmes, LMT
I put in about 48 hours of reading and studying the material, and many hours of hands on practice across 4 months' time. I am glad that this website is so user-friendly and time management-wise fits me so perfectly. One year to chew on the information and practice on people as well as talk with others in the field is exactly what I needed time-wise, in addition to all the other certifications that were expected of me in my new job. This allowed me to go at my own pace and I am glowing with knowledge that I have freedom to practice Cranial Sacral work legitimately.

- Leah Rechen, LMT
The Cranial Sacral course was very interesting...I'm immediately adding to my knowledge of CS and can't wait to start to use what I've learned....I'm giving a massage tomorrow and I'll use some of what I learned...I also have a school and the senior class is about to learn CS so this is good basic info...thank you I'll use the rest of the hours in practice...theory first - practice next.

- Jade Daniels, CMT, NCTMB
I really enjoyed the course & how it was presented.

- Kristi Gardner, LMT
I very much enjoyed the presenter in this particular course. Her gentle voice and quiet enthusiasm offered to me a consistent reminder of the reasons I still do this work. I hope to incorporate a number of these techniques into my practice. Thank you!

- Diane Perkins-Ducey, LMT
I like the video presentations. They were very clear.

- Elizabeth Holden, LMT
I am the lead Massage Therapist for a nation wide franchise. I am trying to educate my staff in different modalities and will be referring many of them to your classes.

- Regan Cuozzo, LMT
This is a no fail course and that is always good. I learned a lot and can use it in practice.

- Luba McCann, LMT
Very informative. I'm fortunate to have this institute to continue my studies.

- Lauren Hextell, NCTMB
I will be back next year! This was a great place to learn and I liked the fact the test questions were available for me to look up and study answers for before I had to take the test. Also that there was nothing timing me while taking the test, that can be stressful, so thank you!

- Danielle Smith, LMT
Very interesting & informative course. I gained new knowledge which can be incorporated into my daily practice. Also, extremely friendly & helpful customer service. Thank you! Highly recommended!

- Tanya Dixon
I appreciated the demonstration/lesson video. Not only were the practitioner's actions helpful to learning more of this modality but the additional learning format was particularly helpful to me, since I'm more a right-brain type. The presenter/practitioner's voice & manner were also conducive to my acquiring a better sense of an appropriate "presence".

- Ellen Sherfey, LMT, NCTMB
Your customer service is kind. Mary Sullivan is an inspiration to watch. Her eyes twinkle and her hands express a beautiful rhymatic compassion as she demonstrated the work. I highly recommend this course.

- Gayle Temkin, LMT
I love, love, love this course. It certainly whet my appetite to explore further and dig deeper into the subject. Definitely highly recommend this course to anyone who has clients with PTSD, or fibromyalgia as a go to source.

- Eva Wheeler-Sagiao, LMT
The website, the materials, Mary Sullivan on the video, the courtesy of the gal I spoke to at the Institute, all was an outstanding experience. Extremely professional! Cranial Sacral is now a critical aspect to my practice. Clients are getting even more results. Thank you!

- Gina Kraus
The Cranial-Sacral Fundamentals course was a clear and instructive course on an important healing technique. I will be able to immediately apply many of these techniques into my massage practice.

- Carol Joyce, LMT
This course was excellent. Very easy to follow with much information for massage therapists. Highly recommended. Love the CEU courses of the home study which you can do on your own time and pace.

- Betty M. Cash, LMP, NCTMB
This was the best, most applicable home study course I've taken since 2004.

- Angela Elizabeth Benoit, LMT, NCTMB
I loved this course. This has really helped me decide what role I play in this world. This class video was great. I'm so excited about learning more!

- Pam Horton
Brilliantlly presented and clear, precise in presentation

- Kennette Klees, CLMT, Reiki Grand Master
This was a great and informative course....well enjoyed it...

- Cassie Flores, LMT
This was an excellent presentation on Cranio-Sacral Therapy. I highly recommend it!

- Katherine Johnson, NCTMB
I really enjoyed the dvd, and would love to continue to take additional courses.

- Debra Lowe, LMT
Loved it. I took a hands on course a few years ago and this course triggered my memory and made some points more clear. The format is great.

- Jeff Woodward, LMBT, NCTMB
This course was well done. Thank you

- Kallie Arnold, LMT, NCTMB
It was a good introduction into cranial-sacral therapy and I plan to incorporate the techniques into my therapeutic massage sessions. Thank you!

- Patricia Standfield, LMBT, NCTMB
I thought it was interesting and enjoyed the course

- Luann Belk, LMBT
This was one of the most useful and informative home studies I have done. Thank you.

- Gena Johnson Ramos, LMBT, NCTMB
I thought the DVD was good. I watched more for the demonstrations of each technique b/c reading about it is OK, but watching Mary Sullivan perform them was helpful.

- Laura Packer, CMT, NCTMB
I enjoy being able to watch the instructor on the DVD and follow along verbatim in the book. It helps me really grasp what I am trying to learn.

- Ashlie Holt, LMT, NCTMB
I enjoyed every thing about this course. It met and went beyond my expectations. The information and presentation was very clear and understandable. This is certainly something that I can and will use very often to benefit others in my practice. Thank you so much!!!

- Tami Chatfield, LMBT, NCTMB
Great course - straight forward and to the point. Very helpful and insightful.

- Victoria Young, LMT, NCTMB
I have attended John Barns and Upledger courses in CST and so I am familiar with the subject matter, but I thought the DVD was really good and I learned new tecniques and I understand the fulcrum so much better now. This was a great course. Thank you!!

- Lisa Schudel, LMT, NCTMB
Having a DVD and booklet to refer back to repeatedly is essential. I really appreciate the superimposed images of the bones and/or hand positions under/over the body; it helps make it more comprehensive.

- Karen Bush, LMT
I was afraid I would not learn as much from an online course because I learn better in a hands on situation but I really did learn a lot from this course, thank you!

- Lynne Lavigne, LMT
As always, this course was very clear, precise and well laid out.

- Lisa Beck, LMT, NCTMB
Clear, and to the point. Easy to follow.

- Kim Rossell, LMT
This will definitely help me in my practice. I have a lot of clients with many upper body issues. This will help me validate my work.

- Melody Emert, LMBT, NCTMB
This was a great class i learned a lot in a short amount of time which allowed me to retain the info better and actually learn it as well. THANKS!

- Mia Alexander, LMT
Because of this course and the information provided, it has sparked more interest in me to further learn cranial-sacral body work. I absolutely LOVED it!

- Kendra Zakkas, LMT
Your online courses have me totally inspired to keep educating myself further. I am so jazzed!!!! Thank you! can't wait for my next class.

- Nicole Cuevas, LMP
The materials I received for this course were better than the ones I received in massage school. I will refer to them often! Thank you for providing such great study courses.

- Jennifer Valadez, LMT, NCTMB
I loved how easy it was to learn something so amazing. I will continue to purchase continuing education courses from your website. Thank you

- Mary Jane Garza, LMT
This class offers a DVD which is very helpful because most hands on classes don't offer that and it is easy to forget techniques if you are more visual and hands on than verbal. Thanks!

- Anne Kammeyer, LMP
Loved it

- Tammy Sawyer, CMT, NCTMB
The content was helpful to continue in my practice.

- Cathleen Boehm, LMT
The course outline, text, and video instruction and demonstration were presented in a very clear and concise manner, and easy to understand. This course was extremely valuable with informative tools to enhance my practice.

- Tanya Muhleisen, LMT
Finally, the "mystery" of cranial-sacral work was revealed to me. I was actually doing some of this by intuition but now I am eager to implement my new skills into my existing practice.

- David Murdock, LMT, NCTMB
I loved this course. I learned a lot about symptoms and exactly how to execute the problem. Very well put together.

- Alberta Echols, LMT
I really enjoyed all of the information and techniques

- Beverly Nall, LMT
I gained greater awareness & knowledge from this course, things that I had not really considered before. The course gave excellent information. The DVD that was provided was so relaxing..."it put me to sleep several times", I had to study in early hours to remain more alert. I am very glade that I chose CRANIAL-SACRAL FUNDAMENTALS, " It was much more than Fundamental.

- Geri Edwards
Great course! After 20 years of practice your Cranial Sacral course was packed with information. I would highly suggest taking it for anyone beginner to advanced to a gain a deeper understanding.

- Daniel French, HHP, NCTMB, LMT
Really enjoyed the course, great refresher from taking a course years ago, it has reminded me of things I had forgotten and added to my practice

- Christi Hanner, LMT
The course video was great, the separate chapters were very convenient. i appreciated the videography, layering the client and the bone and hands so i could see everything.

- Fran Zoldan, CMT
The Institute made the course material very concise and in a user friendly way that was straight forward and easy to understand.

- Richard Cardone, LMT
Cranio-Sacral Therapy is beautiful work and this course provides a thorough foundation.

- Christopher Renz, LMT, NCTMB
I really enjoyed the course. It was very informative but not overwhelming. I can't wait to start incorporating Cranial Sacral into my business.

- Laura Sawicki, LMT
This material is a good pre-requisite before taking classes in cranial-sacral. I know much more now than when I started. Material was interesting and well written.

- Joyce McLaughlin, LMT
Cranial-Sacral Fundamentals was easy to follow and informative.

- Kathryn Matlock, LMT
This course was such a convenient way to learn new, practical and interesting material.

- Shannon Simon
I was nervous to take this course for fear of not understanding with out an instructor to answer questions. Once I started I realized how well it was presented and it was explained very well.Easy to follow. Thank you.

- Audra Stoker, LMT
The content was easy to follow and definitely sparked my interest to learn more about Cranial-Sacral work. For a therapist that is looking to diversify into "easier on the body" modalities, I'm anxious to try some of these techniques in my practice!

- Megan Lopez, RMT, NCTMB
Great course! Well organized with step by step techniques I can easily incorporate into my practice.

- Stephanie Benstock, LMT
Nicely presented. It was helpful to be able to go back and look through the content. My clients will appreciate how this technique can subtly alleviate some frustration problems. Thank you!

- Chanson Cooley, LMT
This is an excellent course. TO be honest, I did not expect to come away with much working knowledge but quite the opposite. As a long time therapist, I feel this coursework will find use in my practice daily.

- John LeMunyon, LMT
I took Cranial-Sacral classes in the past and wanted to refresh my memory on the subject. This class went beyond my expectation. I actually understood things I had not before!

- C. Housseau, NCTMB, AMTA
The course was fantastic. I got so much more out of the course by studying undistracted, for a few hours each day than trying to cram it all into a weekend course. It was so much more affordable and less stressful. No driving, no hotel costs, no babysitters! The text was very enjoyable and I can review it as many times as I like! Thank you.

- L. Scott LMT, NCTMB, AMTA
This course was so interesting that I practically did it non-stop. The things that I learned about were problems I think now I will solve with my clients. The time I spent on this course will never compare to the amount of time I will use it! Great job!

- K. Pugh, LMT
This was a great course, I loved it. It was totally and completely fascinating to me.

- C. Miscinski, LMT, NCTMB, AMTA
Materials
DVD - 77 minutes
Manual - 32 pages (available for shipment or online)
Multiple-choice test - if you prefer to test online please select the "test online" option
Certificate upon completion - if you prefer to print your certificate at home instantly, please select the online option
Display Certificates suitable for framing are available for $10 in addition to the certificate included with your tuition. Click here to order a Display Certificate.
Approvals
The Institute is approved by the National Certification Board for Therapeutic Massage and Bodywork (NCBTMB) as a continuing education Approved Provider. Approved Provider 049478-00.
Credits also accepted by the AMTA, ABMP and NAHA.
For information regarding your specific state massage license requirements and approvals, visit our Massage Therapy Continuing Education Requirements page by clicking here.
Students enrolling in this course also enrolled in: