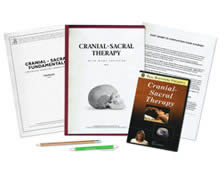 View larger
Choose an enrollment option:
Description
Student Reviews

4

Video
Materials
Approvals
Description
With Cranial-Sacral Therapy techniques, a trained practitioner can balance the rhythm of the cerebral-spinal pulse and treat numerous ailments. This continuing education program teaches the history of Cranial-Sacral work, including Dr. Sutherland's contributions to the development of Cranial-Sacral techniques, in addition to demonstrating specific techniques to evaluate and free bones in the sacrum and skull.
In this introductory course on cranial-sacral fundamentals, participants will learn about the following techniques:
Sacral Release Technique
Sacro-iliac Decompression
Core Link Technique
Cranial Base Release
4th Ventricle Technique
Sphenoid Release Technique
Ear-Pull Decompression
Palming-Decompression Technique
The Parietal Hold and Lift
Frontal Decompression
Balancing the Glabella and Bregma
Zygoma Palpitation
and Mandible Compression/Decompression
Along with the many cranial-sacral techniques covered, participants will also learn to distinguish between the possible outcomes: tracking, release, unwinding, still point and no change.
Student Reviews
I took Cranial-Sacral classes in the past and wanted to refresh my memory on the subject. This class went beyond my expectation. I actually understood things I had not before!

- C. Housseau, NCTMB, AMTA
The course was fantastic. I got so much more out of the course by studying undistracted, for a few hours each day than trying to cram it all into a weekend course. It was so much more affordable and less stressful. No driving, no hotel costs, no babysitters! The text was very enjoyable and I can review it as many times as I like! Thank you.

- L. Scott LMT, NCTMB, AMTA
This course was so interesting that I practically did it non-stop. The things that I learned about were problems I think now I will solve with my clients. The time I spent on this course will never compare to the amount of time I will use it! Great job!

- K. Pugh, LMT
This was a great course, I loved it. It was totally and completely fascinating to me.

- C. Miscinski, LMT, NCTMB, AMTA
Materials
DVD - 77 minutes
Manual - 32 pages (available for shipment or online)
Multiple-choice test - if you prefer to test online please select the "test online" option
Certificate upon completion - if you prefer to print your certificate at home instantly, please select the online option
Display Certificates suitable for framing are available for $10 in addition to the certificate included with your tuition. Click here to order a Display Certificate.
Approvals
The Institute is approved by the National Certification Board for Therapeutic Massage and Bodywork (NCBTMB) as a continuing education Approved Provider. Approved Provider 049478-00.
Credits also accepted by the AMTA, ABMP and NAHA.
For information regarding your specific state massage license requirements and approvals, visit our Massage Therapy Continuing Education Requirements page by clicking here.