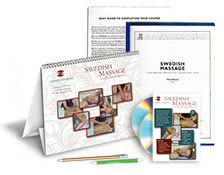 View larger
Choose an enrollment option:
Description
Student Reviews

32

Video
Materials
Approvals
Description
In this program, James Mally, ND, LMT explains and demonstrates over 90 different Swedish massage techniques to help you enhance your skills. As you watch, review, and practice along with the DVD, you will work step-by-step through the fundamental techniques involved in doing a full body Swedish massage.
The photographic manual describes each technique demonstrated in the video. The manual is designed to stand on the massage table, making it easier to refer to the text as you practice techniques. A manual section shows various sequences on a single page for quick reference as well. The importance of taking a client history, using correct body mechanics, and massage cautions and contraindications are all reviewed.
According to a Massage Magazine review: "In a logical, well-thought-out routine, we learn preliminaries to the massage session, efficient use of the massage table, tactful draping of the client, an entire full-body therapeutic massage routine, finishing touches, and a brief introduction to deep-tissue massage."
Swedish massage has been shown to reduce stress and alleviate common body aches and pains.
Student Reviews
Integrative Healthcare Studies has been the best by far. They truly have the best study materials. I have used all the information in my practice as a massage therapist.

- Linda Dickerson, LMT
The video was very detailed with steps for massage. There were some strokes that I was not taught in school. They look very soothing to apply to my clients. I will defiantly use this DVD to enhance my client's massage experience.

- Therese Gregory, RN, LMT
Very informative material. Love the photos and examples of techniques.

- Kelli P. Rosser, LMT, NCTMB
Best refresher course I ever took. I will be taking more in the near future.

- Adialys Laffita Gonzalez
having been a massage therapist for 12 years I thought I could use a review of the basics. it was a wonderful review and I was able to add some new techniques to my bag of goodies. I am excited to use some of my new knowledge on my clients.

- Pamela Monaghan, LMT, NCTMB
I was getting bored with my regular relaxation massage routine. These strokes are a great addition. I will spend many more hours practicing the techniques. Glad I took the course.

- Kristi Gabriel, LMT
This course was a great reminder of how benefical "Swedish Massage" is! And I've learned new strokes so my clients (and me) don't become bored. Thanks, I really enjoyed it!

- Patrice Moran, LMT, NCTMB
The course is attractive; the professor explains in a clear manner techniques that are tremendously useful for my every day practice not only for its importance but also for it results on the clients body. I've been doing these techniques from the beginning with confidence. I'm interested in buying some other courses from this author and I would recommend to any professional massage therapist. Thanks.

- Jose Pomares, LMT
It was a great course! I learned new applications for Swedish Massage.

- Marcella Perino, LMT
This was a great course and it was to the point. I will definately be doing more from this site in the future. Thank you.

- Helen Virginia Nicholson, LMT
Clearly presented, very detailed course!

- Kira Dunlap, LMT, NCTMB, ABMP
This was my first course with Dr. Mally and I will be taking future courses with his materials. His course includes a DVD and a flip chart; materials I will use and keep for my entire career. Very valuable and practical information. I was very pleased.

- Diane Whiteman, LMT, NCTMB
Great refresher course! I will use some techniques taught.

- Shawn Breaux, LMT
I suggest every massage therapist take this course. After five years in practice I still learned a lot of new things to make my sessions better and relearned things I forgot.

- Anthony Villalobos, LMT
Great course! Dr. Mally is very knowledgeable. His technique, quality of the video, and workbook held my attention. I also liked his sense of humor.

- Pamela Wilson, LMT, AMTA
I liked this course because it refreshed my memory and was clear for me to understand.

- Julieann Pollier, LMT, AMTA
Thank you for having a fun course. It gave me helpful ideas.

- Vera Evans, LMT
Really enjoyed the class and learned a lot. I will definitely be taking other classes in the near future.

- Jodi Tillduster, LMT
Good refresher course of things to add to your massage.

- Kathleen Curley, LMT
Dr. Mally was great and very informative. I really like all the courses that I've taken from the Institute. Everything has been very knowledgable and I've been able to use all of it in my practice.

- Robin Roberts, LMT
The information was laid out in an organized fashion which made it easy to follow while practicing the techniques learned. Supporting materials were very helpful.

- Jeanne Rivera, LMT, NCTMB
Thanks for the technical support and great course.

- Lucy Castillo
This was a great course to refresh my Swedish techniques and to learn new techniques! I would highly recommend this to anyone looking to gain new knowledge, or just as a refresher.

- Heather Belisle, LMT
I liked the format of the video. It was easy to go back and review specific content.

- Leslie Fiedler, LMT, NCTMB
I was very pleased with the knowledge and teaching of the instructor. I feel that the reference book and DVD will be a great asset to practice the techniques (and to add to my other more requested deep tissue massage) thus making for a more enjoyable and effective massage for my clients. Good reminder of proper body mechanics as well.

- Lesa Farmer, LMT
Very well developed. Great presentation with factual, informative, outstanding format.

- J. Parks, RN, LMT
Dr. James Mally has done an outstanding job in presenting his techniques. His work is full of professional integrity and expertise that comes from experience yet is wonderfully heart centered as well. The format of the text is very practical for ease of use during massage practice, as is the DVD. I very greatly appreciate the fine quality of these course materials.

- M. Fisher, LMT, NCTMB
I loved this course. I learned valuable techniques that will bring a smile to my client's heart and soul!

- D. Smith, LMP, NCTMB
I have been doing massage for over 27 years, but I still found a couple nice new 'moves' to use... overall an excellent beginning Swedish routine.

- M. Lee, LMT, NCTMB, AMTA
Absolutely love the DVD format! - Makes it perfect to really get the moves down and helps with the sequence as well.

- K. Berry, CMT, NCTMB
This was a very user friendly course. The convenience of studying the course in the comfort of my home was awesome, and taking the test online and receiving my certificate was wonderful!

- J. Courville, LMT
Well organized, excellent presentation and explanation as necessary. Stressed proper body mechanics for the therapist and proper draping of client. Good review of basic massage strokes, history of Swedish massage. Good review of contraindications and cautions of massage.

- K. Boley, NCTMB, AMTA
Materials
DVD - 90 minutes
Text - 85 pages
Multiple-choice test - if you prefer to test online please select the "test online" option
Certificate upon completion - if you prefer to print your certificate at home instantly, please select the online option
Display Certificates suitable for framing are available for $10 in addition to the certificate included with your tuition. Click here to order a Display Certificate.
Approvals
The Institute is approved by the National Certification Board for Therapeutic Massage and Bodywork (NCBTMB) as a continuing education Approved Provider. Approved Provider 049478-00.
Credits also accepted by the AMTA, ABMP and NAHA.
For information regarding your specific state massage license requirements and approvals, visit our Massage Therapy Continuing Education Requirements page by clicking here.
Students enrolling in this course also enrolled in: