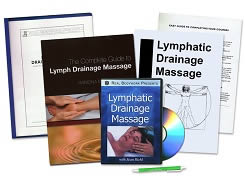 View larger
Choose an enrollment option:
Description
Student Reviews

56

Video
Materials
Approvals
Description
Expand your massage therapy skills and broaden your practice. Lymph drainage massage can be extremely beneficial to clients who suffer from allergies, have had recent surgery, or suffer from edema. The treatment is quite relaxing to the client as it has a highly calming effect on the body.
In this exclusive course, based on Dr. Emil Vodder's method of manual lymph drainage, you will learn the anatomy of the lymphatic system, including lymph nodes, vessels and angions. You will also master the locations of the basic nodes and the drainage patterns the lymph follow. The causes and types of edema are explained as well as the indications and contraindications of lymphatic massage.
Student Reviews
Great course. Very practical and well worth the money as I am now able to offer another technique to help my clients with pain and discomfort. This course compliments the Remedial Massage Training I have received. Thank you

- Andrea Bennett
Wonderful course. The course was insightful and informative. I have used several techniques on myself and it will be a huge asset to my clients. Thank you so much.

- Deneen Jenkins, LMT
Thank you for providing excellent home study courses/material.

- Rita Woods, LMT
Easy to study and understand. Will be easy to put into practice.

- Brian Cooper, LMT
It was great! Very informative and easy to follow. I am already benefitting by practicing on myself!

- Darcy Nelson, LMT
I really enjoyed taking the LDM course. The manual held my attention from beginning to end. After watching the video, I actually played it while practicing LDM on my husband. I also appreciate the supplemental book which compliments this course perfectly. I have already recommended this Institute and will continue to do so in the. Thank You

- Margarita Hartney, LMT, NCTMB
I really enjoyed this course. It was very interesting and I will be able to incorporate some of this into my business. I have been practicing since 1994 and this is one of the best courses I have taken. Thank you.

- Donna C. Sutton, LMT
I will continue to study and use this in my practice and add to and save for reference material. Great information. Beautiful books. Thank you so much!

- Frankie Brockett, LMT
The information was really good. I have a lot of patients with these kinds of problems. I agree that this kind of work will be a great asset to what I am doing already! Thank you

- Kimberly S. Freeman, LMT
The course content was very well presented and informative. The entire course was interesting and raised my awareness of how to meet my client's needs.

- Pilar Cecilia Fine, LMT NCTMB
The Institute is a wonderful resource for CEU classes. I am already a repeat customer and will be back for more. I enjoyed this course- straight forward, clear, and fascinating content.

- Claire Herlihy, LMT
I found the course to be very informative. Being a visual learner the DVD was very helpful.

- Malgorzata Selbo, LMT
I have nothing to add, other than a thank you. This course was wonderful! The reading material is clear and to the point! The video was extremely helpful, and the added text was absolutely wonderful to read!

- Ayelet Bazalel, LMBT, LMT
I always enjoy Sean Rieh's work and presentations and this course did not disappoint! I've learned much from him over the many years I've been in practice!

- Linda Patterson, LMT
I found the two texts and the dvd to be very informative. And I feel like I got a firm grasp on the knowledge that I obtained. Thank you

- Tracy Ruth, LMT
Course was interesting and very helpful...

- Raymond Garcia, LMT
Great course. Easy to comprehend and absorb material. Would recommend.

- Romy Arguello, LMT, NCTMB
I really enjoyed this course it was very clear and easy to follow. I will use this a lot it my practice and with my family. Awesome Course!!!!

- Tabitha Wilkins, LMT
Very informative.

- Lucille Beudoin, LMT
To the point course. I like that it comes with a DVD so I can learn hands-on.

- Liane Sewell, NCTMB
Happy with the class, text was great.

- Jill Haugse, RMT, NCTMB
Thank you for offering this valuable information as a home study. I love that I can refer back to the booklet and video again and again.

- Teresa Combs, LMT, NCTMB
I thought the course was well organized and convenient for the therapist who has a busy schedule. I was able to save time and money by not having to travel to a destination in order to take this course, and by not having to go away from family for an extended amount of time.

- Kimberly Willis, LMT
Good and extensive questions. You really need to know your stuff to pass the test.

- Fiorenza De Giorgio, LMP
Very interesting and has become a valuable technique that I have already intergrated into my practice. Am very interested in pursuing advanced training in the area after this thorough introduction.

- Maryann Benitez, LMT, NCTMB
This was a fantastic overview and education on lymphatic drainage. I didn't know anything and feel very confident now.

- Sherrie Callahan, LMT, BCTMB
I was again reminded how fascinating our bodies are!

- Cindy Stromstedt, BCTMB
Although I remembered a lot of this information from Massage school it was great to have a refresher! I was actually surprised at how easily it came back to me and so much of it I already use on a day to day basis!

- Elizabeth Bentley, LMT, NCTMB
This was a great course

- Jonathan Simmons, LMBT
As a deep tissue specialist, this has helped a great deal with understanding and integrating lighter touch when deeper is not called for. I have several people waiting for me to implement this into my practice, which I feel I can do confidently.

- Tyna Boccarossa, LMT
Overall excellent course. No complaints

- Sandra Yeager, LMT
Extremely enjoyed how it was presented in video and manual. test questions were appropriate.

- Corinne, Bowie, LMBT
I was pleasantly surprised by the superior quality of the LDM manuals and DVD. They were able to take a complex anatomical subject and make it into an easy to understand format. Very impressed!

- Holly Luenemann, LMT, NCTMB
I have been wanting to learn about lymphatic drainage massage since I became a massage therapist. This course allowed me to do that in my own home at my own pace. And I can always continue to use the materials to brush up or to become better at my practice!

- Elisha Logsdon, LMT
Book was very long but through. The DVD and manual were done very well and easy to follow.

- Marcia Braceland, LMT
I am very happy with this training.

- Videl Vega
Excellently presented! Easy to understand. Very thorough. A great course, very interesting. I would highly recommend it. Thank You.

- James Roldan, LMT, NCTMB
Great learning product, thanks for making it so available!

- Ivy Dreiman, LMT
The information was presented straight forward & easy to understand. I appreciated that! The only problem I had was staying awake watching the video. The instructors voice was to soothing. I was very glad the book had all of the info from the video. All in all it was a good course and I will definitely recommend the Institute to others and also purchase more courses at a later time.

- Christine Mills, LMT
Concise and thorough.

- Steve Pearson, LMT, NCTMB
Taking the test online was a much easier experience than I had expected. Not that the test was easy :), just the website and experience of it.

- Jodi Lynn Wright, LMT, NCTMB
This course was presented in a clear and concise way. The DVD was extremely helpful and the materials were of excellent quality.

- Maria Piekiel, LMT
I have used your courses several times. I always find them interesting and easy to follow. I enjoy the fact that I can do the required test - on my own time.

- Donna Holmes, LMT
The dvd by Sean is so helpful. I will continue to use it until im comfortable performing the massage on my own. Very detailed course, I enjoyed it.

- Michelle Perkins, LMT
The course material was very informative and challenging. I liked the fact that it was not so easy. I read the book and watched the dvd. I still had to review and do some research in the book while answering some of the test questions. I enjoyed this course and learned a lot.

- Mary Jacobs, LMBT
This was a very easy and straight-forward course. Very easy to understand and I enjoyed it very much. I cant wait to order my next course and I will be more than happy to recommend this to any of my other friends that are Massage Therapists.

- Melissa Murrill, LMT
So far, I've taken two courses from the Institute. As an NMT teacher of nearly 20 years, I'm impressed by the quality and content of the courses offered. My opinion is that an online course should entice the student to take a live class, and this course does exactly that. Thank you for an excellent product!

- Nancy Ward, RMT, NCTMB
Very informative & well presented. Thank you for yet another excellent course! Highly recommended.

- Tanya Dixon
Great course. Very informative, yet practical. It explains the anatomy and physiology very clearly but the application comes right after, so it is very complete.

- Maria Sperber, LMT
This information will be useful in my practice. I have had many inquires for lymphatic massage over the years and very few practitioners have these skills mostly due to the cost of the classes.

- Myriam Munson, CMT
Thank you so very much for this excellent knowledge. All of the materials were beyond my expectations; and I am looking forward to furthering my education and skills via your organization. P.S. Your Customer Service is the best!

- B. Gardner, NCMT, ABMP
Awesome course, excellent information to help expand my practice with a nice break for my hands. I have already seen results!

- S. Lilley, NCTMB, AMTA
The completeness of the course with the video & demo plus diagrams & the guide book was very impressive. Included here is all we need to learn this technique well & to keep studying the vast amount of information given. The gentle touch is a great relief for my hands. As I get near 70 yrs of age, this more gentle work is important to my continued success in doing massage therapy. Thank you for making this awesome course available.

- F. Bailey LMT
This was the first home study course I have taken, and I was surprised how thorough and easy to understand the contents were.

- M. Radcliffe, NCTMB, AMTA
Excellent course. A very worthwhile presentation that was professional and packed full of pertinent information.

- B. Martin, NCTMB
I learned a lot and will read and study more. Very important course for a massage practitioner. I especially love all contraindications for LDM (not to harm clients)! I love instructor's technique on DVD - really talented professional!

- Y. Yefremenko, LMT, NCTMB, AMTA
Materials
DVD - 90 minutes
Manual - 51 pages (available for shipment or online)
Text - 184 pages
Multiple-choice test - if you prefer to test online please select the "test online" option
Certificate upon completion - if you prefer to print your certificate at home instantly, please select the online option
Display Certificates suitable for framing are available for $10 in addition to the certificate included with your tuition. Click here to order a Display Certificate.
Approvals
The Institute is approved by the National Certification Board for Therapeutic Massage and Bodywork (NCBTMB) as a continuing education Approved Provider. Approved Provider 049478-00.
Credits also accepted by the AMTA, ABMP and NAHA.
For information regarding your specific state massage license requirements and approvals, visit our Massage Therapy Continuing Education Requirements page by clicking here.
Students enrolling in this course also enrolled in: