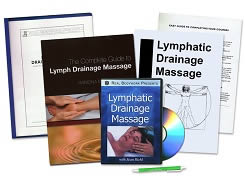 View larger
Choose an enrollment option:
Description
Student Reviews

6

Video
Materials
Approvals
Description
Expand your massage therapy skills and broaden your practice. Lymph drainage massage can be extremely beneficial to clients who suffer from allergies, have had recent surgery, or suffer from edema. The treatment is quite relaxing to the client as it has a highly calming effect on the body.
In this exclusive course, based on Dr. Emil Vodder's method of manual lymph drainage, you will learn the anatomy of the lymphatic system, including lymph nodes, vessels and angions. You will also master the locations of the basic nodes and the drainage patterns the lymph follow. The causes and types of edema are explained as well as the indications and contraindications of lymphatic massage.
Student Reviews
Thank you so very much for this excellent knowledge. All of the materials were beyond my expectations; and I am looking forward to furthering my education and skills via your organization. P.S. Your Customer Service is the best!

- B. Gardner, NCMT, ABMP
Awesome course, excellent information to help expand my practice with a nice break for my hands. I have already seen results!

- S. Lilley, NCTMB, AMTA
The completeness of the course with the video & demo plus diagrams & the guide book was very impressive. Included here is all we need to learn this technique well & to keep studying the vast amount of information given. The gentle touch is a great relief for my hands. As I get near 70 yrs of age, this more gentle work is important to my continued success in doing massage therapy. Thank you for making this awesome course available.

- F. Bailey LMT
This was the first home study course I have taken, and I was surprised how thorough and easy to understand the contents were.

- M. Radcliffe, NCTMB, AMTA
Excellent course. A very worthwhile presentation that was professional and packed full of pertinent information.

- B. Martin, NCTMB
I learned a lot and will read and study more. Very important course for a massage practitioner. I especially love all contraindications for LDM (not to harm clients)! I love instructor's technique on DVD - really talented professional!

- Y. Yefremenko, LMT, NCTMB, AMTA
Materials
DVD - 90 minutes
Manual - 51 pages (available for shipment or online)
Text - 184 pages
Multiple-choice test - if you prefer to test online please select the "test online" option
Certificate upon completion - if you prefer to print your certificate at home instantly, please select the online option
Display Certificates suitable for framing are available for $10 in addition to the certificate included with your tuition. Click here to order a Display Certificate.
Approvals
The Institute is approved by the National Certification Board for Therapeutic Massage and Bodywork (NCBTMB) as a continuing education Approved Provider. Approved Provider 049478-00.
Credits also accepted by the AMTA, ABMP and NAHA.
For information regarding your specific state massage license requirements and approvals, visit our Massage Therapy Continuing Education Requirements page by clicking here.