Materials
Manual - 24 pages
Multiple-choice test - if you prefer to complete this program online please select the "Materials: Available online + Test: Available online" option
Certificate upon completion - if you prefer to print your certificate at home instantly, please select the online option
Description
How do codes, laws, rules and regulations affect your practice of massage and bodywork? In this course, you are presented with a detailed view of the laws and rules of the Florida Board of Massage Therapy and how they apply to the massage therapy business. The course covers chapters 480, 456 and Rule Chapter 64B7 required per the continuing education rules as presented by the Florida Board of Massage Therapy.
(NOTE: This course is required for Florida Massage licensure renewal.)
Course Reviews
Jackie Voulgaris, LMT
I love taking these courses online. It's convenient, I study the material on my own time, it's informative and I appreciate that it is made available. Thanks for a very positive experience that is very relevant and high quality.
Janet Drury, LMT, NCTMB
The Laws continue to change every year..it is a good 'requirement' course ...to keep us sharp in the field. There is a lot of information here, I have to read it very slowly to ingest it all. Our field of massage therapy has grown immensely over the last twenty years.
Deborah Schick, BS, LMT, NCTMB
Even though I am not practicing in FL, it is very insightful taking this class. It is an extension of ethics, and could very well be used to fulfill that requirement for the Nationals.
Glenda McFall, LMT
This answered several of my questions that I had. Like I didn't understand: If I just received my license last year and it is to be renewed every 2 yrs. Why do I have to renew it this year?
J. McMillen, LMT
Well written and informative! GREAT review of Florida law for massage practice!
Instructors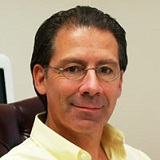 Ralph Napolitano, LMT
Original founder of the Institute for Integrative Healthcare Studies, Ralph graduated from The Swedish Institute, New York in 1981. A New York State Licensed Massage Therapist, Ralph was also the associate producer and host of the Holistic Health and Wellness and Natural Wellness programs in White Plains, NY, the creator of the Loving Pregnancy Massage video and author of the Healing Energy & Touch course manual.
Ralph has also authored and co-authored additional courses with the Institute including Developing a Wellness Center, Prenatal Massage Fundamentals, Infectious Disease: HIV/AIDS, Infectious Disease: Hepatitis, Medical Errors, Ethics: Therapeutic Relationships, Advanced Anatomy & Physiology, Deep Vein Thrombosis and Ethics: Practice Management.