Materials
Online Video - 46 minutes
Online Guidebook/Manual - 24 pages
Online multiple-choice test
Certificate upon completion
Description
There may be times in your career that you encounter clients that are in need of extra support. You may even find yourself trying too hard to provide that support. Instead, learn skills that will allow you to regain and maintain healthy boundaries between you and your client.
Through this video-based course you will:
Discover how to hold space for your client by staying neutral, but supportive, to their emotional, mental, and physical state.
Observe the difference between trying too hard to help a client vs. how to offer your skills in a neutral and helpful way for their benefit.
Learn to recognize your own behavior and be able to step back, observe, and regain healthy boundaries allowing the client to work through their own mental and emotional needs while still performing the massage.
Know how to create a "neutral space" and how to "hold space" for a client in support of their emotional and physical needs.
By following the steps in this course you will be able to simply create a space for clients to feel supported and safe, with your demeanor and hands, providing a feeling of unconditional support to that person.
Course Objectives
Recognize what it means to hold space for a client.
Discover how to create a neutral space for a client.
Build healthy boundaries with clients by implementing this practice.
Review examples and create an understanding of these concepts for integration and practice.
Course Reviews
Robin Smith, LMBT
9/25/2023
Bonnie Kimble, LMT, BCTMB
9/7/2023
Karen Madison
8/28/2023
Beautifully Presented!
Trina L. Sugg, LMT
8/26/2023
Kashara Morring, LMT
8/14/2023
Instructors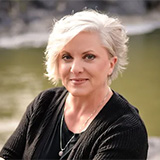 Amy Bradley Radford, LMT, BCTMB
Amy Bradley Radford is a board-certified massage therapist (BCTMB) and an NCBTMB Approved Continuing Education Provider specializing in teaching creative business solutions and advanced pain-management applications for massage therapists.
As a massage therapist since 1993, Amy continues to see clients at the table utilizing her innovative Pain Patterns & Solutions (PPS) methods. She also coaches massage professionals as well as other service-related employers, helping them achieve their next level of business success. Radford has served with the Federation of State Massage Therapy Boards as a CE course evaluator and has worked in several different massage schools, one of which she owned, inside a small, local hospital in 2004.
Amy is the creator and instructor of The Ethics of Professional Relationships, Ethics: Massage Etiquette & Communication, Ethics: Boundaries & Time Management, Ethics: Neutral Space, Client Care & Boundaries, Touch Interpretations, and Meet Client Expectations with Massage Your Market Training.