Materials
Text - 192 pages
Multiple-choice test - if you prefer to test online please select the "test online" option
Certificate upon completion - if you prefer to print your certificate at home instantly, please select the online option
Description
This course is an introduction to the therapeutic properties of popular essential oils. Learn the best methods of purchasing and storing essential oils, and the recommended precautions for infants, children, pregnant women and people who have sensitive skin.
Essential Aromatherapy organizes essential oils into alphabetical listings, providing their profiles, applications, and the physical and emotional conditions that warrant their use. Also included are detailed treatments for a variety of ailments and special circumstances.
In this course, you will:
recognize what essential oils are, how they get into the body
learn essential oils affect on mind and body
identify best methods for purchasing and storing essential oils
determine the therapeutic properties and most valuable uses of essential oils
find recommendations for common physical and emotional conditions
discover precautions for providing aromatherapy to infants, children and pregnant women
The course text provides a handy A-to-Z reference for future use with clear tables, illustrations and oil profiles.
Course Reviews
Diane Kelley, LMT
This course was much more interesting and informative than I expected. The information was very useful for my practice and I will be using this knowledge daily. The information/book was in an easy to read format which I will be using as a reference book at my office. I would recommend this course to other massage therapists.
Mary Barker, LMT
the textbook is really an excellent choice for this course and has an index and much other easily referenced features. thank you
Brittany Clark, LMT
Excellent course! The book is very easy to understand for someone with no previous experience on the topic. It is all clear and concise, and the information will be a valuable addition to my practice.
Kay Stuckey, LMT
I loved the book and all the reference listings for the oils. I did not really know anything about the use of essential oils; however, I would like to take more classes to expand my knowledge. It was a very positive experience. The information can and will be used in my massage practice.
Susan Crockett, LMT, AMTA
I really enjoyed this course. The book and added information given to me were clear and to the point. I look forward to implementing aromatherapy into my work.
Instructors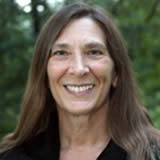 Sharon Burch, MSN, RN, NCTMB
Sharon Burch holds a Masters Degree in Nursing and has been practicing as a nurse since 1974. She is currently a Registered Nurse in the state of Arkansas. Additionally, Ms. Burch studied under many of today's leaders in massage therapy and bodywork during the 1980s, became Nationally Certified through the NCBTMB in 1993 and holds a professional membership with the AMTA.
As founder of Health Positive!, Ms. Burch has created over 60 home study nursing and massage continuing education programs, performed over 65 public, live educational presentations, has written two published books, served as a member on the NCBTMB Continuing Education committee and was a founding member of the National Association of Nurse Massage Therapists.
Sharon is an instructor on many of the Institute's programs and has authored and co-authored various ethics courses and additional titles such as Touch for the Seriously Ill, Stress Reduction Through Bodywork, Staying Well – Naturally, Cardiopulmonary Health and Illness, Chronic Pain Management, Marketing Massage in Four Easy Steps, Preventing Medical Errors, HIV Update for Massage Therapists and Bodyworkers, Understanding HIV, Massage for Edema and more.