Materials
Manual - 40 pages
Multiple-choice test - if you prefer to complete this program online please select the "Materials: Available online + Test: Available online" option
Certificate upon completion - if you prefer to print your certificate at home instantly, please select the online option
Description
Today we find people with HIV infection among our clientele, our circle of friends and our families. HIV infected persons are seeking healing modalities that enhance the physical, psychological and spiritual aspects of their being. Touch is in the forefront of these modalities. This course will greatly assist you in providing your skills with greater awareness and sensitivity for people who have HIV infection.
In this course, you will learn:
the history of HIV and AIDS
the global impact
opportunistic infections
diagnosis, treatment and transmission
universal precautions for preventing infection
contraindications for HIV infected clients
the benefits of bodywork for HIV and AIDs positive clients
emotional impact to the practitioner
This course meets the communicable disease requirement for Maryland and for most other states.
Course Objectives
Define HIV infection, its routes of transmission and its symptoms.
Identify massage and bodywork actions that are indicated and actions that are contraindicated for people who have HIV infection.
Describe at least 3 benefits of massage and bodywork for persons who have HIV infection, based on published research.
Course Reviews
Teresa Luechtefeld, LMT, NCTMB
May I say wow. I've taken 4 HIV classes since becoming a massage therapist. This was much, much better than any of them. Well writen, interesting, and compassionate without being sappy. Thank you for making this requirement enjoyable.
R. Adam Kneib, NCTMB
Thank you for this course. It was clear, to the point, and did not waste time with unnecasary information. Though I may not have many clients who have HIV/AIDS, I am excited about taking these new skills to our local medical facilities and the homebound. I always felt massage would be beneficial to those infected, but, now, know the how's and how to's as well as the contraindications. Well Done!
Dianna Bennett, LMT
FInally! An updated AIDS course that included the information about HAART. I'm thrilled to see this. The information was presented well and easily read.
April Lee, LMT
This course was a complete surprise to me. Having been in continuous practice as a medical massage therapist for 17 years now, I have taken many HIV/AIDs courses before and didn't expect anything different or new from this course. I was completely wrong and found this course exceptional and the best one of the subject I've ever taken! Thank you!
Wil White, LMT, NCTMB
While it has been an unfortunate part of life to know and have lost people to the HIV/AIDS fight, it also enhances your empathy towards individuals that may be suffering. The course was great as it gave me additional insight on what to look for and what techniques I should use when treating people living with HIV/AIDS. Thank you.
Instructors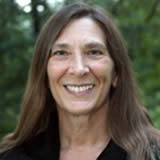 Sharon Burch, MSN, RN, NCTMB
Sharon Burch holds a Masters Degree in Nursing and has been practicing as a nurse since 1974. She is currently a Registered Nurse in the state of Arkansas. Additionally, Ms. Burch studied under many of today's leaders in massage therapy and bodywork during the 1980s, became Nationally Certified through the NCBTMB in 1993 and holds a professional membership with the AMTA.
As founder of Health Positive!, Ms. Burch has created over 60 home study nursing and massage continuing education programs, performed over 65 public, live educational presentations, has written two published books, served as a member on the NCBTMB Continuing Education committee and was a founding member of the National Association of Nurse Massage Therapists.
Sharon is an instructor on many of the Institute's programs and has authored and co-authored various ethics courses and additional titles such as Touch for the Seriously Ill, Stress Reduction Through Bodywork, Staying Well – Naturally, Cardiopulmonary Health and Illness, Chronic Pain Management, Marketing Massage in Four Easy Steps, Preventing Medical Errors, HIV Update for Massage Therapists and Bodyworkers, Understanding HIV, Massage for Edema and more.