Materials
Text - 311 pages (with access to online resources and video)
Multiple-choice test - NULL
Certificate upon completion
Description
Expectant mothers endure many changes as their bodies adjust to accommodate and sustain another life. Prenatal massage is of great benefit to clients who are expecting. Through this continuing education course you will build a comprehensive foundation to safely and effectively support the mother in pregnancy and childbirth. Clinical protocols and relevant procedures, supplemented by abundant references, photos and illustrations, the course text covers the techniques and benefits of therapeutic massage and bodywork throughout pregnancy, labor and the postpartum period.
In this course, you will learn:
the primary benefits of pre and perinatal massage therapy
how prenatal massage can reduce musculoskeletal strain and pain
key elements pertaining to correct positioning and pressure, methodological precautions and contraindications
pregnancy complications and high-risk pregnancies
essential massage recommendations for each trimester
preparations for labor
labor massage therapy concepts and attributes of active and transition phases of first stage labor and second stage labor
essentials for supporting a cesarean birth and self-care for labor assistants
postpartum guidelines and precautions for massage practitioners
General guidelines for effective, safe therapy are presented, with specific contraindications and precautions relevant to each trimester.
Course Objectives
Identify the primary benefits of pre- and perinatal massage therapy.
Recognize how pre-natal massage can reduce musculoskeletal strain and pain.
Describe at least one key element in each of the following: correct positioning, methodological precautions and contraindications.
Define the term "high-risk pregnancy."
List the most common pregnancy complications.
Identify the essential recommendations for each trimester.
Identify the essential preparations for labor.
Describe at least one key element in the active and transition phases of first stage labor.
Describe at least one key element in second stage labor.
Identify the essential elements in supporting cesarean birth and in self-care for labor assistants.
Recognize the three components of postpartum adjustments and healing.
Describe at least one key postpartum guideline or precaution for practitioners.
Course Reviews
Cory Chase, LMT
3/13/2015
This informative course was very detailed, challenging, and well-rounded. It reinforced how valuable massage can be for a pregnant woman; before, during, or after she gives birth.
Debra J. Abitz, LMT
7/30/2015
There was a lot to learn in the book that I did not know about and I feel more confident when giving a massage to someone who is pregnant. I am glad that I can always read up on the book at anytime I need it.
Andra Cagle, LMT
10/31/2014
Great! The book was beyond my expectations and the test really tested my new knowledge. I learned some great new techniques and skills that I am ready to use in my practice. Thanks!
Dawn Casella, LMT
9/3/2014
This course taught me SO much. As an expectant mother and massage therapist I took in an abundance of information not only to help my clients, but I've also learned so much for myself too. After taking this course, I have changed my mind about the epidural and am excited to take on the challenge of having an all natural birth in order to make sure I have a successful birth as well as ensure the mother to child bond. I am also going to start looking for a massage therapist or doula who will be able to assist me in my own birth. I am very excited to get a pregnant woman on my table!
Karen Grimsley
7/8/2014
This course really surprised me, it went into great detail and had more information than I thought it would. It was very challenging. I am very pleased with this course. I am now looking for a hands on course to add to the subject and material.
Instructors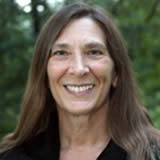 Sharon Burch, MSN, RN, NCTMB
Sharon Burch holds a Masters Degree in Nursing and has been practicing as a nurse since 1974. She is currently a Registered Nurse in the state of Arkansas. Additionally, Ms. Burch studied under many of today's leaders in massage therapy and bodywork during the 1980s, became Nationally Certified through the NCBTMB in 1993 and holds a professional membership with the AMTA.
As founder of Health Positive!, Ms. Burch has created over 60 home study nursing and massage continuing education programs, performed over 65 public, live educational presentations, has written two published books, served as a member on the NCBTMB Continuing Education committee and was a founding member of the National Association of Nurse Massage Therapists.
Sharon is an instructor on many of the Institute's programs and has authored and co-authored various ethics courses and additional titles such as Touch for the Seriously Ill, Stress Reduction Through Bodywork, Staying Well – Naturally, Cardiopulmonary Health and Illness, Chronic Pain Management, Marketing Massage in Four Easy Steps, Preventing Medical Errors, HIV Update for Massage Therapists and Bodyworkers, Understanding HIV, Massage for Edema and more.