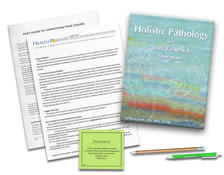 View larger
Choose an enrollment option:
Description
Student Reviews

15

Materials
Approvals
Description
Deepen your understanding of pathology, from a body/mind approach. Organized by body system, this program presents key concepts about how to recognize and confidently respond to soft tissue and movement therapy indications, precautions and contraindications for over 150 health conditions providing an excellent reference after the course has been completed.
In Part 1 of this two part course, you will learn about:
stress and the body/mind - mental and emotional health and illness, assessment, therapeutic action, research findings and case presentations
common psychological defense mechanisms
the immune and lymphatic systems - disorders, assessments, therapeutic action, clients with cancer, clients with edema, research findings and case presentations
important aspects of the Center's for Disease Control's Standard Precautions for massage therapists
immune-deficient conditions and hyperimmunity conditions
the cardiopulmonary system - disorders, assessment, therapeutic action, indications, contraindications, research findings, case presentations
appropriate actions in response to signs of a heart attack
the nervous system - disorders, assessment, therapeutic action, indications, contraindications, research findings, case presentations
A continuation of this program, utilizing the same text, can be obtained through Holistic Pathology: Part 2. However, Part 1 is not a prerequesite for taking Part 2.
Student Reviews
Very informative.

- Lynn Vela, LMT
Great course

- Stan Mergerum, NCBTMB
I loved this course! The material is very well written. I cant wait to take part 2!!

- Jen Nahmensen, LMT, NCBTMB, ABMP
Wonderful course material! Very informative!

- Kerri Schultz, LMT
I appreciate the way this book is written. It was very easy to follow - had a nice flow. It's arrangement made learning easier for me. Thanks!

- Diane Burns, RMP
I really enjoyed this course, it was a great stepping stone in helping me decide the next step in my therapeutic career. I was hesitant about going into a hospice/hospital type of setting and now I'm looking forward to learning more and finding a mentor. Thank you so much!

- Laura Rice, LMP, NCBTMB
This course is a wealth of information.

- Terri Hastings, LMP
This greatly exceeded my expectations!

- Melinda Grange, LMT, NCBTMB
I really enjoyed this course. It was a great refresher for me. Valuable information is given in this course. This book will be referred to often... Thank you!!!

- Karen Huffman, LMT, NCBTMB, ABMP
Very informative. Full of useful, even critical information.

- Gregory C. Ritchie CMT, NCTMB
A huge amount of relevant information, well organized and accessible. Deserves a permanent place in my reference library. Well done!!

- Elizabeth Foster, NCTMB
I enjoyed the course very much. This book is clear, concise and thorough. I applaud the author for targeting the audience and making this course very enjoyable.

- Brittney M. Kurello, NCTMB
Very readable and understandable material.

- Jackie Gaston, LMT Austin, TX
Very informative and educational. Easy to understand.

- Jessica Shanabarger
So great that holistic pathology is available

- Rebecca Chandler Shimmer Healing Arts
Materials
Text - 568 pages
Multiple-choice test - if you prefer to test online please select the "test online" option
Certificate upon completion - if you prefer to print your certificate at home instantly, please select the online option
Display Certificates suitable for framing are available for $10 in addition to the certificate included with your tuition. Click here to order a Display Certificate.
Approvals
The Institute is approved by the National Certification Board for Therapeutic Massage and Bodywork (NCBTMB) as a continuing education Approved Provider. Approved Provider 049478-00.
Credits also accepted by the AMTA, ABMP and NAHA.
For information regarding your specific state massage license requirements and approvals, visit our Massage Therapy Continuing Education Requirements page by clicking here.
Students enrolling in this course also enrolled in: