Materials
Text - 191 pages
Multiple-choice test - if you prefer to test online please select the "test online" option
Certificate upon completion - if you prefer to print your certificate at home instantly, please select the online option
Description
The first aromatherapy guide to synthesize Eastern and Western approaches to restoring emotional and mental health. Learn how to help clients improve a wide range of emotional and mental complaints through the application of essential oils. This course describes oils' subtle energies and psychotherapeutic properties combined with Traditional Chinese Medicine principles, including the 5 elements and acupressure. The course text explains the esoteric and energetic healing properties of 40 essential oils and shows how they can be used to manipulate qi, the body's vital energy, to stimulate healing from negative emotional and mental states.
In this course, you will:
identify essential oils that should not be used under any circumstances
learn precautions for providing aromatherapy to infants, children, pregnant women and people who have sensitive skin
find the best methods of purchasing and storing essential oils
recognize how essential oils work on the brain to affect the mind and how they complement massage and bodywork
review the basics of using essential oils along with Oriental Medicine and astrological principles
identify the therapeutic properties and most valuable uses of some popular essential oils
learn how to blend oils for restoring emotional and spiritual balance
determine the essential oils and bodywork techniques that are recommended to relax the nerves, settle the mind, calm and reassure, improve thinking and memory and boost morale
determine the essential oils and bodywork techniques that are recommended to reduce anger, empower and uplift the spirit and encourage love and connection
Easy-to-reference charts and full-color illustrations teach simple aromatherapeutic massage and acupressure techniques that restore balance to the body and psyche.
Course Reviews
Reginald Nixon
This course was the most thorough I have ever taken on aromatherapy. The complex integration of eastern and western traditional medicine yielded fascinating insights about the power of these distilled essences. The workbook is in and of itself, invaluable.
Chelsea Barrington, LMT
I absolutely loved this course. The book and materials were detailed, concise, and fascinating. In addition to learning about a multitude of herbs and plants from which the essential oil is extracted, I especially enjoyed learning about the five elements of Chinese medicine and tradition, and how this can be applied to aromatherapy. I think that this text does a great job of blending Eastern and Western treatments and philosophies in our goals of healing.
Rhonda Heyns, LMT
The aromatherapy course was exceptional in quality. The book held my attention and will be a great reference for my practice as well.
Lydia Allen, LMT
I enjoyed the course more than I expected to. I liked the information related to the 5 elements and the yin and yang. I also look forward to utilizing the info regarding using the oils along with acupressure points. Content was presented in a very utilizable format for me.
Samantha Husenovski, CMT
I love this course. I learned so much. It kept me glued to the pages the entire time. it had more information than any other aromatherapy book i ever read. Great job. : )
Instructors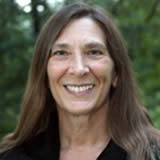 Sharon Burch, MSN, RN, NCTMB
Sharon Burch holds a Masters Degree in Nursing and has been practicing as a nurse since 1974. She is currently a Registered Nurse in the state of Arkansas. Additionally, Ms. Burch studied under many of today's leaders in massage therapy and bodywork during the 1980s, became Nationally Certified through the NCBTMB in 1993 and holds a professional membership with the AMTA.
As founder of Health Positive!, Ms. Burch has created over 60 home study nursing and massage continuing education programs, performed over 65 public, live educational presentations, has written two published books, served as a member on the NCBTMB Continuing Education committee and was a founding member of the National Association of Nurse Massage Therapists.
Sharon is an instructor on many of the Institute's programs and has authored and co-authored various ethics courses and additional titles such as Touch for the Seriously Ill, Stress Reduction Through Bodywork, Staying Well – Naturally, Cardiopulmonary Health and Illness, Chronic Pain Management, Marketing Massage in Four Easy Steps, Preventing Medical Errors, HIV Update for Massage Therapists and Bodyworkers, Understanding HIV, Massage for Edema and more.