Materials
Text - 149 pages
DVD - 45 minutes
Multiple-choice test - if you prefer to test online please select the "test online" option
Certificate upon completion - if you prefer to print your certificate at home instantly, please select the online option
Description
In this unique healing system of Thai Yoga Massage based on yoga, ayurveda, and the martial arts, the massage therapist guides the client through a series of yoga postures while palming and thumbing along the body's energy lines and pressure points. Together these actions result in a treatment that relieves muscular tension, improves circulation, boosts the immune system and balances the body energetically.
The course text leads readers through every aspect of this ancient bodywork therapy using more than 125 detailed, step-by-step photographs. Techniques for performing a one-hour massage are also demonstrated in the accompanying DVD.
Concepts presented include the history, benefits and key elements of the practice, such as anatomy and physiology and contraindications from the Thai viewpoint and tips for integrating Thai concepts with Western health theory.
In this course, you will learn:
the definition of Thai Yoga Massage, including how it works and how it may benefit clients
sen lines, doshas, marma points and the five elements
essential Thai Yoga movements
working stances
touch techniques
correct methods for using forearms, elbows, knees and feet
breathing techniques
contraindications for Thai Yoga Massage
sitting, double and single foot, single-leg, side-lying, back-position, abdomen, chest, arm and hand postures along with benefits precautions and common practice mistakes
Course Reviews
Brooke Liddell, LMT
I really enjoyed learning the material in this book and the DVD for better visual comprehension. I really like the Ayurvedic concepts in the material. I would definitely recommend it to anyone interested in learning Thai Massage... Thank you for offering this great home course!!!
Eva Wheeler-Sagiao, LMT
I absolutely loved this course, and use the techniques extensively in my practice. I would recommend this course to anyone who may not have a chance to take the in-school module as the dvd is detailed and the book is great reference material. Thank you!
Nancy Eliason, LMT, NCTMB
The book provided was very informational. The video was easy to follow. The test was easy to read and perform. I appreciated being able to have my answers on a printed test and then take the test. Over all this has been a very positive experience.
Eileen Ann Absenger, LMT, NCTMB
The Eastern approach in massage is always a good reminder for those that practice the Western approach in massage. In the moment, intention, breathing, letting go and loving kindness brings one to such a beautiful place when working with client. The application of Thai Yoga massage is a great addition.
Jennifer Carole Smith, Spartanburg, S.C.
I enjoyed this course. I love the relaxation and meditation this course offers
Instructors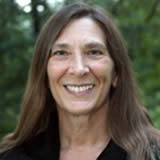 Sharon Burch, MSN, RN, NCTMB
Sharon Burch holds a Masters Degree in Nursing and has been practicing as a nurse since 1974. She is currently a Registered Nurse in the state of Arkansas. Additionally, Ms. Burch studied under many of today's leaders in massage therapy and bodywork during the 1980s, became Nationally Certified through the NCBTMB in 1993 and holds a professional membership with the AMTA.
As founder of Health Positive!, Ms. Burch has created over 60 home study nursing and massage continuing education programs, performed over 65 public, live educational presentations, has written two published books, served as a member on the NCBTMB Continuing Education committee and was a founding member of the National Association of Nurse Massage Therapists.
Sharon is an instructor on many of the Institute's programs and has authored and co-authored various ethics courses and additional titles such as Touch for the Seriously Ill, Stress Reduction Through Bodywork, Staying Well – Naturally, Cardiopulmonary Health and Illness, Chronic Pain Management, Marketing Massage in Four Easy Steps, Preventing Medical Errors, HIV Update for Massage Therapists and Bodyworkers, Understanding HIV, Massage for Edema and more.