Materials
Text - 225 pages
Multiple-choice test - if you prefer to test online please select the "test online" option
Certificate upon completion - if you prefer to print your certificate at home instantly, please select the online option
Description
This practical continuing education course deconstructs common myths about the use of massage in cancer treatment. Focusing on the use of touch techniques to provide comfort and ameliorate the side effects of conventional cancer treatment, the course text also provides the most recent research, the use of bodywork techniques to strengthen the body during and after treatment and the importance of gathering detailed information about a client's medical history. Charts for the adjustment of massage techniques according to the treatment a patient is undergoing and appendices summarizing research on oncology patients and massage are also included.
In this course, you will learn about:
the current paradigm shift in massaging clients who have cancer
key factors regarding massage and metastasis
specific variables in research related to massage for people who have cancer
potential benefits of bodywork for cancer patients
common short-term and long-term side effects of conventional cancer treatments
essential elements involved in gloving
massage for children living with cancer
adjustments necessary to make a bodywork session less demanding for the client
how bodywork can strengthen the vital organs, immune function and psychological response for clients who have cancer
how massage can give comfort in the final stages of life
recommendations for giving bodywork to caregivers in the home
Touch is vital to cancer patients' health and well-being and massage is a proven way to receive the benefits of touch. This CE program clearly informs therapists how to adjust their massage techniques in order to give massage sessions in a safe, effective manner for those with cancer as they receive treatment and during their recovery process.
Course Reviews
Jillian Hubbel, CMP
Thank you for this class. Much of the information learned 15 years ago in massage school is not valid. I appreciate the updated information and the evidence that supports the information. Evidence based material lends more credibility to the information and allows me to be confident that this information will not allow me to cause harm to my clients. I had been asking for this very class for years and it was exactly what I was looking for. Thank you.
Maryjane Michaud, MA, LMT, Worcester, MA
I found this course to be extremely helpful and timely as I am serving more and more clients at varying stages of cancer treatment in my practice. It's nice to know I can add something positive and helpful to their lives.
Theresa Kelley, Albuquerque, NM
This was one of the best courses I've ever taken. I have been licensed 8 years and have always avoided cancer because of what I was taught in massage school. I certainly feel enlightened! The explanation of the way that cancer spreads was well written and done so in a way that was understandable yet concise enough to cover all the information described in your course content.
Tamara Jorgensen
The textbook, Medicine Hands was incredibly engaging. It renewed my pride and passion for my profession. I am greatful for the opportunity to engage in this material. Thank you!
Janis Sommers, LMT
This course, in particular, is important information for all massage therapists to know. The techniques and contents in the text book work for many chronic health conditions other than cancer. Bravo to author, Gayle MacDonald for compiling the research and shearing them in this updated edition. I am a very happy student.
Instructors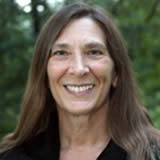 Sharon Burch, MSN, RN, NCTMB
Sharon Burch holds a Masters Degree in Nursing and has been practicing as a nurse since 1974. She is currently a Registered Nurse in the state of Arkansas. Additionally, Ms. Burch studied under many of today's leaders in massage therapy and bodywork during the 1980s, became Nationally Certified through the NCBTMB in 1993 and holds a professional membership with the AMTA.
As founder of Health Positive!, Ms. Burch has created over 60 home study nursing and massage continuing education programs, performed over 65 public, live educational presentations, has written two published books, served as a member on the NCBTMB Continuing Education committee and was a founding member of the National Association of Nurse Massage Therapists.
Sharon is an instructor on many of the Institute's programs and has authored and co-authored various ethics courses and additional titles such as Touch for the Seriously Ill, Stress Reduction Through Bodywork, Staying Well – Naturally, Cardiopulmonary Health and Illness, Chronic Pain Management, Marketing Massage in Four Easy Steps, Preventing Medical Errors, HIV Update for Massage Therapists and Bodyworkers, Understanding HIV, Massage for Edema and more.