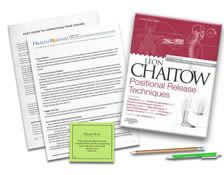 View larger
Choose an enrollment option:
Description
Student Reviews

12

Video
Materials
Approvals
Description
Positional release techniques are gentle manual treatments to relieve pain and discomfort, improving the overall health and functioning of the body by correcting imbalances of the musculoskeletal system. The advanced course covers all methods of spontaneous release by positioning. Theories and history of many different approaches are discussed and techniques are described in detail through illustrations and photographs. The accompanying DVD provides video demonstrations of the techniques as well.
Also included in this continuing education course:
comparisons of all major positional release methods, from strain/counterstrain to functional osteopathy and step-by-step use of these methods
use with other manual approaches, such as Muscle Energy Techniques
treatment of both muscle and joint problems
various approaches: osteopathic palpation according to Gibbons and Tehan; positional release palpation according to McPartland and Goodridge; the tight-loose concept; Zink's concept of tissue preference and assessment, and Travell and Simon's model of trigger point facilitation
characteristics of trigger points; the causes for trigger points and types of trigger points
uses of positional release methods for post-operative conditions
Student Reviews
Very informative and technical course. I will definitely use in my practice and use book as a constant reference. I have never been disappointed with any course I have taken from Integrative Healthcare Studies. I have referred many colleagues.

- Yalanda Patria, LMT
Extremely comprehensive materiel. Definitely worth the time and a great tool for a practitioner.

- Zachary Bell, LMT, NCTMB
Loved this course. Packed full of information!

- Lisa Stabe, LMT, NCTMB
Thanks this was great!

- Brian Sari, CMT
I really enjoyed the practical information. I love trigger point therapy and with prt training it has enhanced my knowledge and my practice. Thank you!

- Shirley Milner, LMT
I found this course to be very informative and useful in my career. I work alongside of a chiropractor, and a lot of the positional release techniques are very useful in my practice.

- Claire Balint, LMT, NCTMB
VERY INTERESTING COURSE.I WILL USE IT IN MY PRACTICE AND ALSO AS A REFERRAL GUIDE.

- Bernard Howell
The book is detailed and an excellent reference - the illustrations and positioning notes are useful, exacting and understandable. Although the material is an advanced read, it makes sense!

- Bob Garza, M.Ed., RMT
This course provides information that allows a massage therapist tools which a physical therapist would typically use. Great knowledge when working in the medical practice.

- Jakki Wienecke, CMT, BFA - Bel Air, MD
This course was terrific. It is very in-depth and has lots of good info. It's written in a good way, but a new therapist might get lost in the terminology.

- Laura Hess, NCTMB
Great Book! Easy to find anwers when I didn't know them from the reading. You did an excellent job, very easy to understand and complete.

- Laura Seal LMT,AMTA, Healing Body & Soul, LLC. Lake Geneva, WI
A wealth of info here! After 20+ years in massage, this course has provided me with several more areas of study to help build my expertise. Will be a future reference tool in my practice. Thank you!

- Lowell Seeman, NCTMB, LMT
Materials
Text - 288 pages
DVD-ROM - unspecified length
Multiple-choice test - if you prefer to test online please select the "test online" option
Certificate upon completion - if you prefer to print your certificate at home instantly, please select the online option
Display Certificates suitable for framing are available for $10 in addition to the certificate included with your tuition. Click here to order a Display Certificate.
Approvals
The Institute is approved by the National Certification Board for Therapeutic Massage and Bodywork (NCBTMB) as a continuing education Approved Provider. Approved Provider 049478-00.
Credits also accepted by the AMTA, ABMP and NAHA.
For information regarding your specific state massage license requirements and approvals, visit our Massage Therapy Continuing Education Requirements page by clicking here.
Students enrolling in this course also enrolled in: