Materials
2 Manuals - 70 pages total
Multiple-choice tests
Certificate upon completion of each course
Description
This package contains two courses: Ethics: Therapeutic Environment (3 hours) and Ethics: Professional Conduct (3 hours).
Ethics: Therapeutic Environment
Expand your understanding of ethics. Learn how to build a safer therapeutic environment for yourself and your client.
This course reviews:
essential roles, rights and responsibilities that are accepted in order to be recognized as a professional
the concepts transference and countertransference and how they apply to your practice
the terms ethics, ethical dilemma, ethical dissonance, confidentiality and boundaries and their application in important practice considerations
CE Hours: 3
Ethics: Professional Conduct
Standards of Practice provide massage therapists with clear, written expectations of professional conduct that can protect both the client and the practitioner and safeguard the therapeutic value of the relationship. This course reviews NCBTMB Standard I: Professionalism and Standard V: Roles and Boundaries in detail and helps you consider how they relate to your practice.
CE Hours: 3
Course Reviews
Jennifer Chapman, LMT, NCTMB
10/23/2012
This is the best ethics course I have seen yet. The content was very clear, to the point and very professional. I learned a lot compared to any class I've attended on Ethics.. I also liked being able to print off the material so that I can refer to it in the future. Thanks!
Bruce A. Lederer, LMT, NCTMB
1/29/2015
The material is clear, informative and interestingly written. It took a subject that many of us have heard and/or read many times yet it,cleared out the cob webs and brought the subject clearly back to the forefront--in a crystal clear manner.
KeriJo Hunt
3/24/2012
This course helped re-establish my values and intentions as a massage therapist. Thank you for providing such clear and concise information. I enjoyed the pictures as they served to enforce my learning experience.
Danielle DiLaura LMT
6/12/2012
I enjoyed this course very much. Although I know and recognize what ethics and professionalism are in the massage practice, I enjoyed the refresher. I found it very interesting and applicable, since lines can so easily be blurred in this profession. thank you very much!
Alexander Acimovic, LMT, NCTMB
9/24/2012
The course materials were as well put together, easy to follow and understand, and well served to meet my continuing education requirements as all prior CE courses from IIHS have been. I am always severely disappointed to see the promotion of the cult of bureaucratization take over the massage occupation. For example the definition of a client/therapist relationship as an unequal power dynamic, rather than a relationship in which both sides gain mutual benefit; or the idea that "dual" relationships are not something humans are capable of balancing maturely; or the idea that if we do not take continually increasing amounts of CE classes, and feed the growing massage bureacracy industry, that we will not be respected. However, for none of these things do I blame IIHS, which has always provided me with a quality product.
Instructors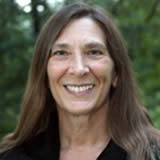 Sharon Burch, MSN, RN, NCTMB
Sharon Burch holds a Masters Degree in Nursing and has been practicing as a nurse since 1974. She is currently a Registered Nurse in the state of Arkansas. Additionally, Ms. Burch studied under many of today's leaders in massage therapy and bodywork during the 1980s, became Nationally Certified through the NCBTMB in 1993 and holds a professional membership with the AMTA.
As founder of Health Positive!, Ms. Burch has created over 60 home study nursing and massage continuing education programs, performed over 65 public, live educational presentations, has written two published books, served as a member on the NCBTMB Continuing Education committee and was a founding member of the National Association of Nurse Massage Therapists.
Sharon is an instructor on many of the Institute's programs and has authored and co-authored various ethics courses and additional titles such as Touch for the Seriously Ill, Stress Reduction Through Bodywork, Staying Well – Naturally, Cardiopulmonary Health and Illness, Chronic Pain Management, Marketing Massage in Four Easy Steps, Preventing Medical Errors, HIV Update for Massage Therapists and Bodyworkers, Understanding HIV, Massage for Edema and more.