Materials
Text - 152 pages
Multiple-choice test - if you prefer to test online please select the "test online" option
Certificate upon completion - if you prefer to print your certificate at home instantly, please select the online option
Description
Ayurveda is one of the oldest systems of health and healing in the world. Ayurvedic massage works on both the physical and mental levels, transmitting a life-giving energy that assists all systems of the body to repair and renew themselves.
Learn how Ayurvedic massage helps balance the body and mind. Through clear language and beautiful illustrations, this home study CE course describes how an expert practitioner performs Ayurvedic assessment and massage for a variety of clients including those who are pregnant, in labor, in postpartum and providing infant care. This course includes the benefits, key terms, indications and contraindications for Ayurvedic massage and recipes for creating your own Ayurvedic fragrant oils, nourishing facial creams, masks and clay baths. Applicable to all types of practice and especially valuable for massage therapists who provide spa services.
Through this course, you will learn:
the definition of Ayurveda, dosha, vikriti and marmas
the characteristics of vata, pitta and kapha
indications for and benefits of Ayurvedic massage
factors that increase balance or imbalance to each dosha
the main points used to perform pulse diagnosis
primary techniques and sequences used in a full-body Ayurvedic massage
Ayurvedic massage techniques used in pregnancy, labor, post-partum and infant massages
how to prepare a traditional Indian beauty treatment
Course Reviews
Deborah Caudle, CMT
I have always been attracted to Ayurvedic practices and principles and appreciate this course. It was perfect in it's detail and not too overwhelming that I was able to understand the text. Thank you. I enjoyed it very much! I look forward to my continued studies with you in the future.
B. Budesheim, LMT, NCTMB
Fabulous course. Ayurvedic information I had not come across before. Author's in depth knowledge and intimacy with these teachings was evident and appreciated.
Carrie Bobis, LMT
Great topic!!! I love the eastern traditional ideas regarding massage and medicine. Love acupressure and traditional tai massage info too. Thanks!
Amy Dittsworth, LMT
I was really surprised by the descriptions of the hand-on portion of the course. Easy to read and understand. I have a much broader understanding of Ayurveda and the marma points. Thank you.
Theresa Kay Valentin, LMT, NCTMB
I am glad to have the text to refer back to for information. This course was very informative. The recipes for the oils used will be extremely helpful in my practice.
Instructors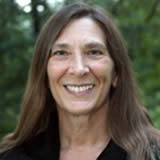 Sharon Burch, MSN, RN, NCTMB
Sharon Burch holds a Masters Degree in Nursing and has been practicing as a nurse since 1974. She is currently a Registered Nurse in the state of Arkansas. Additionally, Ms. Burch studied under many of today's leaders in massage therapy and bodywork during the 1980s, became Nationally Certified through the NCBTMB in 1993 and holds a professional membership with the AMTA.
As founder of Health Positive!, Ms. Burch has created over 60 home study nursing and massage continuing education programs, performed over 65 public, live educational presentations, has written two published books, served as a member on the NCBTMB Continuing Education committee and was a founding member of the National Association of Nurse Massage Therapists.
Sharon is an instructor on many of the Institute's programs and has authored and co-authored various ethics courses and additional titles such as Touch for the Seriously Ill, Stress Reduction Through Bodywork, Staying Well – Naturally, Cardiopulmonary Health and Illness, Chronic Pain Management, Marketing Massage in Four Easy Steps, Preventing Medical Errors, HIV Update for Massage Therapists and Bodyworkers, Understanding HIV, Massage for Edema and more.